It's an exciting time to be a part of Intercity Transit. With the passage of Proposition 1, the agency is working hard to implement the improvements the community requested. And if you've always wondered how you can be a part of one of the most vital parts of our community, you're in luck. Applications will soon be open to join the Intercity Transit Authority (ITA) and the Community Advisory Committee (CAC) in 2020. The ITA and CAC both impact Intercity Transit and by extension the greater community in different ways, but both share vital roles in influencing the direction of public transportation in our region.
Intercity Transit Authority (ITA)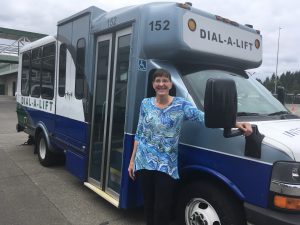 The Intercity Transit Authority is the decision-making body that sets the policies for Intercity Transit. The ITA is made up of appointees from each of Intercity Transit's service cities – Olympia, Lacey, Tumwater, and Yelm – and a member of the Thurston County Commission, as well as three citizen members and one labor representative. One of the citizen positions will be opening up soon.
Debbie Sullivan is a member of the ITA and a councilmember for the City of Tumwater. "Intercity Transit has an important place in our community," she says. Sullivan encourages those that have a broad perspective on how Intercity Transit impacts our community and are prepared to work with others to apply for the position as a citizen member.
"The citizen members are an uncommon part of the board," says Karen Messmer, citizen board member of the ITA, "but their insight is so valuable because they don't just represent a city, but all of Thurston County." Messmer has served on the board both first as an elected appointee for two years, and for almost nine years as a citizen. In December she will finish up her term and make room for a new citizen to join the board.
"I've always had a special interest in transportation," says Messmer. "The culture at Intercity Transit is so supportive and positive that you just want to be a part of it." In Messmer's time as part of the ITA, she has focused quite a bit of her attention on the importance of healthy transportation options like walking and cycling. Transit services are certainly an important component of that, she says.
"Intercity Transit has always embraced walking, cycling and youth education as important parts of public transportation," says Messmer, "and it's been great seeing the support of the organization in making healthy transportation a priority."
As Messmer's time on the ITA comes to an end, she thinks about the issues the board will need to look at in the future. "The challenge will be fitting transit services inside a growing community that is not yet a dense and urban space," she says.  "How do we service everyone and create a system that helps support a sustainable community?"
Community Advisory Committee (CAC)
The CAC will also have openings for 2020. The CAC provides input to the ITA and is made up of community members from around Thurston county. "We are from all areas, ages and demographics," says Justin Belk, vice chair for the CAC. Belk has been a part of the CAC for the past two years. "I've always believed in the importance of public transit," he says. "It can make a community stronger by providing great service and by getting people where they want to go."
Members of the CAC meet monthly on the third Monday for a couple of hours to discuss the current state of transit, to bring up new ideas. "Individuals should apply to serve on the CAC if they are interested in continuing quality transportation options in the area and if they want to offer their opinions to maintain or improve the services offered by Intercity Transit," says Sue Pierce, CAC chair who will finish her time with the CAC in December after six years.
With the approval of Intercity Transit Proposition 1 to maintain, improve and expand public transportation service, the ITA and CAC have been busy making policy and recommendations about how best to utilize funds to make the most impact for transit riders. At every ITA meeting, a member of the CAC is present. Likewise, a member of the ITA attends every CAC meeting and minutes from each group meeting are available to members so both the board and committee can be in step with each other.
One thing that may not be captured in the minutes of the ITA and CAC meetings, but is definitely something that people should know, is people like being there. Intercity Transit is a place filled with people that love the work they do. Board members and advisory committee members care about and enjoy doing their part in our transit system. "We take the work seriously, but we really enjoy what we are doing and we have a lot of fun doing it," adds Messmer.
If you are interested in being a part of Intercity Transit by joining the ITA, please prepare a letter of interest and send it along with your resume to pmessmer@intercitytransit by 5:00 p.m. on October 23. If you think the CAC would be a better fit, you can find a description of responsibilities online, along with the application. To apply for the CAC, please email a completed application to ntrail@intercitytransit.com by 5:00 p.m. on October 10. New ITA and CAC members will begin their terms in January 2020.
Sponsored