When delays happen on a home construction site, the ensuing events can look like an old-fashioned game of telephone. The buyer calls the realtor, who calls the contractor, who contacts the subcontractor, and so on. But what if the realtor is himself a former contractor, one well-versed in both the language and the process of building? At Northwest Home Team, Steve Poulos is that realtor.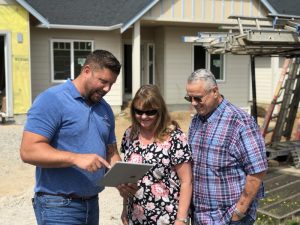 Steve Poulos brings over a decade of construction experience to the business, including operating his own contracting company with 50 employees. When Poulos left the industry to become a realtor in 2006, he partnered with one of the contractors he had built houses with, Hansen Construction Group. The resulting partnership has propelled the Northwest Home Team Realty to the top of the new construction market in the Puget Sound region. Working so closely with builders means Poulos is already in the loop when anything happens so clients don't have to wait for answers.
"Communication is key," says Steve. "I understand what goes on behind the scenes from start to finish. I'm involved with the framing and electrical walkthroughs. That alleviates a lot of stress for the buyers. They've all heard the horror stories around the office water cooler about how their co-worker's construction of their new home just went south."
The Northwest Home Team has subdivisions throughout Thurston County, with more underway in Tumwater and Olympia. In East Olympia, the Keanland Park community includes 109 .25-.50 acre parcels for single-family homes and in rural Yelm, the Maxvale Hill community offers .75-acre lots with stunning views of Mount Rainer.
All homes are semi-custom, meaning clients get to choose their own colors, cabinets, countertops and flooring. Floors are either hardwood or tile and countertops are typically quartz. "These are turnkey homes," says Steve. "They're fully fenced with sprinkler systems, heat pumps, solid core interior doors, hardwood and tile floors. We do not use any laminates or vinyl. All of our standard features are top of the line."
Those include ones that aren't visible, like 2 by 6 inch – 16-inch on-center framing. "Hansen offers an incredible, well-built home. Because his crews are in-house, he has full control over the whole process," says Jessica Poulos, Steve's wife and co-owner of Northwest Home Team. "There are a lot of things the consumer doesn't see."
Another plus is features that would typically be considered upgrades in newly constructed homes are included in the base price. "If you want tile floors, quartz countertops or heat pumps, all of those are standard in our homes," says Steve.
When clients do want something extra, it's usually a shop or a shelter for an RV. Many of the company's homeowners are seeking 1 story homes, Steve shares, who are moving from Pierce and King Counties because their buying power will go so much further in the South Sound. "We get people who want a bit of space," he explains. "Our homes have yards that are a manageable size, not too big, not too small. They can still have their three-car garage and build a hobby shop."
For buyers who qualify, the company offers an incentive to sell their current home through the agency. "We'll buy their house for cash if they want to move into one of our houses," says Steve. "Our buyers are generally not first-time homeowners, so it takes the stress out of wondering what their home will sell for or how long it's going to be on the market." Terms and conditions do apply, he notes, and the program is not for everyone, but it works well for those in a position to take advantage of it.
To further streamline the buying process, the company works closely with a local lender. As a result, the home loan process runs smoothly, and the buyer receives various incentives by using the partner lender. "We have a full team in place," says Steve, "from the lending side to the escrow and title side."
Already, the team has completed a subdivision in Tenino, East Olympia, West Olympia, Lacey and many more in the future, they'd like to expand operations as far north as Everett as far south as Vancouver. "We like to create inventory in this low-inventory market," says Steve. "It's a great position to be in."
Learn more at the Northwest Home Team website or see what new construction homes they have available by clicking here. You can also call 360-529-0992
Sponsored