When you know someone for 10 years, you have shared stories, experiences, inside jokes, and the uncanny ability to anticipate wants and needs. At Tumwater's River's Edge Restaurant, they're celebrating a successful first 10 years and eagerly looking forward to the next decade…at least.
Located on the Tumwater Valley Golf Course green, River's Edge is the perfect place to eat, relax, watch the game or visit with friends. They're open seven days a week from 7:00 a.m. until 9:00 p.m. with a rotating menu of decadent goodies from fancy to binge-able.
But the heart and soul of any thriving business are its employees. And River's Edge has been blessed with some of the best. They keep food and drink flowing and insure that your experience is always top notch.
Assistant General Manager Daniel Elstrott has been with them for more than six years. "My first day I walked in to one of the busiest shifts of the year, Easter Brunch Buffet," he recalls."I stood in the corner and carved roast beef and ham, plating it for guests as they passed by."
Working his way up from bussing tables, he's now grateful for every day. "I am one of the lucky few people in this world that can honestly say I love my job," he says. "I don't count the seconds until it's over, I don't dread walking in the door. Sure there is dirty work to be done, bathrooms to clean, equipment likes to break down, all kinds of things happen in a restaurant and on a golf course, and they are all the managers' responsibility. But that's the fun, the challenge, keeping it all running and making sure every person leaves happy is quite the accomplishment and makes me proud to pull it off."
Over the years, Elstrott admits that customers have become family. "We have some regulars that come in five times a week like clockwork," he says. "When I told stories of planning a California road trip, a group of those regulars (a.k.a. 'The Guys'), tossed me some gas money and told me of places I should stop along the way. Also, the man that married my wife and I is an acquaintance from here. The people you see come in for years and spend idle time chatting with, are numerous and priceless at The Edge."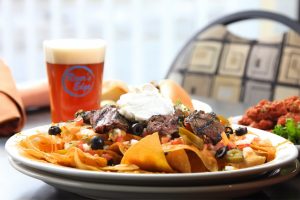 General Manager Jenifer Johnson feels the same way. "One of my favorite parts about coming to work is how very family-oriented our staff is! One big (most of the time) happy family," she laughs. "It amazes me that most of the staff has been here for over five years, and some since we first opened! Restaurants usually have a high turnover of staff, but not River's Edge. It truly is an awesome place to work and we have great owners to work for."
When thinking about the future, her thoughts echo Daniel's. "My hope for the next 10 years is to continue on as we have. Making a name for this diamond in the rough, hidden down in Tumwater Valley. More and more I overhear first time guests exclaiming that they never even knew our restaurant was down here. More and more I see those first time guests come back with someone else that hasn't been here and the cycle continues. I love that!"
Whether you're looking for a quick meal before you hit the links, quiet supper with your beloved, or a boisterous 12th Man hang-out, River's Edge is ready. From wings and burgers to hand-cut New Yorksteaks and house-made Dungeness Crab Cakes, there's something for everyone.
"The sports bar has become a huge hit, especially during football season," says Johnson."Fans love that we are able to play every NFL game at one time, not to mention our prize and drink wheel specials we have during Seahawk games. Our banquet rooms have become extremely popular, hosting all sorts of events from elaborate wedding receptions to business meetings that take advantage of our built in AV system and wireless mic capabilities. And a new addition to our event venue is Trivia Night every Tuesday from 7:00 p.m. to 9:00 p.m. hosted by South Sound Trivia. We have established quite a following and receive great feedback."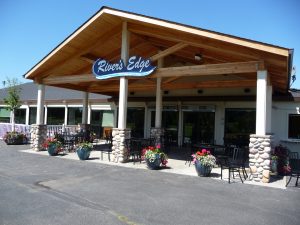 Book a table at River's Edge Restaurant in Tumwater, the ideal place to pause and reminisce. Then raise a glass their way in celebration. Here's to the past 10 years and to a long, successful future.
Find upcoming event listings, information, and reviews on their Facebook page. Dining reservations aren't required but encouraged to make sure you don't miss out. Call 360-753-5100 to reserve a spot today.
Sponsored