There's a certain nostalgia that comes with a bowling alley: The sheen on the wooden lanes, the sparkly bowling balls, the tell-tale tri-colored vintage-looking shoes. Bowling alleys have been community gathering places since their advent, and are the place of friendly, yet serious, competition. They give people the chance to work as a team, but to also shine on their own, and are the undisputed backdrop for making fond memories. At Aztec Lanes in Olympia, you'll get all of the nostalgia – but with a side of modern flair – and amazingly, you could have it all to yourself if you'd like. Aztec Lanes is a great event center in Olympia that can be affordably rented by-the-hour.
Aztec Lanes owner, Dan Brathovd, says many people are unaware of the opportunity to have an entire bowling alley to themselves for their group or event. Parties of 40 or more can cost-effectively rent the space hourly, which entitles them to privately use the bowling center. The center rental comes with shoes, bowling balls and all 12 lanes for up to 96 people.
There's also the ability to purchase concessions, pizza, beer, and wine, and for an additional fee, you can add customized music, a light show, and a DJ to your package. "We have a lot of video equipment," Brathovd says, "and we can do slideshows. We have the capability of projecting onto every screen. It's great for events like funerals and celebrations of life and we've actually had people get married here."
And speaking of pizza, the pies at Aztec Lanes are legit. They're handmade, not frozen, and baked in a real pizza oven. Brathovd brought in a chef to teach him and his staff how to craft a great pizza. In the birthday party packages that Aztec Lanes offers, pizza comes standard. In the colder and rainier months, the Lanes are a great place to throw a birthday bash, with two packages available depending on party size.
From holiday parties and work parties to team-building events, fundraisers and family gatherings, the list is as endless as you can imagine for the fun event center. Brathovd has worked hard to preserve the nostalgia of his bowling alley while catapulting it into the future. He has been the owner of Aztec Lanes since 2008, after purchasing the bowling alley from his grandfather, Dan Ruden. "I grew up in here," Brathovd says, "with the Bowling for Youth program and working on-and-off for my Grandfather." By the time Brathovd was in high-school, Ruden was getting tired of running the show and asked Brathovd if he was seriously interested in taking over.
Ruden had owned the alley since 1972. He worked in the bowling alley for years prior to becoming the owner and was around in 1956 when it re-opened at its current location on Martin Way and Pattison Street. Originally, the bowling alley was located off of Capital Boulevard near Grindstaff's Trophies but it was destroyed by a fire.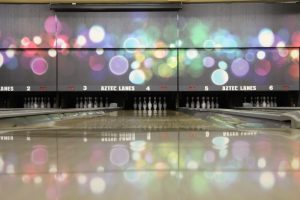 Aztec Lanes is a family-owned business, run for families, individuals and groups. Brathovd says he's been remodeling the bowling center for as long as he's been in charge. His first task was to tackle the bathrooms, which drove him bonkers, as Brathovd is a stickler for bright, clean spaces in good working order. He has improved the concession area dramatically, upgraded all of the seating, and has optimized many antiquated systems for improved use, and also to make his life easier. He still works incredibly long hours at the alley, but he no longer strips the bowling lanes of oil by hand: he has a fancy machine now that does it for him.
He's in the process of (hopefully) becoming one of the beta testers for cutting-edge bowling lane  technology that can project moving images onto the lanes, such as flames that trail behind a bowling ball once it's been thrown. "I'm always looking for things that will set us apart," Brathovd says, and just one look around Aztec Lanes shows that he means it.
As the coach for the North Thurston High School Girl's Bowling team, Brathovd regularly frequents other bowling centers. "Many are so dark I have to use my flashlight on my phone to see," he notes. Aztec Lanes is bright, well-lit, inviting and meticulously cared for.
Future Projects
"We're getting to the facade of the building just as soon as the construction ends," Brathovd adds. It's been hard on him and his customers with all of the road construction in that area of Martin Way. One of the front parking lot approaches has now been removed, catching many long-time patrons off guard, because after all, they've been using that entrance for 60 years, he shares.
Currently, Brathovd is working on paving the area behing Aztec Lanes, so patrons can park and access the bowling alley from the back entrance. Accessing the bowling alley from the side street of Pattison Road will create a better traffic flow for patrons.
Aztec Lanes has a full-service Pro Shop where bowling equipment can be ordered for next-day delivery, and Brathovd also services bowling balls for custom fits. Nowadays, scented bowling balls are all the rage, and the vendor of Storm and Roto Grip balls and equipment will be on-site at Aztec Lanes on Sunday, August 25 from 10:00 a.m. to 2:00 p.m. for a try-before-you-buy event. Just $10 gets you free bowling and full-access to the vendor's entire line. If you wish to make a purchase during the event, you'll also receive 10 percent off.
With fall approaching, leagues are gearing up to battle it out on the lanes. The event is a great opportunity to add to your bowling arsenal. Leagues at Aztec Lanes are quite popular, they're currently full with waiting lists, but Brathovd encourages interested people to get their names on the list because summer is a time of many changes and spots on leagues often open up in early fall.
Along with the weather, Aztec Lanes' hours change too, so check out their website for the upcoming fall schedule. The hours in the day stay the same, but open bowling times shift to accommodate league events.
The next time you're planning an event, don't forget about this creative event center in Olympia. Hosting your event at Aztec Lanes truly is a well-kept community secret and renting out an entire bowling alley for a few hours can effortlessly take your event to the next level.
Aztec Lanes
2825 Martin Way East, Olympia
360-357-8808
Sponsored