Olympia based jeweler and Evergreen alumni M Quarles creates jewelry with organic shapes, sharp angles, and bold themes, often displaying bugs, leaves, or teeth and bones cast in silver. M's first experiences with art and creativity were not from painting or
drawing, but instead from observing the scientific drawings of her father, who practiced paleontology and geology. She was attracted to the way that scientific illustration preserves and documents nature, which led her to study ecology.
When M moved from Portland to Olympia to attend The Evergreen State College, she first enrolled in River Reciprocity, a program that explored the role art and ecology play in helping people develop relationships with the natural world. In this program, M started to develop her artistic practice through working with scientific illustration, field journals and other observation art of the natural world.
After this introductory program, M went abroad to New Zealand for an internship through Evergreen where she worked on a sheep and goat farm. During her time there, she cared for and butchered sheep, made cheese from sheep and goat milk, and worked on various building projects and did physical labor around the farm. Working with her hands made M feel called to continue making art and building, and upon returning to Olympia, she enrolled in a fine metals program.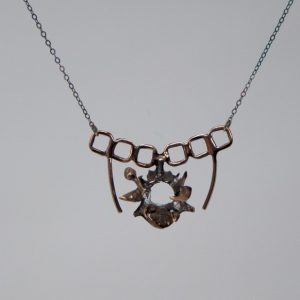 M fell in love with the craft. While learning basic methods such as soldering, sawing and filing, she worked with scrap metal to keep costs down while practicing. After gaining a sense of fluency with metalworking, she moved toward more complex fabrication methods such as casting.
Casting is a process in which a liquid metal is shaped using a mold so that it assumes the shape of another object. By casting with natural objects such as leaves, bones and flowers, M's work creates permanent representations of impermanent objects. Referencing her early fascination with scientific illustration, the practice of preservation is a theme that can be seen throughout M's work. M tells me that this practice addresses personal anxiety surrounding impermanence and watching things go away.
Along with casting natural objects, M often works with the concept of protective jewelry, creating objects that are spiked, studded or otherwise could be used for protection. Creating protective jewelry served as a therapeutic tool for her, and continued the theme of preservation that has been central to her work. She wanted to use jewelry to reflect the idea of keeping ourselves safe in a way that is aesthetically beautiful and elegant.
Growing up a "tomboy," M often struggled with finding jewelry that fit her tastes and style. When she started making jewelry, she made objects that she felt called to and would be proud to wear. Through making jewelry out of atypical jewelry objects, that aren't highly polished, she looks to move away from only placing aesthetic value on objects that strive for perfection. Her work with metals also strives to break down the concept that jewelry needs to be associated with gender, or high-class or exclusionary.
Having recently graduated from Evergreen with an emphasis in fine metals, M spent her last year working as a program aide in the metal shop at Evergreen through an internship with Julia Heineccius, a 3D metals faculty. Working as an aide allowed M to experience the learning community of Evergreen's fine metal studio in a new way. She was learning from Julia and watching her teach, while teaching students in the program, and learning from students who were first introduced to metalworking. M tells me about the educational value of working with people who were just starting out with metalworking, especially witnessing the creativity shown by beginners.
M thanks Evergreen for providing an environment that allowed her to discover her passion for metalworking. She credits the interdisciplinary nature of Evergreen, the collaborative community in the arts, and the strong female mentors she's studied with for the experience she had.
"I really stumbled upon this material and art form in a non-traditional way. Like, I wasn't going to art school to try to be an artist," she tells me.
Looking towards the future, M hopes to expand her craft by working more collaboratively, ideally becoming involved with companies that operate in ways that are environmentally and socially ethical. Eventually, M strives to become a teacher or professor of the arts, but wants experience working in the industry first. "I just want to be able to give other people the advice that I was able to receive in college," she says.
Currently, M offers original designs, and also takes custom orders. To see her work or to contact her with requests or questions, visit her Instagram at @mad_metals.