Benjamin Franklin once said that "Beer is living proof that God loves us and wants us to be happy." But the brewing of beer requires finesse, science, and just the right ingredients. For most if not all of the storied history of beer production in Olympia, local brewers have imported key components like malted barley; however, thanks to a region-wide partnership between WSU Thurston County Extension, the Port of Olympia, and several local brewers, the first farm-to-belly brews using all locally grown barley are on tap.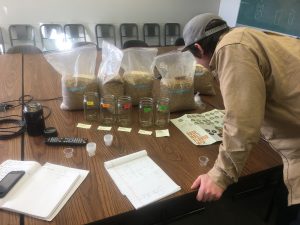 In 2016, the local County agriculture agent, Stephen Bramwell, was tasked with a tasty problem. Farmers needed new markets for their grain, andthe WSU barley-breeding program wanted feedback from craft brewing, distillers, and maltsters on several barley lines they were considering releasing for commercial production.
As with most science, lab work only takes you so far. The next step meant going out into the field—in this case literally—working with the product itself. Kevin Murphy, WSU's barley breeder, wanted to see the end-use brought to life in actual beers and spirits. He was hoping to find which had the best combinations of enzymatic activity for turning starches into sugar, protein levels, alcohol yield, and not least, flavor.
Bramwell's role was as intermediary, working with several local groups. He helped provide farmers with the test varieties to seed, grow and harvest, tracked down seed cleaning equipment and storage space with the help of the South Sound Community Farmland trust and Thurston Conservation District, transported the ten ton harvest to maltsters for malting, and then brought it back to brewers and distillers to work their magic on.
In 2017, nine strains were used and then refined to the top four in 2018. The Port of Olympia helped fund the 2018 trials with a goal of economic development and producing a high quality product for consumers. "Grain growers have lost a lot of their market," says Bramwell, "and needed a new one. We sat down and said, 'I don't know if there's ever been a beer made from locally grown barley.'"
In the second year of planting, 20,000 pounds of barley was eventually harvested for use. The team is working with the WSU Wine Science Center in Richland, and the breeding program in Pullman, to evaluate the influences of the barley itself on flavor and aroma compounds. The team also evaluated production yields and disease resistance. Barley was then malted for beer production. This malted product is at the heart of beer's unique flavor. "Malting is controlled germination," explains Bramwell. "After it's roasted, a person would think it tastes a bit like a breakfast cereal."
Thurston County Public Information Officer Meghan Porter is proud to report that Stephen "dropped off the first 500 pounds of locally grown malted barley for brewing at Well 80 on May 24, 2019. He has also been working with them and several other breweries to get brews made from local grains into the Tumwater Artesian Brewfest August 17. Several breweries are experimenting with the locally grown barley in the coming weeks."
"There is some chance that these beers will be the first brewed with local grain since the closure of the Olympia Brewery," says Porter."We might be able to claim the first beers from local grain ever, which would be momentous for connecting farm and food/beverage related businesses in our community. A big win by any account, as the farmer-brewer supply chain is taking shape with this first beer."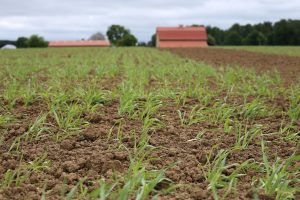 "The Thurston EDC has been a good strategic partner," says Bramwell. "We likely wouldn't have gotten funding for the 2018 trials without Aslan Meade at EDC helping to set up meetings, and work between me and his contacts at the Port."
The new beers are sprouting up around town. Well 80, Three Magnets Brewing Company, Singing Hops, and Top Rung Brewing all feature this local barley and will be attending Brewfest. Want to participate in the most delicious market research ever? Look for the Top Rung booth at the festival for a blind taste test. They're brewing beer from the top four barley varieties, and a WSU team will be on-site to document people's responses to flavor and aroma profiles.
Not a beer drinker? Sandstone Distillery is also working with the WSU grain. "They have nine barrels of whiskey from the 2017 trials and four large barrels of whiskey from the 2018 trials," says Bramwell."All are made with barley grown for this project. John has been a great partner. We will get to taste the whiskey from the 2017 trials at the January Cascadia Grains Conference. That will have aged for two years."
"Stephen reached out on the barley project," says Sandstone Distiller Justin Bourdon, "and it was super easy to help. Sandstone does grain-to-glass in-house and we cooked, fermented and distilled each into single malt whiskey. WSU took samples throughout to analyze the eventual flavor profile and used a spectrometer to build grain matrix and chemical analysis. We used individual strains with little to no cross-contamination of types so each yield was processed individually."
As you can see, a lot of work goes into that frosty beer or highball of whiskey. But that work generates local jobs and produces high quality product we can all benefit from. Buying local is green, efficient, economical, and—in this case—awfully delicious. Look for the new product at pubs, grocery stores, and upcoming August Brewfest.
Read more about this project:
"The Port of Olympia Partners with Local Agencies to Grow Local Grain for Craft Brewing and Distilling"
"The Thurston Economic Development Council Facilitates Growth in Our Region, and It's Not Just Beer"