Each year since 2016, a new Compassionate Community Project is chosen in partnership with North Thurston Public Schools (NTPS), the City of Lacey, and the Lacey South Sound Chamber of Commerce. The 2018-2019 project was implemented with the hope that each and every member of the Lacey community could get involved, even in the most simplest of ways.
Last year the chosen project helped raise funds for a new Lacey Food Bank. NTPS students collected pennies, which helped raise more than $30,000. Today, expansions continue to be made to include a veteran's garden, food stand and food pantry.
The yearly project stems from a larger effort called the Charter for Compassion, which encourages signers worldwide to implement compassion into their lives. The Charter states that, "rooted in a principled determination to transcend selfishness, compassion can break down political, dogmatic, ideological and religious boundaries."
After much discussion and thought, this year's Compassionate Community Project (2018-2019) was born and launched in September 2018 through the three partners. Rather than raise funds like the year prior, the goal of this project was to collectively contribute at least 100,000 compassionate acts together, as a united community. Once an act was completed, or simply observed, participants were asked to fill out an online form to share their act of kindness. To give students at NTPS a visual representation of all of the good that was being done, faculty members kept compassion tracking posters around their schools. Additionally, a community-wide tracker was addedonto the Compassionate Community Project website featuring a large, heart-shaped progress meter that is now overflowing with documented acts of kindness. With the knowledge that creating a compassionate world is possible when every man, woman, and child treats others as they wish to be treated, the trio of organizations was hopeful for the success of their program.
"We would like to congratulate the entire Lacey and NTPS community for their combined efforts in surpassing this year's goal of 100,000 acts of kindness," exclaims Blaine Land, executive director of the Lacey South Sound Chamber.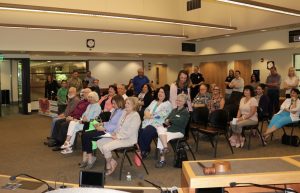 "Many compassionate acts were documented and shared throughout the year," says Land. "One act of compassion that really stood out to me was a donation to local non-profit, Homeless Backpacks, which is an organization that is 100% driven by volunteers who provide over 600 bags of food to homeless students weekly. Roughly $4,800 worth of food was donated to this organization by the combined effort of TwinStar Credit Union employees. This act of generosity and kindness is a great example of the people who work and live in our community."
Another act of compassion that is detailed on the NTPS website describes how faculty at Lakes Elementary Schoolorganized a two week Kindness Challenge in February. Students were tasked with the challenge of completing a variety of tasks and given samples of kindness acts that they could implement into their everyday lives. The result was heartwarming as students shared their acts of kindness, which included helping a student that fell on the playground, inviting a lonely student to play, and making a card for their teacher. "Of course, there are thousands of other acts that weren't recorded," expresses Land. "It's gratifying to think of all of the positive impacts that this year's program has produced."
"When the Superintendent suggested 100,000 Acts of Compassion, we were not sure it could be done," said Courtney Schrieve, community relations executive director for NTPS. "In May the group had already surpassed the goal with 102,425 acts of compassion. This initiative has shown we are stronger together and that compassion truly is contagious."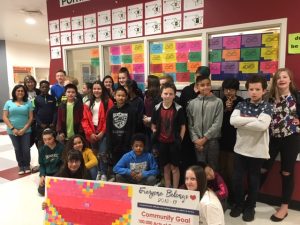 On June 11, a private day of recognition gathering was held to celebrate the completion of the 2018-2019 project. "At this event, all three organizations came together and recognized exactly what this initiative is," explains Land. "This year's project required the entire community to collectively work together and I'm so proud of the outcome."
"The City of Lacey is so grateful for the opportunity to work with incredible partners such as the NTPS and the Lacey South Sound Chamber, on the Compassionate Community Project," states Jenny Bauersfeld, community relations specialist at the City of Lacey. "We have had so much fun getting our employees involved to give back to our community, recognizing groups in Lacey and throughout Thurston County who exemplify compassion, and we are committed to continuing these efforts and finding new ways to celebrate and encourage compassion."
Keep a look out for a very special piece of art that will be created and implemented into the community later this year. This artwork will help recognize incredible doings of the 2018-2019 Compassionate Community Project.
Sponsored