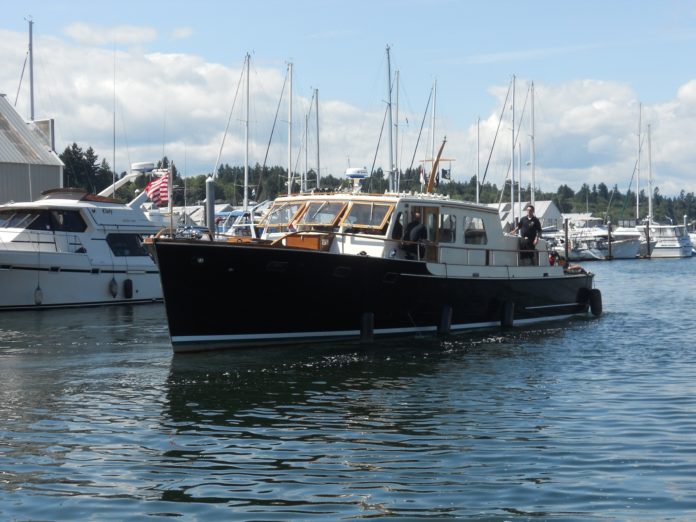 Submitted by Bob Terhune, Capital Lakefair Military Liaison
The 50-foot-long, 62-year-old, antique wooden boat, OLD MAN IV, which serves as a ceremonial platform for the U. S. Navy, will arrive at the City of Olympia's Percival Landing on Thursday, July 18 between 12 p.m. and 1:00 p.m. where it will be greeted by the Capital Lakefair Queen, Princesses and Capital Lakefair members who are known as Capitalarians.
The Command Cutter, which is powered by twin diesel engines, will be open for public visitors on Friday, Saturday and Sunday, July 19, 20 and 21 from 10:00 a.m. to 3:00 p.m. A vintage Admiral's Barge, OLD MAN IV was built in 1957 by Puget Sound Naval Shipyard (PSNS) in Bremerton the same year, 1957, that Capital Lakefair was begun in Olympia. Back then this area was known as the 13th Naval District. Today it is Navy Region Northwest, commanded by Rear Admiral Christopher S. "Scotty" Gray, who took charge on June 20, 2018, just over a year ago. The Boat Crew for this year's visit consists of: Chief Quartermaster (Surface Warfare) William Kearns, Boat Officer, Boatswain's Mate First Class (Surface Warfare) Shavar Hillery, Boat Coxswain, and Engineman Second Class (Surface Warfare) Branden Caligiuri, Boat Engineer.
During Lakefair week the members of the Navy Boat Crew will represent the Navy and Navy Region Northwest in several Lakefair events, including Thursday evening's Royalty Program and Saturday's 5:00 p.m. Capital Lakefair Grand Parade.
For more information, visit the Capital Lakefair website.