Leslie Erickson Ellingson was one of the most dominating throwers the state has ever seen; Tonya Larson Charland is without question one of the most versatile athletes to come out of area; and Michelle Mendelson was a terror on the basketball court.
All are North Thurston High School graduates, and now all are members of the Rams' Athletic Hall of Fame.
North Thurston inducted the three former student-athletes, along with the Rams' 1990 state championship boys soccer team, on June 1 during a ceremony at the school.
Erickson Ellingson, who graduated from North Thurston in 2000, was a three-sport athlete, participating in basketball, volleyball, and track and field. She excelled the most in the latter. A three-time state javelin champion, Erickson Ellingson was the Washington State Gatorade Track and Field Athlete of the Year in 2000 and a Track & Field News girls javelin All-American in 1999.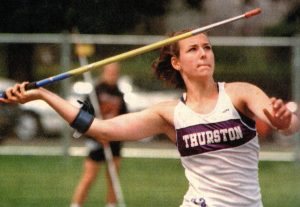 One of only four athletes in the larger school classification (4A and 3A) to win three consecutive state javelin titles, Erickson Ellingson set a Class 4A state meet record in the girls javelin during her junior year in 1999, winning the event with a throw of 170 feet, 6 inches, which bettered the previous benchmark of 167-9 set by Laurie Merlino of Fort Vancouver in 1987.
Erickson Ellingson, who placed sixth at state in the javelin as a freshman, also won the 4A title as a sophomore with a throw of 141-11. After North Thurston moved down a classification during her senior year, Erickson Ellingson picked up her third state crown in 2000 at the 3A state meet with a throw of 154-5.
Erickson Ellingson participated at the 2000 U.S. Olympic Track and Field Trials before competing at the University of Southern California where she was a tam captain and a four-time Pac-10 All-Academic selection, earning second team honors during her junior (2004) and senior years (2005). She ranks third on USC's all-time javelin list and was a member of Southern Cal's 2001 national championship team.
Larson Charland was one of the best all-around athletes to ever come out of North Thurston. A three-sport standout, she competed in basketball, fastpitch, and volleyball, and had her jersey retired in the latter two sports.
The 1994 graduate was named to nine All-Narrows League teams during her high school career and was a six-time team captain, as well as a Narrows League Most Valuable Player and all-state player in volleyball for the Rams.
She played volleyball four years at the University of Alabama-Birmingham. She was a three-time all-Conference USA selection, earning second team honors during her senior season of 1997, and was named to the 1994 Great Midwest All-Newcomer team. She was named UAB's Female Athlete of the Year in 1998.
Larson Charland appears in numerous categories on UAB's list of career leaders, including No. 2 in kills (1,982), No. 6 in attack percentage (.259), No. 6 in service aces (210), No. 7 in games played (621), and is the all-time leader in attack attempts (5,060).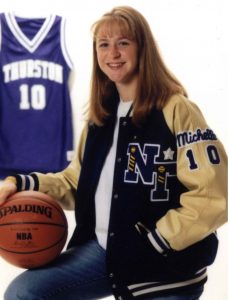 Larson Charland, who is currently the Associate Commissioner of the Great Lakes Valley Conference, spent seven seasons coaching Birmingham-Southern College, guiding the team to three top-four finishes in the Big South. She also had a 100-percent graduation rate for student-athletes during her tenure.
Mendelson was a four-year starter for the North Thurston girls basketball team, earning all-league honors each year, and is one of the program's all-time leading career scorers.
After graduating in 1998, Mendelson, who also played fastpitch in high school, spent two years at South Puget Sound Community College where she was a two-time all-conference pick and team captain. She transitioned from SPSCC to California State University San Bernardino as a junior, playing two seasons for the Coyotes (2001-03), including being named team captain her season year.
North Thurston's 1990 boys soccer team won the 4A state championship, posting a spotless 21-0 record. The Rams knocked off defending state titlist Cascade of Everett, a team that ended North Thurston's season the year before in the state quarterfinals, in the championship game, 3-1.
North Thurston, which outscored opponents a combined 104-4 that season, beat Redmond, 3-1, in the first round at state, Kentridge, 2-1, in the quarterfinals and Mead, 1-0, in the semifinals.

Coached by Gary Dunn, the Rams' offensive was paced by the Dunn's son, Jason Dunn, who registered 34 goals and 27 assists during a senior season that saw him earn all-state and All-American honors.
Additional members of the 1990 North Thurston state boys soccer team also included Geoff Hall, Lew Keller, Frank Dobosz, Ty Johnson, Darrin Garman, Tyler Thomas, James Dunn, Brett Bures, Jon Krauss, Julio Rivera, D.J. McKinney, Joe Lirette, Eddie Gentry, Chris, Danielson, and Jeff Spaulding.