Before you know it, school will be out and you might find yourself looking for things to do with your family. Never fear, Ally McPherson of Intercity Transit wants you to know that there are tons of fun summer activities, indoors and out, to keep you and your kids occupied. Conveniently, these locations are all just steps from an Intercity Transit bus stop.
Getting around this summer on the bus is easier than ever, with the Summer Youth Pass, which is valid from Memorial Day to Labor Day, and is available for kids 6- to 18-years-old for just $20. Children five-years-old and under always ride free. And the Summer Youth pass is valid throughout Thurston, Mason, Grays Harbor, Jefferson and Clallam Counties. Intercity buses also feature a bike rack that can hold two bicycles in case you want to bike at your destination and ride the bus home.
Water Fun
If you are looking to cool off in the water, the bus can take you to many locations where you and your kids can splash and soak to cool off. Two indoor pools at Briggs YMCA are just steps away from the bus stop. The Heritage Park Fountain in downtown Olympia is a perennial favorite among young and old alike. Two new spraygrounds are also opening in the county. Olympia Parks and Recreation plans to open a new sprayground at Woodruff Park in June. Also, on track to open for Prairie Days in Yelm on June 28, is the splashpad, a new 2,000-square-foot sprayground in Yelm City Park.
Briggs YMCA: Route 68
Heritage Park Fountain: Routes 41, 45, 47, 48
Woodruff Park and Sprayground: Route: 41, 48
Yelm City Park Splashpad: Route 94
Summer Events
Nothing says summer like events. Capital Lakefair brings in people from all around Thurston County and beyond to downtown Olympia for the annual summer festival July 17-21. With so many converging on the downtown area, parking can be quite a challenge, which makes taking the bus a great option. Lacey is also hosting their annual Lacey In Tune concert and movie in the park series in Huntamer Park with a variety of movies and music for seven weeks this summer, as well as special kids entertainment on Tuesdays .
Lakefair: Routes 12, 42
Lacey in Tune at Huntamer Park: 60, 62A, 62B, 64, 66, 67, 68
Fun in the Sun
Many area Farmers Markets are located right on transit routes. Farmers Markets are a great place to get fresh fruit and veggies, local meats, eggs, and cheeses, and purchase specialty goods and crafted items that you cannot get anywhere else. The Olympia Farmers Market is open 4 days a week throughout summer. Open every Wednesday, the Tumwater Farmers Market hosts entertainment every market day, will be celebrating kids' month all of July. Yelm Farmers Market has a market token program that gives kids a token worth $2 to spend on fruit, vegetables, or a plant that grows food.
Olympia Farmers Market: Route 45 or DASH
Tumwater Farmers Market: Routes 12, 13
Yelm Farmers Market: Route 94
Many local parks are easily accessible from an Intercity Transit bus stop, and they offer many different amenities. Playgrounds, green spaces for picnics, sports fields, pumptrack and walking trails will keep your family occupied all summer. The Isthmus Park in downtown Olympia offers a pumptrack. The Regional Athletic Complex (The RAC) is home to many sports fields. Next to Yelm City Park's new splashpad, a new ADA accessible playground will open with 6,700 square feet of playground fun to include swings, slides, climbing equipment and a tree house. And there are many more parks conveniently located next to bus stops.
Isthmus Park: Routes 12, 41, 42, 45, 47, 48
The RAC: Route 62B
Yelm City Park Playground: Route 94
Cool Indoor Activities
Indoor activities abound, so if you need a break from the sun, bring the kids in for these fun learning opportunities.
The Lacey Museum is hosting a special Sasquatch Revealed! exhibit this summer. Learn all you need to know to spot this elusive inhabitant when out on a hike in the woods.
Or take the kids to the Puget Sound Estuarium where they can learn about the special creatures that call the intertidal environments of Puget Sound their home.
The WET Science Center teaches kids a whole lot about the local water system and holds regular classes that cover a number of topics, from animals to ecosystems to suitability, kids can participate in classes, or simply tour the center and interact with hands-on displays.
Speaking of hands-on learning, next door to the WET Science Center is the Hands On Children's Museum, a fun place where children can engage their body and mind actively and creatively in several different themed spaces. Periodically, they also host special events. The Hands On Children's Museum is specially designed for children from birth to 10-years-old.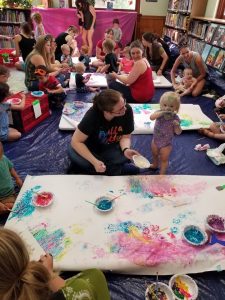 The Timberland Regional Library has many events planned over the summer for patrons of all ages. Kids can join the summer reading program, participate in fun events, or just hang out in the cool air-conditioned comfort.
Lacey Museum: Routes 67, 68
Puget Sound Estuarium: Routes 21, 62A, 62B, 66
Wet Science Center and Hands On Children's Museum Routes: 21, 62A, 62B, 66, 94
Lacey Timberland Regional Library: Routes 64, 66
Olympia Timberland Regional Library: Routes 13, 60, 64, DASH
Tumwater Timberland Regional Library: Routes 12, 13
Yelm Timberland Regional Library: Route 94
One final summer idea for families is not a destination at all. Consider hopping on any one of Intercity Transit's routes and just see where it takes you. Riding as a passenger in the elevated seats on the bus provides a whole new perspective on areas you've traveled before as a driver or pedestrian.  "Young children get especially excited about bus travel," says McPherson. "You can ride on all our routes all day long with a day pass," she adds.
Taking the bus can be a relaxing way to be a tourist in your own city. Don't stress about the traffic, parking, or navigating to somewhere you've never been. Let a friendly Intercity Transit driver get you where you need to go. If you want to plan a stay-cation or just find something fun here and there throughout the summer, hop on the bus and head to one of these fun locations. For even more fun summer activities, check out this summer destinations for teens article—these spots are great for families too—just don't tell the teens I sent you.
Sponsored