With the weather warming, it's time to get outside – even for dinner. Either for an easy meal during the week without messing up the kitchen or for a fun gathering, barbecuing is a summer tradition that starts around Memorial Day. Get the most out of barbecue fun with thrifty ways to enjoy mouthwatering outdoor cooking.

The first step to great barbecue is a grill for all the cooking. Find awesome deals on grills through local for sale sites like OfferUp. If you prefer to buy new, locally owned Capital City Stove & Grill Center carries a wide range of models for any budget.
Now what to put on the grill? Meat is the traditional barbecue staple. Find fantastic cuts at Stewart's Meat Market and Heritage Meats perfect for any carnivore. Be sure to ask about any specials and features for savings if the menu is flexible. Or go directly to the source at Blacksmith Farms for grass-fed beef and all-natural pork. Fresh fish is perfect for the grill. Find today's catch at She Nah Nam Seafood.
For herbivores, barbecue isn't out of the question. Tofu, fruit, and veggies are perfect for grilling. For the freshest vegan selections shop at Olympia Food Co-op, local farmer's markets, and farms like Helsing Junction Farm. They all have healthy choices that grill up nicely.
With the temperatures rising, every cookout needs beverages to cool off with. A cooler full of Dick's Brewing Company beer is the perfect complement to any barbecue. For the kids, grab a growler filled with Dick's homemade root beer.
For those who don't have the equipment or space for a grill, many local parks offer grills and picnic shelters. Burfoot Park and Priest Point Park are gems in Olympia that have grills for outdoor cooking. Kenneydell Park and Yauger Park also have day-use cooking facilities. In Lacey, find places to grill at Long Lake Park. For a big adventure, check out state parks such as Millersylvania or Tolmie equipped with grills to feed the family (but keep in mind that you will need a Discover Pass for state parks).
For the perfect flavor, it's all about what kind of grill. Many debate if propane or charcoal is best, yet either requires supplies. It's easy to fill-up propane while recycling the old bottle. For charcoal, it is all about quality. With options to add wood and other additives for flavor enhancement, charcoal is a way to experiment with flavors. Olympia Ace Hardware is a great place for one-stop shopping for all methods of grilling.
Barbecue is all about big flavor with a punch. The most flavorful includes sauce and spices. Develop a perfect recipe combination or grab locally made sauce with veteran-owned SGT Hart's Barbeque Sauce. For an array of spices, Bucks Fifth Avenue offers 26 rub blends.
One of the best parts of cooking outside is less clean-up and dishes. Picnic utensils are a big contributor to one-use plastics. Being conscious of the environment, find biodegradable options at Party City. For discounts, see their coupon page.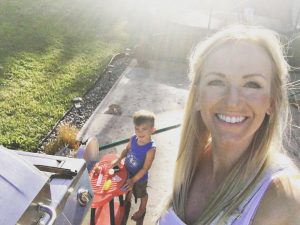 Using flame and gas always requires a degree of caution. For safety tips and links on how to prevent fires and burns, read Southeast Thurston Fire Authority's barbecue safety page. Washington State Department of Health offers helpful information on barbecue and picnic food safety for preventing food-borne illnesses.
Not up for cooking? There are plenty of local barbecue restaurants that are passionate about flavor. The award-winning food at Ranch House BBQ is a favorite with locals. With huge portions and small prices, fill up the whole family. For an island spin, don't miss L&L Hawaiian Barbecue.
Want to learn from the experts? Put the South Sound BBQ Festival on the calendar. This event is on July 13 from 11:00 a.m. to 6:00 p.m. at Huntamer Park. This annual event hosted by the Lacey South Sound Chamber and other community partners, includes professional cook-offs, live entertainment, free kids activities, a chicken wing eating contest, an adult-only beer and wine garden, and more.
Become an expert pit master this summer and make memories with loved ones while enjoying delicious food. Barbecue is probably the world's oldest cooking method. There are countless recipes and techniques perfect for all ages. From hotdogs to burgers and steaks to vegetables and fruits, meals shared in the outdoors are always special.