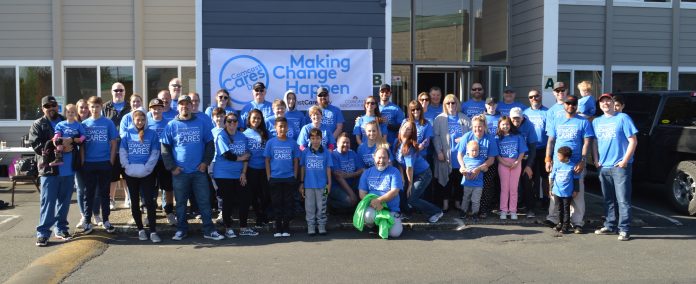 It was a gorgeous sunny Saturday morning, and David Glasgo could have been home mowing his yard or playing with his kids. Instead, he helped organize 60 volunteers made up of their Comcast co-workers, family and friends to participate in Comcast Cares Day. "It's amazing how hard this group works," said David, an installer and repair supervisor, who has been working at Comcast for the past 25 years and as a Cares Day coordinator for the past 15.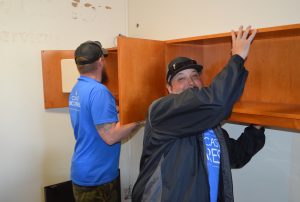 This year the local Comcast cadre made a difference with Family Education and Support Services (FESS), an agency dedicated to helping families through parent and caregiver education, family enrichment activities and various trainings, to name a few avenues. Recently, FESS moved to a new space. The Comcast Cares Day team cleaned out its previous offices. That meant removing and packing up furniture, cleaning kitchen spaces, vacuuming and making it ready to return to the landlord in good condition. It was estimated that the Comcast volunteers did work that would have taken the agency three weeks to complete. Instead of FESS looking backwards, the staff was able to keep moving forward by settling into their new spaces and focusing on their clients who include children, parents, caregivers, community partners and early childhood professionals.
Shelly Willis, executive director at Family Education and Support Services, was grateful for all the help getting finished with the prior space, as well as the professional support received to get their new space up and running technologically speaking. She has been integral to FESS since its inception 20 years ago. "It's easier to raise healthy children than to fix broken adults" is Shelly's mantra. FESS works to achieve this goal by working with people to acquire effective parenting skills, develop parenting confidence, improve health and early childhood development outcomes, and to connect people with resources. "Learning we are not alone and there are other organizations like Comcast willing to walk alongside us provides us with inspiration and lightens our load," Shelly said.
Volunteers gathered on a Saturday morning for a quick bite and then dressed in their matching blue t-shirts and went to work. Shelving was dismantled, items were put into piles for Goodwill or other destinations, windows cleaned and one group put together hygiene kits. Children are always welcome at the Comcast Cares Days and they get to pitch in at their own level. High school students join the event for community service hours.
Prior to the big day it was brought to David's attention that other Comcast Cares groups did their own barbecuing instead of having food delivered. Knowing there were two propane-grills available, David said, "Let's do it." The rest of the fixings like salads and beans along with ample of desserts were purchased. The grilling was very popular and also allowed the team to fit lunch more optimally into the schedule. By early afternoon all the tasks had been completed. There was still time to go home and mow the yard! The remaining funds were used to purchase hygiene supplies in bulk for FESS.
"Comcast employs approximately 4,500 people in Washington, and we are proud to work alongside this indispensable resource to make their office – and our community – a better place for everyone," said Amy Lynch, senior vice president, Comcast Washington. "Together we can make a difference and that is what Comcast Cares Day is all about."
David echoed that idea. He noted that Comcast employees are really good people who live and work in this community. He likes being part of a national, volunteer event where more than one million Comcast Cares Day volunteers have contributed over six million service hours at more than 10,000 projects across the country. The local group usually has a blood drive around the same weekend as the Comcast Cares Day. "I love my job," he added and went on to explain that as a supervisor he looks for people who don't just want a job but are looking for a career. Personally, David wants his co-workers to experience success and there is company support, too, with access to training and tuition reimbursement.
"It's amazing,' said David about participating in the event. He noted that it was a lot of work to get ready, but totally satisfying. Comcast Cares Day in the past has supported projects with Boys and Girls Club, local schools, Wolf Haven, and YWCA and various juvenile services. Many hands joined together provide benefits to all involved. Thanks!
For more information on Comcast NBCUniversal and Sky volunteer and community impact initiatives, visit the Comcast website.
For information about the Family Education and Support Services call 360.754.7629. Their new location is 6840 Capital Blvd. Building #3, Tumwater.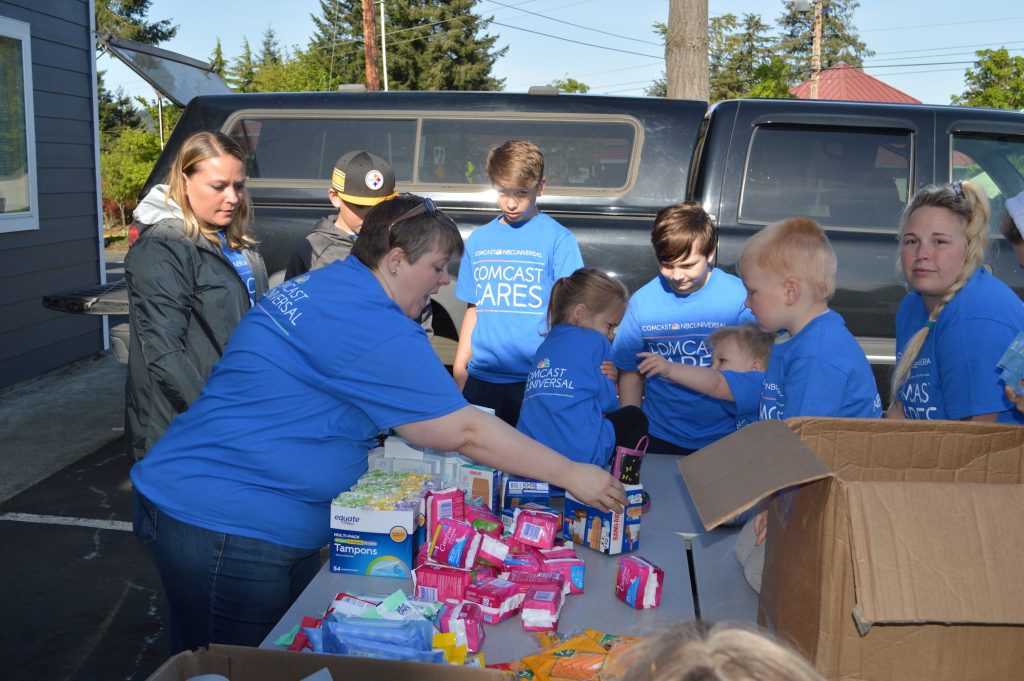 Sponsored