If you find yourself in downtown Olympia early one evening on a Thursday, you might walk past an unassuming storefront. The door will probably be propped open. When you look inside, you will see several people, or up to a dozen, sitting, standing, and conversing. A

look at the sign next to the door indicates that you are at Heart of the Deernicorn studio, and that at 5:30 p.m., you can join in story game night. What have you got to lose? Step inside and be amazed to find it filled with worlds upon worlds that are only limited by your imagination.
Ross Cowman is a game designer and owner of Heart of the Deernicorn. "When you say you are a game designer, most people think of video games," he says. "When you explain that you design table-top story games, then they think you mean Dungeons and Dragons, but there is so much more than that."
Heart of the Deernicorn produces story games in their studio and workshop downtown. Ross creates a variety of story games. He started in 2011, and in 2015 he created Fall of Magic, an award-winning fantasy game that involves a handmade scroll to help guide players on their journey. Ross designs the table-top story games from beginning to end, writing the story, designing the graphics and pieces, and putting it all together in physical, and some in digital format, to be distributed.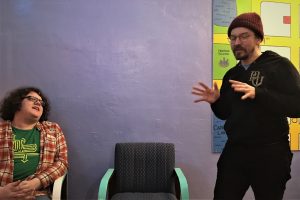 "Story games are like conversations, one where the group builds the story together," explains Ross.
Story games are collaborative games, where each player takes on a role. Depending on the game, the role is of their choosing, or may be influenced by dice rolls or cards dealt that describes characteristics that the player takes on. Then, it is up to each player's interpretation of the story and their role to help build the world of their game. In story games, players are as much teammates as they are competitors, working to build a collaborative world where the characters they play exist.
Game rules and pieces, such as boards, cards, and dice, exist to serve as a framework to help guide the players in their story, rather than to limit their options. Games have objectives, and sometimes there are winners or losers, although that distinction is not really what the game is about. Story games are more about community and enjoying a fun imaginative experience together.
Typically, on Thursday story game nights, between 5 and 15 people show up to play. "There are often newcomers," says Ross.
When I first arrive at the downtown studio, I meet half a dozen people. Some are new. Some are seasoned veterans with an eye on a game they would like to pitch to the group to play that night. After a round of welcoming introductions, and a brief description of game night for us newbies, a couple people pitch some games they would like to play. Players that pitch the games offer to facilitate the game, basically explaining the game and helping those who have never played before. Players then split into groups, joining a game that interests them most, as most story games are designed for 3 to 6 people.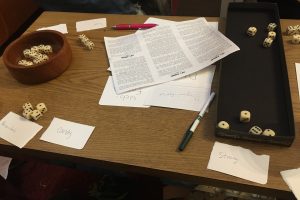 I join a group playing a game called Waiting for the End, a game about a group of individuals waiting for an unspecified doom. Our group quickly decides that we aren't interested in a gloomy doom like death, and we create something far more magical than I ever anticipated: a world filled with gnomes, giant cockroaches, dragons, and fungal forests. The majority of action centers around the department of motor vehicles where each of us fret about our driver's test, and the implications of failure. When the game concludes, some of our group passed, and some have failed, but we all enjoyed a unique experience together.
"Games are a really powerful tool for building community and bridging differences," says Ross. "We need to remember, especially as we get older, to continue to play."
If you would like to join in for a Thursday story game night, drop by the Heart of the Deernicorn studio at 207 4th Avenue E on Thursday night around 5:30 to get started. Players are welcome to bring their own snacks to game night, and there is a kettle for tea. Although on the nights I stopped by, there were only adults playing, children over age 10 are welcome with parent or caregiver supervision. Game night usually runs until 9:00 p.m.. Although there are some shorter games, most games take two hours or more, with time for a break in-between. So, drop your inhibitions at the door, get your imagination gears turning, step on in, and find a game to play.
Thrifty Thurston highlights inexpensive family fun in Thurston County. The weekly series focuses on family-friendly activities throughout our community. If you have a suggestion for a post, send us a note at submit@thurstontalk.com. For more events and to learn what's happening in Olympia, Lacey, Tumwater and the surrounding area, visit our complete events calendar.