Santa may have elves at the North Pole who make wonderful toys. Santa, for sure, has a special helper right in Lacey named Harold Rorden. In a corner of the large wood shop in the basement of the Quinault building at Panorama, Harold lovingly builds dollhouses,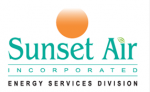 worthy of anyone's closely held fantasy. It doesn't matter how old you are, either. What begins as a basic kit turns into a unique home that is move-in ready and can provide hours of creative fun.
Each dollhouse is a labor of love. By 7:30 a.m. on almost every day, Harold is already up and settled into his workstation in the Panorama woodshop. This happens Mondays through Saturdays. On Sundays, you'll find Harold at church. The shop is an impressively large and well-lit space with all the equipment an earnest builder requires. Pieces of his current project are lined up in various stages of completion. Real glass has been installed into the frames and actual tile is on the floor. The owner of this particular home has already selected a colorful animal print wallpaper for one of the bedrooms. Many of the houses originate from kits, often from Greenleaf Doll House Company story. They provide the basic bones, and allow for all sorts of personalization.
From there excited "homeowners" select interior and exterior paint, color schemes, and perhaps what sort of porch goes out front. Customers enjoy finding and selecting their own furnishings.
The building process can take up to three months to complete, though Harold typically works for at least three hours a day – and sometimes much longer. He works at his own pace. Of course, it is not about how much time it takes. For Harold, it is about the joy of putting all the pieces together. He also enjoys the camaraderie that he has developed with the other shop members.
Prospective dollhouse owners pay for all the materials, but Harold does not typically charge for the construction. Often he is working on a dollhouse that will end up at the Stiles-Beach Barn in Lacey where it will be on display and available for purchase. Proceeds from these sales go into the Panorama Benevolent Fund, which supports residents' continued independence and services.
Harold hasn't always built dollhouses. He had a career in air traffic control, and when he retired, he built his own home at Lake Cushman, so he was familiar with working with tools. It was during his earlier retirement that he met Judy Hollar on Match.com. After dating, they became partners and moved into Panorama in 2005.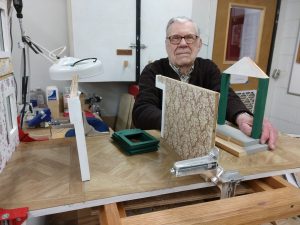 He discovered the woodshop and noticed an unfinished dollhouse that had been untouched for months. Someone asked, "Do you want to finish it?" He said, "Yes," and that started another career. Initially, Harold used their laundry room for his shop, which was problematic. It is easy to understand that Judy is much happier with Harold having all his projects at his station at the woodshop.
Harold and Judy appreciate the many opportunities that are part of living at Panorama. There are exercise classes and are all sorts of committees to join, depending on personal interests. They have plenty of areas for walking. They like to go to the movies and spend time at home reading. The couple is active in their church, too. I met them both in the woodshop, and as soon as we finished they were then on their way to spend the weekend in Portland.
Harold's current project is the restoration of a dollhouse that was burned and barely survived during an attic fire where it had been stored. That project involved more work than usual, as pieces were disassembled, saved as much as possible and then restored. Ultimately, the refurbished dollhouse will provide a happy ending to a sad story.
Yes, the Christmas decorations are probably packed away, but it's not too soon to be planning ahead. Remember that the dollhouses take months to put together, not days. A dollhouse is a stellar Christmas idea, but remember that birthdays and other special occasions happen throughout the year. Let Harold give you a hand. It's not a fast process, but it's fantastic. You can reach him at 360-438-5340.