From the time we're little, people constantly nag us to eat our vegetables. But what if you could get your daily dose of greens in a slightly different way? Exercising outdoors is healthy for body, mind and spirit, and thanks to the Salish Cliffs Golf Course club membership packages at Little Creek Casino Resort, easier than adding kale to every meal.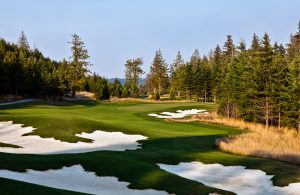 Harvard Medical School reports that "According to one government estimate, the average American spends 90% of his or her life indoors, and as we get older we become even more inclined not to venture out. When we do, there's a gauntlet of precautions: slather on the sunscreen; take it easy—or head indoors—if air quality is bad; watch out for ticks, mosquitoes, and other creatures that might bite. It's all very well-meaning but it also reinforces indoor ways…The study results are ticking up: spending time outdoors seems to have discernible benefits for physical and mental health."
Being outside increases vitamin D, which according to their studies, can "have protective effects against everything from osteoporosis to cancer to depression to heart attacks and stroke" and "you'll make all the vitamin D you need if you get outside a few times a week during these summer days and expose your arms and legs for 10 to 15 minutes." Outdoor activities also improve mood, concentration and physical healing.
Whatever your activity level, golf is a great hobby to enjoy when the weather improves. Those 18 holes allow you to spend time with friends, get plenty of sun (well, SOME sun), and lots of fresh air and non-strenuous exercise. At Salish Cliffs Golf Course, they're always ready to go.
Membership packages allow players to golf seven days a week. They also include an upgraded range ball bag, discounted items from the pro shop, no food minimums, and membership in the Men's Club and GHIN.
Pros encourage golfers to sign up because "For anyone who has played Salish Cliffs before, they know the service we provide is as good as or better than any of the area courses, country clubs included. The advantage of making Salish Cliffs your home course is we don't enforce things like food minimums, or membership assessments. Our annual membership is golf, plain and simple. With a limited number of annual memberships available, we encourage golfers to take advantage while this opportunity is still available."
Salish Cliffs is an award-winning experience, regularly ranked in the top 100 Resort Courses and top 10 Casino Courses by GolfWeek Magazine. Both GolfWeek and Golf Digest Magazines put it in the top courses in Washington and it's the world's first salmon safe certified course.
They offer Golf Academy courses for adults, camps for kids, and professional club fitting services. Want to try before you buy? That's no problem with the Stay and Play resort package. This includes a room at Little Creek Casino Resort's luxurious hotel, 18 holes of golf, bag of balls and cart rental. Book online using promo code GOLF or call 800-667-7711.
The All-Inclusive Golf Membership is $2,099 plus tax, while the Cart Fee Only Membership is $1,499 plus tax. Because Salish Cliffs uses a system of demand-based pricing, membership means no math harder than adding up your shots.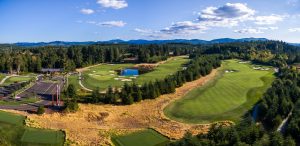 "As with most courses in the Pacific Northwest," say their pros, "the number of golfers varies based on season and weather. Weekends are often a little busier than weekdays, but with 10-minute tee time intervals we are able to provide an enjoyable pace of play whether weekday or weekend."
Once purchased, you're enrolled for 12 months and downloadable forms are available online or by visiting the Golf Shop. Questions? Stop by to chat in person or call 360-462-3673 or email golfshop@salish-cliffs.com.
An easy 20-minute drive from Olympia, you'll soon be driving your eagle to a triple bogey. Or something like that. Come see what all the fuss is about and sign up while you can. Remember, greens are good for you.
Sponsored