Many residents of Thurston County love to embark on ambitious destination hikes, but a simple walk around the neighborhood can be just as nice to stretch your legs. Having lived in the South Westside neighborhood of Olympia for three years, I've enjoyed its walkability quite a bit, with front yards full of raised beds and chickens, brightly painted homes, and Decatur Woods Park's wooded trail easily accessible by foot.

However, it wasn't until this year that I discovered the Southwest Olympia Neighborhood Association (SWONA) had created a "walking park," a tour of the different must-see landmarks of this cozy neighborhood, complete with four neighborhood "parklettes" that were founded by SWONA.
The idea of a walking park stemmed from the desire to encourage citizens to get outside more, with different destinations allowing them to customize walks based on length, interests, and time. The four "parklettes" included in the walking park include the "welcome spot" on Fern and 9th, Decatur Pathway Park, Canton Gardens, a community garden, and a bench at the end of Midway Street with a stunning view of Mount Rainier. Established in 2008, the parklettes were made possible by a grant from the County Health Department. In 2017 SWONA, with the help of another small grant, produced a map and guide of the walking park, illustrated by local artist and resident of South Westside Olympia, Jeff Pasek.
With this map in hand, I set out to experience the walking park myself. My journey began with passing by the black walnut tree that branches out over the Alexander Berkman Collective House on the corner of Sherman Street. Marked on the walking park map, this house has been a group home for over 40 years, taking part in radical moments of Olympia's history with involvement in groups such as The Food Conspiracy, an organization that would later grow to form the Olympia Food Co-Op.
As I walk past, a flock of chickens can be heard clucking in the bushes. Also on Sherman Street, I noted that the maps notes homes owned by J.J. Brenner, the owner of an oyster business in Olympia in the late 1800s, and his son, Earl Brenner, chosen for their views overlooking the Budd Inlet.
I walked west, passing through the overhanging branches of Fantasy Lane, to make my way towards West Central Park. This park is unique in that the land was privately owned and was formed into a community park by a non-profit park group along with community members of the area. A colorful sign marks the entrance to this park, complete with benches, flowers, community gardening, and a Little Free Library. In the summer, West Central Park hosts the West Olympia Farmers' Market, along with arts and music events and evening movies. The vision statement formed by West Central Park reads "to create and maintain a walkable neighborhood and a resilient, connected community," which fit nicely with the concept of the SWONA's walking park.
After taking in West Central Park, I walked to the south exit, passing Phoebe's Pastry Cafe on Division, and turning left onto 9th Avenue SW to see the "welcome spot" on the corner of Fern Street. This sign, marking the entrance to a short path, is one of the four parklettes established by SWONA.
Continuing past the Canton Garden, I made my way to Decatur Woods Park, and took the wooded path through the park to continue south to the Decatur Pathway Park, another parkette established by SWONA. This path leads to the auto mall area, and is popular among bikers and walkers. The entrance to the path, surrounded by forest, features a "poetry post" – a pole where members of the community can share poetry and other forms of written word.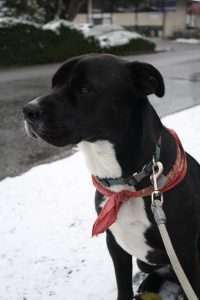 Heading back home, I made a brief stop at another historic home, the Dohm House. This home was built in 1922 by Edward Dohm and his wife, Estelle. In 1940, one of their daughters, Jocelyn, founded Sherwood Press, beginning the letterpress studio in the basement of their family home. Later, her sister Virgie, an architect, designed the plans for a small home that Jocelyn and her father built near the Dohm Home.
This walk around the South Westside Olympia neighborhood pointed out historic sites, community gardens, and features of parks I likely never would have stumbled upon by chance. If you live in or near the South Westside neighborhood, and want to experience the walking park for yourself, there is a printable version of the map, along with a guide to it, available on SWONA's website. Getting out and about on foot is one of the best ways to get in touch with an experience SWONA has helped make that fun and accessible. If interested in volunteering with SWONA for walking park maintenance or other upkeep, contact the organization online.