Walking down the sidewalk, I spied a small wooden structure ahead of me, down my neighborhood street. At first, I thought it was a mailbox or a bird house, but as I got closer, I could see the wooden box perched atop a post contained books. Stationed in a flower bed that met the sidewalk, the box faced outward so that passersby might see the two shelves filled with books through the glass. Above the door, a small white sign indicated that I'd happened upon a Little Free Library. I peered through the window and browsed the titles, then looked up at the house, thinking about the neighbors I had never met. Though I'd never laid eyes upon them, standing in front of this small wooden box filled with whimsy and wonder, I knew that we were kindred spirits.
In 2009, Todd Bol built a replica of a one-room schoolhouse in Hudson, Wisconsin, and filled it with books as a tribute to his mother, a teacher who loved to read. Neighbors loved the idea so much that he built several more and gave them away. In collaboration with friend Rick Brooks, the two began to brainstorm ways to take the social contribution further. They found inspiration in community gift-sharing networks, "take a book, leave a book" collections in coffee shops and public spaces, and also in philanthropist Andrew Carnegie's vision, who sought to fund 2,508 free public libraries. In August 2012, Brooks and Bol celebrated the opening of just as many little free libraries. Sadly, in October 2018, Bol passed away from pancreatic cancer, but his legacy lives on in neighborhoods across the US, throughout the world, and all around Olympia.
Take a Book, Leave a Book
Besides the variety of pre-built wooden library options, Little Free Library stewards have created unique and interesting libraries. Around Olympia, you will discover a number of libraries, and a few unique ones. One library is simply a big white utility box attached to a post with black lettering that reads, "FREE BOOKS." Another local library, the Bird and Worm Little Free Children's Library, is housed in a repurposed newspaper vending machine. The only real requirements are a clean, dry place to store the books, and sign or other indication letting patrons know the rules of the library.
For most little free libraries, the rules of the library are simple—give a book, take a book. But that rule is pretty flexible. "You don't need to have a book in your hands, just take a book, and come some other time and drop one off," says Wilson, curator of Bird and Worm Little Free Children's Library. Wilson isn't even worried about an even exchange of books at this point. "We have a whole hallway closet filled with books that people have donated," she says, "and we rotate the selections out from time to time."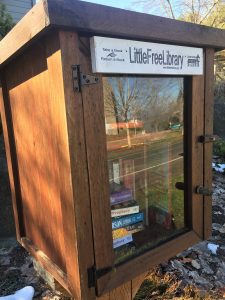 Wilson's library is primarily focused on children's books. When the weather warms, she often puts a basket of books for adults on the bench next to the library. Some libraries are focused on children's books like Wilsons, others have no particular focus, other than the interests of the patrons that stop by. "I love the quirkiness of what is in the Little Free Library at any given time," says Andrea Griffith, Little Free Library Steward and owner of Browsers Bookshop. "The books can change quickly and it is just fun to see the library build community."
Going Out into the World
The libraries serve as both a destination, and a gathering place. "Books are a window to the world," says Wilson. "When my children were little, it was a big thing for them to go out to the corner and put new books out." When Wilson and her family would take walks around their neighborhood, often the destination was other little free libraries, looking for a new discovery. "I love the conversations I have with my neighbors and the state workers across the street," says Griffith. "My neighbors keep it well stocked. It truly is a neighborhood project."
Hidden Gems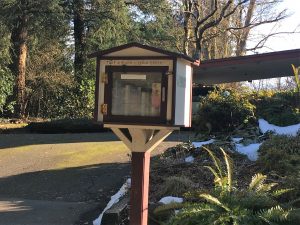 The map published below is nowhere near exhaustive. Even readers that go to the Little Free Libraries website map will find it only includes the registered Little Free Libraries. But finding a wild library on sidewalk and gravel road adventures is half the fun. These libraries are built to withstand bad weather, day in and day out, which makes them an all-weather activity, just bundle up and bring a bag to protect your book.
Wilson maintains a Facebook page for Bird and Worm Little Free Children's Library and also an Instagram page. Or you can stop by the library on the corner of Pifer Road and 37th Avenue SE and take a look for a book to check out.
Thrifty Thurston highlights inexpensive family fun in Thurston County. The weekly series focuses on family-friendly activities throughout our community. If you have a suggestion for a post, send us a note at submit@thurstontalk.com. For more events and to learn what's happening in Olympia, Lacey, Tumwater and the surrounding area, visit our complete events calendar.