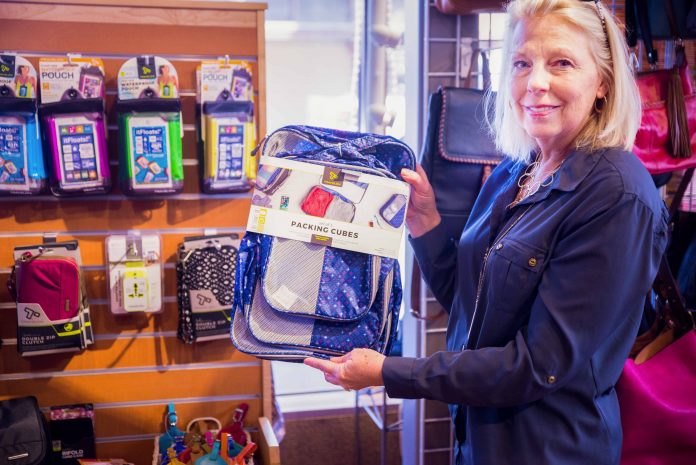 When preparing for travel, it can be complicated to navigate the type of clothes to bring along and how to fit each piece in a carry-on suitcase. Clothing boutique, Belleza Ropa, is helping to ease the confusion by stocking travel essentials for packing efficiently and safely. Belleza Ropa sales associate, Gwen Jones, is an experienced traveler and she loves to share packing advice with Belleza Ropa clients while helping them to find the right accessories for their trip.
At Belleza Ropa, support for the customer is key to their mission, especially when customers are in search of travel-friendly clothing and accessories. "I love working with women and if they come into the shop, I like to make them feel comfortable," says Gwen Jones, sales associate for Belleza Ropa. "One thing I like to ask them is if they have any travels coming up. And that is an opening to know what they're looking for, and we try to help them pack a carry-on with many different outfits."
One of Gwen's hallmarks for travel fashion is following the technique of column dressing. In column dressing, a minimal number of clothing pieces are mixed and matched to create several outfits. A basic, solid shell is dressed up with a different jacket, piece of jewelry or other accessory to match the occasion. Column dressing economizes the clothing that is packed because the same basic pieces are reused to make new outfits and the varying accessories tend to take up less luggage space. "I like to tell the women about column dressing," explains Gwen. "Take a black tank, or a black long sleeve top with black pants. Then we can put any fun jacket over it, jewelry or accessories. I went to Italy for two weeks with a carry-on and the girls I traveled with were like, 'how did you get so many outfits in a carry-on?' It's really about picking out basics and then changing a top, scarves or jewelry."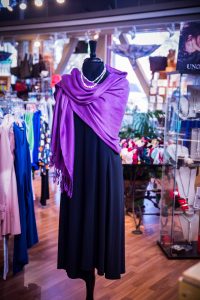 With column dressing, it only takes a few accessory changes to go from a daytime outfit that is perfect for strolling and exploring a new city, to an ensemble suited to a nighttime concert or dinner. "You can go day to night with fancier jewelry and a dressier scarf," says Gwen. "You can have the same basic outfit on and wear a jean jacket and casual scarf during the day and a dressier jacket at night."
Belleza Ropa carries a variety of travel-friendly clothing that aligns with the column dressing philosophy. From solid tops and bottoms, to a newly introduced line called Sympli Clothing, which consists of basics that don't wrinkle and are designed to be accessorized. There is a jacket, piece of jewelry, and basic for every woman.
In addition to clothing, Belleza Ropa also stocks a variety of travel accessories, including portable phone charging ports, compression socks for long flights, multiple sizes of anti-theft purses and carry-on luggage. "We do have smaller swivel suitcases that will fit in the overhead compartment," says Gwen. "If you want to save a lot of time by not having to go to baggage claim and wait, or if you want more peace of mind by having your stuff with you. You don't have to worry about losing your luggage."
As for packing itself, Gwen recommends utilizing packing cubes to keep clothing organized and separated by category. By utilizing the cubes, it is easier to keep track of the packed clothing and it will be easier to see different outfit options while on the trip. "We have a set of three packing cubes, with different sizes and it's good to put your lingerie and accessories in the smaller one. In the middle size, I like to pack all of my tops and in the large size all of my skirts and pants. And even when you get to where your destination is, you can still leave stuff in those little cubicles."
By packing efficiently for a trip and using the principles of column dressing, you can spend less time focused on outfit selection and more time exploring the destination. "I think even in a woman's closet when you have so much to choose from, you get overwhelmed," explains Gwen. "And when you simplify, you don't get stressed about what to wear. You already know what you're going to wear before you travel. Everything coordinates, goes together and mixes and matches."
To learn more about Belleza Ropa and the travel clothing and accessories they offer, visit the Belleza Ropa website.
Belleza Ropa
101 Capitol Way N, Olympia
360-352-7672
info@bellezaropa.com
Daily: 10:00 a.m. – 6:00 p.m.
Sponsored