The Three Magnets Brewing Company in downtown Olympia bustles on an early Friday evening. I sit down with Walker John, the behind-the-scenes real estate developer and owner of Urban Olympia, to discuss projects past, present, and future.

Walker chose Three Magnets, which happens to be one of his completed projects. The location was once a Sears and later a government building. Urban Olympia stripped the building down to its bones creating an industrial space with exposed concrete. Above Three Magnets are 19 apartments that also feature concrete, high ceilings, and finished plywood floors that give them a loft feel.
And that is the model of urban development that Walker John's company strives for.
"I like the downtown," explains Walker. "I think it has a lot of character. It has lacked housing for a long time. In downtown, you want a daytime and a nighttime population. And if you're missing housing, there isn't a nighttime population. At the end of the day, everyone goes home. But if you have housing, you walk to all your basic needs. You can walk to the grocery store, have a bite to eat, or go to the pub. But that isn't going to happen without market rate housing downtown. My hope is we'll have thousands of units over the next 20 years, and give people an opportunity to live downtown.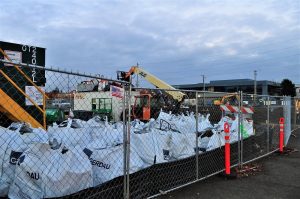 Walker John is originally from Vancouver where he worked in the family real estate business for 12 years after college. He then worked for Seabrook, Washington, as chief financial officer for eight years. Then he opened up his own business, Urban Olympia, in 2011. In his time here, Walker has fully embraced the vibrancy of downtown Olympia.
"Olympia sits on the water," he says, "has a wonderful farmers market, two marinas, a really good grocery store. If you walk down the street, there are a lot of little businesses popping up. There's a great little pizza place that just opened up down the street that's fantastic. The Mark, if you have ever eaten there is great. Chelsea Farms Oyster Bar is another really good restaurant. The Bread Peddler does a good job. You put more housing down here and the restaurants do better."
The project that Urban Olympia recently broke ground on is Laurana on Percival Landing, named for Samuel W. Percival's wife Laurana Percival. The site once housed Les Schwab, but will now host a restaurant, 44 apartments, and retail spaces. The apartments will undoubtedly boast fantastic views of the marina.
"It's a nice location," says Walker, "of course there are views. There's a grocery store right there. It's walking distance to a lot of great restaurants. In fact, we're going to be putting a restaurant on the ground floor. We've signed on with a group who is going to do a restaurant, but I'm not ready to announce that yet. But the concept that has been communicated to me I think will be really successful down there."
Building on the waterfront intrinsically has its own set of challenges such as restricted building height so as not to obstruct the views. But Walker John is diligent about alleviating those issues.
"I try hard to put the work in early with the stakeholders," explains Walker. "We met with Friends of the Waterfront early on, before we started the project. They want everyone to have access to the waterfront. So, we pulled a wall back to give access to Percival Landing. My wife and I live here, so I want to be respectful to the community. We raised our kids here. We don't want to slash and burn."
A number of steps were taken to ensure the community is happy with Laurana. First is public access. The Percival Landing side will include a plaza which will enhance rather than detract from the strolling experience along the marina. Secondly, the architecture designed by Ron Thomas is inspired by its surrounding.
"The architecture," says Walker, "since it sits on the marina, we tried to go with nautical. The building will be white ship lap with brick that's painted white. It's going to feel like it belongs there, and probably like it's been there a while. We try to do that. My project down the street, Annie's Artist Flats, we tried to make that feel like an old industrial building. It's all brick, big openings, steel awnings. The idea is that when people walk by, they might think it was built 50 years ago, 100 years ago. It fits in with the buildings around it."
Another element to consider was the 2012 mural commemorating the Paddle to Squaxin Canoe Journey that was on the wall of the old Les Schwab. Again, Walker reached out in the early days.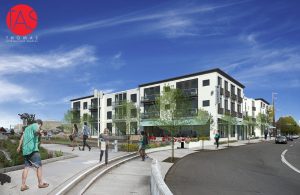 "The artists put a lot of effort into that." says Walker "There was affection for the mural, and there was a reason it was there. So, when I bought that, I didn't want to offend anybody. We reached out to the Squaxin tribe, and said 'the building is coming down, but I want to be respectful of the mural.' I wanted to make something that worked for them. So, we're going to do a new mural and the original artists, Joe Seymour and Ira Coyne, are going to be involved."
A wall will be constructed to house the new mural. There is a large pump station to the north of the site and the wall will be in front of the station essentially screening it off.
The next project on the horizon for Urban Olympia is Westman Mill, which will be townhouses by the Hands on Children's Museum. Walker hopes that in a future phase of the project there will be a park and playground as part of the development.
"Families can live in a townhouse and have a park and the children's museum right there," explains Walker.
Westman Mill sounds like another great project to enhance the downtown living experience, as Walker John puts it, "one block at a time."