Light the charcoal and pull up a cooler. It's time for a beachside feast! Our location is Potlatch State Park, less than an hour north of Thurston County on the shores of the Hood Canal. The fresh bounty available in this area makes for a perfect dinner out under the stars. A cookout by the water is something that can be enjoyed all year round so bundle up and let's head north.
Before we set up our feast, we will need to gather our ingredients. Drive up Highway 101 to Hama Hama Oyster Co. Established in 1922, Hama Hama is a fifth generation oyster farm. The beds are located at the mouth of a river that flows from the Olympics into the canal leaving the oyster flavors clean and crisp. Hama Hama's store has many offerings for all levels of oyster knowledge. For the newbie, try out the Farm Sampler. It comes with three different kinds of grown oysters and shucking instructions. For the oyster savvy, the three dozen oysters for grilling comes with a delicious sauce and is the perfect option to roast during your cookout.
Fresh mushrooms are bountiful in this area. Chanterelle mushrooms are in the patches of forests near the water. They are very meaty and taste of the area they grow in. They are delicious sauteed on their own with butter and garlic. Mushroom foraging is not for the novice. It's important to build background knowledge or bring a guide on your adventure. Alderbrook Resort & Spa offers in-depth information on mushroom foraging. Be sure to check out its calendar for frequent classes on the topic as well.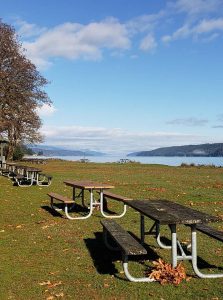 Discover a main course from DeNotta Seafood on the east end of the canal in Belfair. Just off Highway 106, Duane and Caron Denotta have strived to bring the fresh taste of the Hood Canal to the plates of community members. They specialize in farm grown oysters and manila clams. Try a bag of clams directly on the barbecue grill with the lid on until they open. Top them with lemon, butter, and herbs.
For the freshest vegetables and fruits around, stop by the historic Hunter Farms. The farm began in the 1880s and has long served as a family driven farm. Current owners Bill & Carol Hunter, along with their children, have been sowing the seeds that make these fields so fruitful. Its seasonally operating nursery offers a wide variety of home-grown foods including 13 types of potatoes, asparagus, raspberries, strawberries, and elderberries.
Stop by the Union City Market to stock up on rations for your cookout. They carry specialty foods that can't be found anywhere else including a unique smoked salmon jerky. The canned smoked barbecue, lemon pepper, and teriyaki oysters are a must-try for those looking for a ready-to-eat oyster treat. These flavors aren't found anywhere else.
Every great cookout needs the opportunity for sides. Pull in to Twin Totems to experience true convenience. Stock up on crunchy chips, salty dips, canned beans, and all the essentials to bring your meal together. Consider grabbing the makings for s'mores. If the cookout is more of a "burnout," Twin Totem's hot jojos and chicken wings are sure to be a people pleaser.
Every great cookout needs a cooler full of drinks. The canal has you covered there, too. Wine is plentiful in this area with Mosquito Fleet Winery, Stottle Winery, and Hoodsport Winery. The best wine to sip with seafood is white. Try a Riesling or Sauvignon Blanc with dinner for the perfect pairing. If beer is more your speed, Bent Bine Brewery has an outstanding Pale Ale that can't be missed! Their Citrus Belle IPA is a fruit forward option that goes down smooth as well.
Finally, no cookout is complete without dessert. S'mores are always a great choice to get every guest involved in the cooking process. But if your coals have cooled and it is getting late, it's good to have a backup. Grab a pint of local favorite Olympic Mountain Ice Cream. It's creamy consistency and seasonal flavors are a memorable treat for everyone involved.
Then it's time to clean up our site and head home after a memorable cookout. The taste of Hood Canal is easily devoured all year round with a little help from local businesses, a bag of charcoal, and a view that just can't be beat.