By Drew Crooks

Olympia has long been closely associated with Puget Sound. This relationship to the sea is an important part of the community's story. One family, the Percivals, for many years were significantly involved in local maritime activities. Several place names in the area honor their contributions.
Captain Samuel W. Percival (1823-1891) and his wife Laurana Percival (1830-1905) first sailed into Olympia on the Sarah Warren. The date was January 1, 1853. With a strong background in shipping and mercantile business, Captain Percival soon became active in the pioneer community.
At first he operated a general merchandise store for the Kendall Company, a San Francisco-based enterprise. Then Samuel W. Percival purchased the store from the Company. The Captain ran the store, which was located on the southwest corner of Second Street and Main Street (now Olympia Avenue and Capitol Way), until 1876. At that time T. N. Ford & Company took over the business.
Also Captain Samuel W. Percival in 1853 constructed a sawmill at the mouth of Percival Creek, a stream that flows on Olympia's Westside into Budd Inlet. The mill remained in operation until timber was no longer easily accessible. Many pioneer structures in Olympia were built with lumber from Percival's sawmill.
Most importantly for Olympia's maritime activities, Captain Percival in 1860 constructed a dock between Third and Second Streets (presently State and Olympia Avenues) on Water Street. Though the structure was torn down and rebuilt several times over the years, Percival Dock became a major center for the extensive steamboat trade that carried people and cargo around Puget Sound for much of the 19th century and part of the 20th century.
Perhaps to celebrate their business success, Samuel and Laurana Percival hired contractor and carpenter Benjamin Harned to build an elegant house for them on Westside Olympia in 1874.  This residence, done in a mixture of Italianate and Gothic Revival styles, was located at the western end of what is presently the 5th Avenue Bridge. From atop a terraced hillside, the house had a wonderful view of Olympia. It stood as a landmark in the city until torn down in 1937.
Both Samuel Percival and his wife contributed to their community. The generous Captain, who died on April 17, 1891, was described as follows in his obituary in the Morning Olympian newspaper: "He always had great faith in the future of Olympia, and has given largely of his means towards any and all enterprises that would in any way benefit the city; in fact, he was one of the men who have been the backbone of Olympia."
Laurana Percival passed away on November 29, 1905. Her community involvement included the Episcopal Church, and several social organizations. In particular, in the words of her Olympia Daily Recorder newspaper obituary, "she was a pioneer member of the Woman's club, and since the organization of that pioneer society for women she has always been prominent in its councils even to the last year of her life."
Samuel and Laurana had four children: one daughter (Georgiana) and three sons (Samuel M., John C., and Horace A.). All became respectable citizens of the community. John C., became a legend in Olympia's maritime affairs.
In 1877 Captain Samuel W. Percival gave charge of the Percival Dock to his son John, who was only sixteen years old at the time. John Percival worked at Percival Dock for the next 65 years, serving as ticket agent for steamboat lines and general dock manager. It was a remarkable career.
"For decades," as historian Lynn Erickson noted in her "Sylvester's Window" project, "Percival Dock . . . was the transportation, business and social center of the town. It was often called Olympia's front door, and John made sure that door was always open."
Certainly dedication characterized the life of John Percival. This individual never missed a day of work until shortly before his death on December 8, 1942 when he was 81 years old. But life was not all maritime duty for him. In 1884 he married Elizabeth Grainger. The couple had two daughters. Also John was a great fan of movies and operas, and enjoyed playing piano.
The Percivals are remembered in several Olympia area place names. Percival Creek flows from Black Lake's north end into Percival Cove. This cove is an inlet on the western edge of current Capitol Lake. Interestingly, Percival Creek on its way to the cove passes through present-day South Puget Sound Community College. At the college The Percival Dining Room, an instructional facility for Culinary Arts Program students, honors the creek and indirectly the Percival family.
Then there is Percival Landing City Park on Olympia's waterfront. After existing in various forms for 116 years, Percival Dock was finally demolished in 1977.  Percival Landing, which was built in three phases from 1977 to 1988, replaced the old dock. With its boardwalk, boat mooring, artwork, and interpretive signs, the park quickly became a popular gathering point for residents and tourists.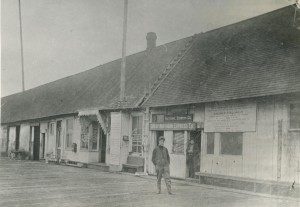 In 2011 a major remodel revitalized part of Percival Landing. Today the city park remains a wonderful place to enjoy Olympia's waterfront and remember the community's longstanding ties to Puget Sound. It is also an excellent location to reflect on the Percival family and their many achievements.
Further Reading:
Erickson, Lynn, Sylvester's Window (Olympia, WA: Lynn Erickson, 2005).
Newell, Gordon R., "Historic Percival Dock Yields To Waterfront Park," The Olympia News (Olympia, WA), May 11, 1977, page 1.
Stevenson, Shanna, "Superior Shipping Service: A History of the Port of Olympia (Olympia, WA: Port of Olympia, 1989).