While many people know the role of faculty in a college setting, they may not realize the other leadership roles that play a part in helping to round out the educational experience. Thanks to Saint Martin's University's new Master of Education in Higher Education and Student Affairs (MED-HESA), prospective and established educators can develop a focus on student services and student affairs.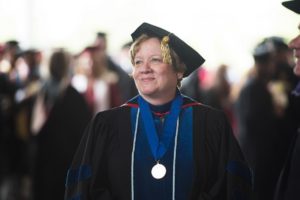 The MED-HESA focus, opening this fall, requires 30 semester hours of general education on such topics as counseling and helping relationships, social and cultural diversity, higher education and student affairs administration, and ethics and legal issues in higher education. It is finished with three semester hours of electives and completion of a capstone requirement.
Kate Boyle, Ph.D., professor of education and interim provost shares that the MED-HESA program was approved in spring 2018. "We are looking to interest others who would like to play a role in supporting students during their higher education experiences through positions held in offices or departments outside of the classroom—in administration offices, student support offices, residence halls, and student unions," she explains. This program will be unique in that while other undergraduate and master's in education programs focus on teaching, this is the first program at Saint Martin's that will directly prepare people to work in the student affairs and services roles at higher education institutions.
While it may seem counter-intuitive for students to pursue a master's degree in education and then not teach, these graduates will fill a crucial need in the lives of countless students. "Many people do not realize this is a profession because people do not encounter people in this profession until they come to college and/or meet an admissions counselor," says Assistant Professor Jackie Clark, Ph.D., who drove across the country, battling July temperatures, to head the HESA team. "This is typically not a field that people realize is a possibility until they are in a student leadership role in one of these offices—as a student worker, a resident assistant, an orientation leader, a campus ambassador, or an admissions tour guide and they ask someone, 'how did you get your job?'"
Clark attended the University of Georgia, graduating with her Ph.D. in 2017. She will head the M.Ed in Higher Education and Student affairs program. "During my career I was a college administrator but decided to go back to school so that I could teach," Clark shares. "Saint Martin's is a dream opportunity for me as I am the product of a small college as an undergraduate and longed to be back in such an environment."
Graduates of this new program will play an important role in student success. "Since the start of American higher education, this profession has grown as we have developed a way in which to support young adults and returning adults who are seeking a college education," Boyle explains. "Higher education and student affairs (HESA) professionals are trained in developmental theory that undergirds their understanding of what young adults who are moving out of their parents' homes and adults returning to college are dealing with on a personal as well as a professional level. Professionals then gear outreach, programs, and services to meet the students' needs: where they are at along the developmental continuum; thus treating an 18-year-old quite differently than a 30-year-old and recognizing how to assist them as they move forward with their own educational goals."
The

M.ACC. (Master of Accountancy)

program blends complex principles and theories of accounting with Benedictine values and ethics towards a goal of professional certification in this wide-reaching field.
This is exciting because, according to Boyle, it's unique to Saint Martin's. "We are the only institution to offer this type of program in the South Sound area," she shares. "We would like to work in collaboration with other institutions of higher education to provide learning opportunities for our students at different institutional types." There are many higher education institutions in the region, including 4-year institutions like Saint Martin's, The Evergreen State College, and Pacific Lutheran University, as well as community colleges like Tacoma Community College and South Puget Sound Community College. These places would allow HESA students to observe different educational institutions and provide access to thought leaders in this sector. These places would also potentially have staff/students who might want to pursue a MED-HESA degree.
The Master of Science in Computer Science (MSCS) program's afternoon and evening curriculum is adaptable to both recent graduates and professional engineers needing to work while they study for career advancement in information technology.
Clark is looking forward to shaping the new program as it grows. "The opportunity to direct a new program and shape its curriculum within the community and regional context is a professional goal," she says. "I am excited to welcome our first class in just a few weeks and work to build the program in the coming years."
Prospective candidates can read more about the MED-HESA admission requirements, request information, or schedule a visit online. As things are being set up for the fall semester launch, questions can be directed to the College of Education and Counseling at 360-438-4333.
Look for amazing growth, change, and cutting-edge teacher training at Saint Martin's Master of Education in Higher Education and Student Affairs program.
Sponsored