A fixer is a person who solves problems and gets things done. As the Youth Exchange Officer for the South Puget Sound Rotary, Mike Swarthout oversees the inbound rotary exchange student who arrives a few weeks before school starts each year. The student lives with host families for nine months, attends a local high

school, and learns about English and American culture. For the time the student resides in Olympia, Swarthout is on duty. His job is to communicate with host families, connect with school counselors, and fix problems that crop up in any teenager's life, much less an exchange student's.
Swarthout's current student, Kularnee Toobanterng, a student from Suratthani, Thailand, goes by the nickname Mind, pronounced Mai.
"I had a dream when I was little. I wanted to become an exchange student," Mind says. "My cousin was a student in the U.S.A., and when she come back, she speaks English fluently. I love to travel and my favorite class is English. When I was a little girl, my family really support me. We had a vocabulary quiz every night before sleep so I loved English. If I got a word wrong, I had to write it ten times in a row to learn it."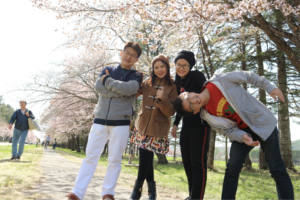 Toobanterng was just 15 when she came to Olympia last fall. Although she had studied English in Thailand, Americans, especially high school students, speak quickly with a lot of idiomatic expressions. So part of Swarthout's job is watching to make sure Mind is making progress—even if English can be confusing at times.
"Mind struggled a little bit in the beginning," Swarthout comments. "At 15, she was one of the youngest exchange students we have had. She missed her mother especially, so we had to encourage her to spend more time with her host family and with other students at school. In the age of Skype, FaceTime and texting, it is harder for an exchange student to break from their home culture. But that is why they are here. We actually look for students who are less proficient in English. If we can help them overcome being homesick, by the time they leave nine months later, they have changed dramatically and learned a lot of English. Mind is one of those students. She has really blossomed."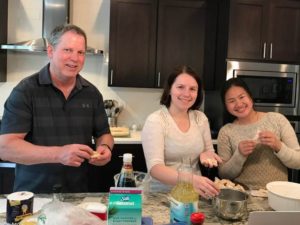 Swarthout joined the South Puget Sound Rotary in 2002, as he was interested in networking and community service opportunities. His club meets every Friday at 7:00 a.m. at Tugboat Annies. He accompanies Mind to every meeting helping her mingle with the members and encouraging her to talk about her experiences at Olympia High School and with her host families.
In April, the South Puget Sound Rotary sponsored their primary fundraiser for the year, the 2018 Be a Super Hero auction. One of the auction items was a four-course Thai dinner prepared by Mind for six people. I was fortunate enough to win the dinner. Mike and Mind spent the day shopping and making the meal. They were joined by Jennifer Kabat, an Olympia native who traveled to Thailand as an outbound exchange student in 2015. She is now studying nursing at Washington State University.
Mind and Jennifer were excited to cook the meal. Watching them giggle together at the stove, Swarthout smiled. "It always happens by the dinner party. The student laughs and has a good time. But I worry sometimes during the year. We had a successful Italian exchange student last year and then her mother came for the dinner. That was a tear-fest," he said wiping his forehead. "Mind is doing well. She is happy."
Mind and Jennifer brought the food to the table. We all jostled in our chairs trying to make room for the fragrant, overflowing bowls.
"Mind, what are we having for dinner?" Mike joked.
"Tom yum kong soup, satay gai, Thai fried rice with pork, pak tod vegetable tempura, kai yang isan, kai jiew, Thai fried egg, and," she pointed back to the kitchen countertop, "for dessert we have Thai banana with coconut milk." She smiled. "I think we should eat now."
During the dinner, Mind and Jennifer entertained us with facts about Thailand.
"Do you know why there are no dinner knives on a Thai table?" Jen asked with raised eyebrows.
We were silent.
"Your meat should be tender with a fork," Mind said. We all took our forks and tried them on the meat. She was right. They were fork-tender.
"How many seasons in Thailand?" Mind grinned at Jen.
"Four?" I ventured.
"No, three," Jen replied. "Hot, very hot and cold. Cold in Thailand is 80 degrees. It's crazy." The girls laughed.
"What are you looking forward to when you get home, Mind?" I asked.
She thought for a moment. "I want to eat authentic Thai food and have a nice dinner conversation with my family at our house."
After the dinner plates were cleared, Swarthout brought Mind out to the fire pit. "Mind, we want to thank you for coming to Olympia and now we want you to have an American specialty." He brought out graham crackers, marshmallows and chocolate bars. He put the crackers and chocolate on his knee and carefully slid the steaming marshmallow onto the cracker and handed it to her. Mind pushed the crackers together in a sandwich and took a bite.
"I like this," she frowned. "What is it called?"
"A s'more." Swarthout beamed.
The international rotary organization commits itself to projects that have lasting impact in local communities and world-wide. The impact that South Puget Sound Rotary, through Mike Swarthout and his fellow members, has had on Mind will stay with her for life. The Olympia Rotarians demonstrated kindness, compassion, and the ability to fix problems—small and large—in order to support her stay.