We in Thurston County have witnessed our share of problems with the public and the police. Personal views have led to plenty of arguments and a divisiveness in our community. The one thing everyone does agree about is that something needs to be done. That something is in the works and it is being championed not by angry citizens but by a handful of local cops and community members. The changes they are pressing for could significantly reduce crime, and with it, the need for

incarceration. Sound too good to be true? It is working in Tacoma and if organizers here can get funding it is ready to launch in Thurston County. It is called the If Project.
The If Project began in 2008 when Seattle Detective Kim Bogucki was involved with a Girl Scout troop for girls whose mothers were behind bars at Washington Correction Center for Women (WCCW), or the old label, Purdy. After an initial meeting with the girls' mothers to reassure them of her intentions, Bogucki asked if they would be willing to answer an essay question that they could share with their daughters. Little did she know that her question would become the catalyst of a national movement addressing incarceration and prisoner reentry.
"If there was something someone could have said or done that would have changed the path that led you here, what would it have been?"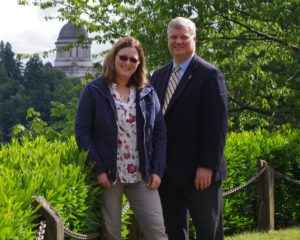 This simple question allowed those women to reflect on their lives in a way no one had ever asked them to. "The If Project, it allows us to look back," says If Project graduate, Melissa McKee. "Looking back and identifying where those paths began, 'how did I end up where I was?'" McKee was behind bars for 11 years. She and her mentor, Sergeant Ren Emerson, are the first to complete the If Project program in Thurston County.
"Kim Bogucki called me," recalls Emerson, "and said, 'Hey, I have this woman getting out in Thurston County, would you be interested.' The way the program works, they have to be released within 18 to 24 months. When Kim asked me, it took a while to commit because I knew that I would need to commit 100 percent. Commitment for these women," McKee pauses thoughtfully, "it is huge."
When you see Emerson and McKee together now you see two friends who have stood the test of time.
"I Knew I Could Count on Her"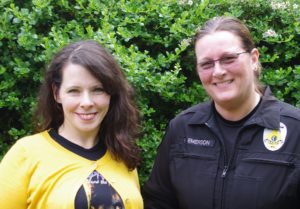 "When I was incarcerated I knew I could count on her," says McKee. "I have been conditioned to not trust, to not believe in people. So to know that I could count on her and that she believed in me, it really helped."
McKee was released a year ago. She gained full-time employment while still in prison. Her employers actually interviewed her while she was still at W.C.C.W. In addition to a full time job, McKee is also attending community college full time where she has been studying writing and the prison-industrial complex. McKee expects to move into the field of animal therapy.
"So, the If Project is multi-faceted," explains McKee, "and that is one of the things I find incredible and effective about this program. It is confronting the ides of mass incarceration on multiple fronts." Mckee holds up her hand to count them off. "It deals with prevention, with the youth and reentry, with the monitoring, and with having purpose and meaning while incarcerated."
If the organizers can come up with the funding, young adults will be the focus of the pilot program.
Finding the Funding
To help raise funds, organizers will be showing the award-winning film documenting the "If Project Movie" by director Kathlyn Horan on Thursday, June 28, at 5:00 pm at the Washington Performing Art Center's Black Box.
"Our goal is to have our first youth seminar with formerly incarcerated panel members in December 2018," says Al Weinnig, one of the program's organizers and a detective for the Olympia Police Department. "And our plan is to do one a quarter in 2019."
The If Project would work on a multi-level approach involving the help of incarcerated and released adults, local law enforcement, Community Youth Services, and Big Brothers and Big Sisters.
Drawing on the experiences of older individuals who have been through prison and successfully rejoined the community has been a proven facilitator to helping those who are struggling to change their direction.
"Looking back helps you to choose the right path for your future," says McKee, "and if it is for the sake of someone else and that works that is great. It really helped me to move away from my past and move through it in a healthy manner – you get to rewrite the story."
"Our goal is to show this documentary on June 28 to bring awareness to the community," says Weinnig, "and of course raise funds to launch it. We have our first youth seminar with formerly incarcerated panel members in December 2018. And our plan is to do one a quarter in 2019 and then tie in the mentorship program that Big Brothers Big Sisters has established with Bigs with Badges."
Hope-Change-Freedom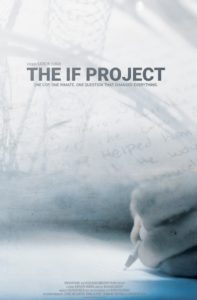 Jon Tunheim, Thurston County prosecuting attorney, is one of the If Project's most avid supporters and a self-proclaimed Hopologist. He sees the value of the If Program as an instrument capable of bringing about real change and reducing recidivism.
"The hope theory is how we want to measure success with these kids," says Weinnig. "The hope theory is the design, establishing the pathway, and then the agent or motor, whatever it is to push you toward these goals and how you are going to achieve them."
McKee has been through all of these steps. The final, the reentry, relied not only on McKee's determination and dedication but on the community's ability to facilitate it.
"Ren involved the community on my reentry," says McKee. "She involved me in reaching out for resources and talking about me as an individual. I had damaged my community, had done harm, and so I was afraid of how I would be received." McKee looks at Emerson. "So when she involved me and there was acceptance of me in the community I lost that fear and that helped me to walk out and be a part of the community rather than be apart from it."
"And this community has opened their arms to her," says Emerson. "I am so proud."
You can go online to view and independent TED Talk documenting Bogucki's experience. For the full documentary, you can visit the Washington Performing Arts Center website for details.