Aristotle once said that "Good habits formed at youth make all the difference." And one thing we've all learned is that breakfast is the most important meal of the day. To local kids from the Boys and Girls Clubs of Thurston County (BGCTC), this is vitally true.

On Thursday, May 24, join kids and staff from the Boys and Girls Club at their 16th annual Foundation for the Future breakfast fundraiser. The event takes place from 7:00 a.m. to 9:00 a.m. at Saint Martin's University's Marcus Pavilion and helps fund clubs across the region.
Events and Resource Development Associate Amber Wetzel is excited for this year's speakers. "We have a number of alumni speaking at this year's event," she shares. "Our theme is 'A Place to Become' so we are highlighting community members from different generations to speak about how the Club impacted their lives. Among our alumni speakers are Joshua Russert from Batdorf and Bronson, Terry Cullinane from Lacey Sunrise Lions and a Lacey Club Alumni, Nate Bulley, who teaches kindergarten at Meadows Elementary in the North Thurston School District."
The Boys and Girls Club of America began in pre-Civil War Connecticut. The organization became official in 1906 with 53 member groups that are now "tailored to the local community and customized for each age group to meet the interests and developmental needs of young people ages 6-18."
More than simply a place to hang out, the Club fosters physical fitness, volunteerism, education and STEM activities. In 2017 alone, "More than twice as many 12th-grade Club members express interest in a STEM career as 12th graders nationally, Club members in 8th, 10th, and 12th grades have significantly higher rates of volunteering than their same-grade peers nationally, [and] higher percentages of Club girls and boys report being physically active every day than their counterparts nationally. In addition, Club high-school-age members who stay connected to the Club as they get older seem better able to resist engaging in health-risk behaviors than their counterparts nationally."
Locally the Boys and Girls Clubs of Thurston County meet in Lacey, Olympia, Tumwater, Rochester and Tenino. Their mission is to provide "a wealth of programs and activities to prepare kids and teens for real-world success. We believe by focusing on academic success, good character and citizenship, and healthy lifestyles, youth we serve will be better prepared to graduate from high school, go onto college, and thrive as adults."
"Our growth and progress was possible because of those who worked tirelessly to develop our staff, build relationships with the community, and provide to youth what they need most—people who care about them," shares Director of Operations Shellica Trevino. "The support of the community is also shown through volunteer hours, in-kind donations and monetary donations given to support the youth served."
Eat Breakfast, Help Kids
And what better way to build community relationships than over breakfast with the kids who benefit? The Foundation for the Future event promises "No need to have a cup of coffee before joining us, as you are greeted by energetic Club kids. Be inspired by keynote speakers and of course, the kids while enjoying eggs and bacon. Start your day right with a huge helping of inspiration!"
Everyone is welcome and there's no charge for breakfast thanks to a wealth of generous sponsors. Donations are encouraged, however, and once you've met the beneficiaries you'll understand the importance of these dedicated Clubs. RSVP online by Friday, May 18 to guarantee your spot.
If your May calendar's jam-packed, consider attending the Born to be Wild Dinner and Auction, also at the Saint Martin's Pavilion, on Friday September 28. This year they are hitting the road for a trip to Chicago where guests will explore all things Chicago…baseball, theater, food and the arts, while bidding on an array of auction items.
There are also sponsorship opportunities available. These are "crucial to the success of over 3,000 youth! With your help, kids receive help with their homework, access to tech programs, and career/college prep programs to equip them with skills they will need to succeed." You can donate directly online or via one of their many exciting events. Then tour a club near you to see how much fun you've helped bring to kids of all ages.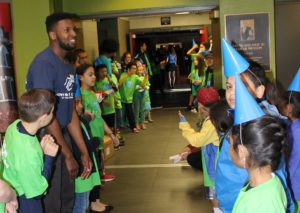 Share Foundation for the Future with friends and family through Facebook or enjoy pictures, video and more from BGCTC events and activities, including fundraiser nights at Buffalo Wild Wings, recent collaborations with the Gateway Rotary Interact Club and information on local BGCTC small business sponsors.
For questions about the event, call 360-956-0755.
Once something has become a habit, it becomes an integral part of your life. Consider spending a little extra time and money with the Boys and Girls Club of Thurston County. It's one of the best ways to make a difference for generations to come.