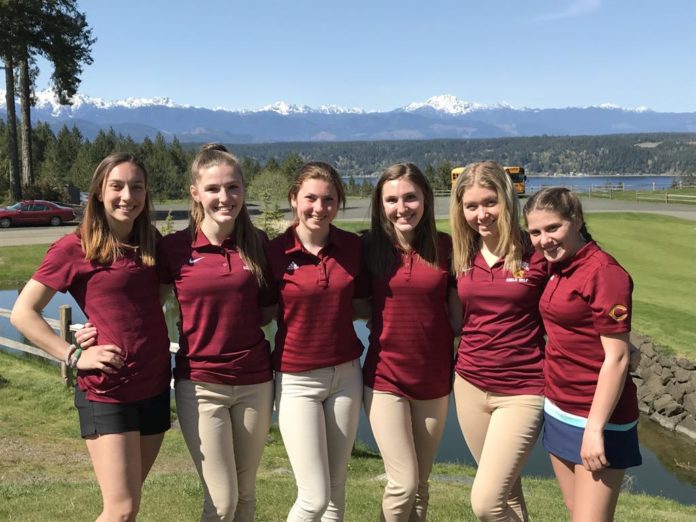 Just moments from the busy shopping district at the intersection of Harrison and Cooper Point Road is an oasis of lush greens, overlooking the sparkling waters of Budd Inlet. Olympia Country and Golf Club (OC&GC) offers 18 championship holes spread throughout 6200 yards of fir-lined fairways. A recent renovation welcomed a beautiful new clubhouse complete with covered parking, locker space and a new fleet of EZGO golf carts.
Mike Campbell, general manager at Olympia Country and Golf Club, is thrilled that he is able to provide upgraded facilities and new innovations in club amenities to his members, but he is even prouder of what OC&GC has offered to families for generations.
As golf is steeped in tradition, so is OC&GC and the staff has worked hard to maintain the history that has made the club such an important part of the community. A big part of that tradition is the club's commitment to youth golf.
While driving on Cooper Point road to the club, you will pass Capital High School. As you can imagine, it is not practical to have a golf course available to student athletes. Fortunately for golfers at Capital, their home course is just a short drive away at OC&GC.
"We are the host club for both the boys and girls gold teams," shares Campbell. "We donate the course for practice and matches." The club members have been very supportive of the arrangement because the students have been so respectful of the course. The students help maintain the course as a team, replacing divots and cleaning up the course after practice.
"Our members are very community-oriented," shares Campbell. "Donating the course for use by student athletes fits right into their desire to give back to the youth in our community."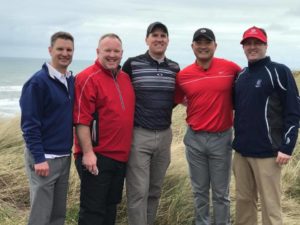 The connection between the Olympia Country and Golf Club and Capital High school is fostered by the coaches who grew up playing the Olympia course. Steve Hamilton, coach of the Capital High School's boys team and Kurt Playstead, who coaches the girls team, are both OC&GC members and played golf on the course as young kids.
Steve Hamilton is a 1991 Capital High School graduate who played on the Capital golf team throughout high school. He played Division 1 golf at the University of Portland and returned to his hometown of Olympia to share his love of golf with students at his alma mater since 2011. Hamilton tells his athletes that golf is not only a lifelong game but one that emulates life itself. "The game of golf is so important because you have to do it by yourself," explains Hamilton. "If you make a bad shot there is no one there to save you, you have to get out of a rough spot on your own."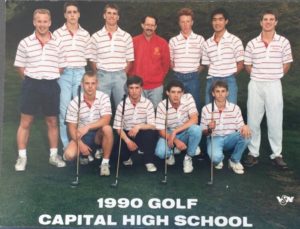 Hamilton spent every summer at the Olympia Country & Golf Club as a kid and remembers the freedom of meeting his friends each morning to play golf and go swimming. "The club was really the center of all of our summers," shares Hamilton. "We had independence and freedom in a safe place that we loved."
The Capital High School golf team is one of the most successful athletic programs in school history and Hamilton attributes some of that success to the fact that the club has been so supportive of youth golf along with the team's camaraderie. "All of our practices and matches are off-site," explains Hamilton. "There are no crowds of kids cheering us on so the kids support each other."
Kurt Playstead remembers "picking the driving range" after practices back in high school days. Playstead played golf at Willamette and was encouraged by his old friend Steve to coach the Capital High School's girls team this past year. The kids are surprised how fast Playstead and Hamilton can pick up the golf balls not knowing they have 30 years of experience.
"The club has been so supportive of the student athletes," shares Playstead. "The golf pros at the club will come out and give the kids some pointers, which is so helpful to Steve and I." Five of the girls on the current team participated in the club's Junior Golf Program. "We are really lucky to be out there on such a beautiful course every day," he adds.
Mark Jensen, head golf pro at Olympia Country and Golf Club, has been at the club for 13 years. In addition to working with members, Jensen is also the head coach of the Saint Martin's University women's golf team. Jensen has seen young players from the club's youth golf program go on to play in high school and then college, ultimately returning to join the club as adult members. "The future of the club is the young players," shares Jensen. "Our members have really embraced the young golfers that play here." The relationship with many of the high school players began back when they were junior golfers learning golf skills along with rules and etiquette.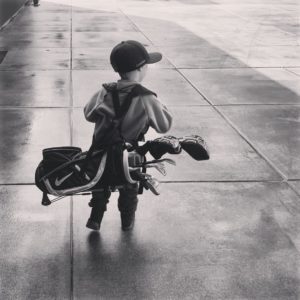 The Junior Golf Program is open to children and grandchildren of all members. Each summer golfers experience instruction along with either three, five or nine holes of play culminating in a skills challenge and a Junior Golf Championship.
"Golf is truly a family affair and we are all members of the family of golf here at OC&GC," says Mark Jenson, head golf pro. For more information on joining, visit the Olympia Country & Golf Club website.
Olympia Country and Golf Club
3636 Country Club Drive NW
Olympia, WA 98502
360-866-7121
Sponsored