As the weather heats up, guests at Yelm's Uptown Lounge have been asking their servers the same question: "When is the patio open? Can we sit outside yet?"
On May 1, Uptown will re-open its outdoor seating for guests and leave it open until the weather turns again in the fall. "You've been inside all winter," says Vanessa Diaz, General Manager. "Come out, enjoy a cocktail and see what new items we have to offer."
Uptowns outdoor seating features gas lanterns, heaters for those chilly summer nights, large LED TV's, sound system, ambient lighting and a mix of comfortable lounge seating and traditional tables. Whether you are looking to soak up the sun and sip on a margarita or enjoy a romantic evening Uptowns patio is the place to be.
Chicken & waffles, mascarpone turkey salad and roasted poblano soup are the newest additions to Mays monthly features. The bar will be whipping up handcrafted summer cocktails made with fresh juices and house made ingredients such as Moscow mule flights made with house made ginger beer. Choose from Uptowns Traditional flavors or rotating flavors. Ask your server for details!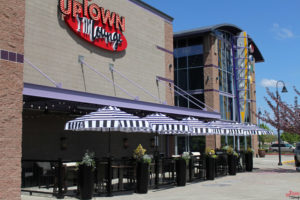 Guest feedback plays an important role at Uptown, Diaz notes, particularly in a community the size of Yelm. "Feedback is crucial, and we take action on it," she adds. "We listen to our guests because we want you to keep coming back."  If you haven't visited Uptown be sure to stop in during Happy Hour, Monday-Friday 3-6 and all-day Wednesday, or on a Trivia Tuesday. Uptown hosts trivia every Tuesday at 7:00 p.m. With topics like The Office, Star Wars and Friends you and your team don't want to miss out on your chance to claim the first place prize!
Diaz encourages everyone in the community, who is 21+, to experience the patio. "Come visit us and find out what we have to offer," she says. "I feel fulfilled when people are coming here to dine and taking two or three hours sipping their cocktails and tasting our delicious appetizers. They stay because they're enjoying themselves."
Learn more by visiting the Uptown Lounge website or by calling 360-400-3457.
Sponsored