This summer, you have a chance to WIN BIG during the Big Brothers Big Sisters (BBBS) BIG Car Raffle sponsored by Toyota of Olympia. Imagine yourself in the seat of a new 2018 Toyota Corolla LE, Camry LE, Prius 2 or Rav 4 LE on your summer road trips to the beach, adventures in the mountains or just navigating the adventure of life in Thurston County.
NOW through July 31, purchase raffle tickets for $100 each for the chance to win your choice of quality, new Toyota vehicles listed above. Or, choose the cash prize of $5,000 to fuel your summer fun. If you choose to take a car home, the taxes and fees are fully covered too! You can't lose with this BIG Raffle! The BIG winner will be drawn at random on August 1.
All proceeds from the BIG Raffle will benefit Big Brothers Big Sisters of Southwest Washington and their ongoing mentorship programs throughout Thurston, Lewis, Mason, Grays Harbor and Pacific Counties helping youth reach their fullest potential and live their best life.
When you purchase raffle tickets for the BIG Car Raffle, you aren't only purchasing a chance to win a new car. Each dollar spent on raffle tickets helps support the mission of Big Brothers Big Sisters, "that every child in our community realize their fullest potential."
"We are thrilled with the support given to Big Brothers Big Sisters by Toyota of Olympia," shares Leslie Shahan, VP of Operations for BBBS. "The generosity shown by the entire team at Toyota to support kids in this community is incredible. The dollars generated by the raffle will help us match more Bigs with Littles in meaningful, positive relationships."
By matching committed adult volunteers in our community with children, especially those facing adversity including single-parent homes, parental incarceration or growing up in poverty, Big Brothers Big Sisters is able to positively impact our youngest citizens and thereby, our entire community.
BBBS implements their mission through their unique mentorship programs. Most people think of the community-based mentorship first when they think of the "Big/Little" relationship. And, these matches between adult community mentors and youth are powerful points of connection where Bigs provide guidance, support, stability and friendship through one-on-one outings and activities.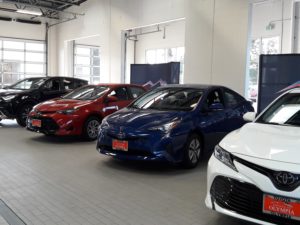 But, BBBS's mentorship programs are much broader. School-based mentorships are facilitated through the Little's school and community center-based matches are arranged for after-school meet ups at local community centers with support staff on hand. Specialized partnership programs match Bigs and Littles from military families, Gold Star Youth mentorship matches Littles who have lost a parent in active military duty and Bigs with Badges matches middle school youth with law enforcement or firefighter mentors.
Want to win BIG? Grab your raffle ticket now (or two, or three) for your chance to win the grand prize – a new car – in the BIG Car Raffle on August 1, 2018. Tickets can be purchased at Toyota of Olympia, located at 6969 Tyee Drive SW in Tumwater or through Big Brothers Big Sisters directly.
With every ticket you purchase, a local child in need of mentorship will automatically win BIG in the form of supportive mentorship and guidance to live up to their fullest potential.
For more information, visit Big Brothers Big Sisters online follow them on Facebook.
Sponsored