Springtime sunshine inspires the home improvement itch in many people. Writer Helen Rowland once said that: "Home is any four walls that enclose the right person." But if you aren't handy with a hammer, paintbrush or lawnmower, those four walls can drive you more than a little crazy.
Thankfully, there are two events that can help you find a solution to just about any home renovation project. This year, the Olympia Master Builders' BIG Home and Garden Show takes place on April 21 and 22 at the Saint Martin's University Marcus Pavilion, while the Nisqually Valley Home and Garden Show is April 28 and 29 at Yelm High School.
Home shows are ideal for anyone looking to remodel, prepare to sell or just freshen things up. With hundreds of local vendors, tradespeople and craftsmen on-site, you can ask questions, see work samples or schedule appointments on the spot.
Both shows are supported by Olympia Federal Savings. Marketing and Public Relations Manager Ryan Betz explains, "Oly Fed is a big supporter of both the Olympia Master Builders and the Yelm Chamber of Commerce, which are the two organizations that are putting on these home show events."
"In Thurston County, inventory of homes for sale is at an all-time low, which is driving many folks to consider building a new home or remodeling their existing home. As we head into busy home improvement season of spring and summer, the home shows provide a great resource for people to get new ideas, insights and information about creative new products and services from the pros."
Barbara Whitlow is the residential relationship manager. She loves that "Olympia Federal Savings and OMB are passionate about their shared values of maintaining affordable housing and sustainable communities. New home construction and home remodeling are becoming increasingly important due to the lack of existing homes for sale in the marketplace today. Oly Fed is honored to collaborate with Olympia Master Builders in support of our builder partners and the opportunity to fulfill their financial needs. We believe it is important to support builders because builders sustain our community in so many ways."
Should you attend either show and inspiration strikes, consider talking to Barbara or one of her Oly Fed colleagues. "A home show is a great opportunity to get inspiration for your new dream home or remodeling plans. Oly Fed offers a variety of exceptional construction loan programs and home equity line of credit options to support your new home or retrofitting projects. And, if you're looking to complete some green projects (solar panels, ductless heating systems, tankless water heaters, low-e windows, etc.)  around the house, they have a unique line of Green Choice Loans, which offer additional benefits for building, buying or retrofitting with energy efficiency in mind."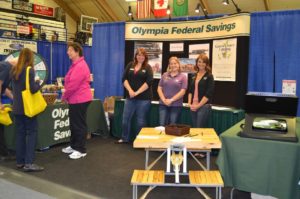 Sponsored annually by the Olympia Master Builders, the home show at Saint Martin's is an annual hit. Communications specialist Jill Williams says they love "bringing the community and local business owners together for a fun-filled weekend that has a little something for everyone. This event showcases experienced professionals ready to share latest trends, tips and special offers from remodeling to garage doors to landscaping.
There will be a dog house auction to benefit Concern For Animals, a Bloodworks donation drive, food trucks, a free reusable shopping bag with entry to the show, as well as a chance to win a pellet grill courtesy of Olympia Fireplace and Spa. For the kids there will be a Lego competition and bouncy house, weather permitting of course. The BIG Home and Garden Show is the perfect weekend event for the entire family!"
The Olympia show runs from 10:00 a.m. until 5:00 p.m. Saturday and Sunday, April 21-22 at Saint Martin's. Visit the Olympia Master Builders event page for a $2 off coupon and details about free parking details and showcased sponsors.
The Nisqually Valley show is from 10:00 a.m. until 4:00 p.m. Saturday and Sunday, April 28-29. This show is hosted at Yelm High School and offers free parking, free admission, prizes, entertainment and even a visit from fan-favorite Ciscoe Morris.
Houses are comforting, familiar and a great investment. They survive the raising of children, housebreaking of puppies and endless April showers. Give yourself a weekend off to visit a local home show for inspiration. Don't worry, your chores will be waiting when you get home.
Sponsored