Established in 2010 by the Board of Directors of the Dispute Resolution Center, the Evan Ferber Peacemaker Leadership Award honors founding Executive Director Evan Ferber and is presented "to recognize an individual or individuals who have provided extraordinary leadership in promoting and strengthening civil discourse and civic harmony."

This year's award was presented at the Dispute Resolution Center's annual fundraising event, The Toast, held on April 15. The award was presented to Teal Russell and Katherine Trahan, who serve as Downtown Ambassadors for the City of Olympia.
Trahan explains that her goal is to create a safe and welcoming downtown Olympia. The Downtown Ambassadors Program has been very successful in using a mental-health peer recovery model. The ambassadors have training in peer counselling and they take a mental health-empathy approach when defusing conflicts that sometimes arise between individuals. Russell and Trahan's regular presence downtown allows them to build connections with the people they meet, which has helped them in their goal.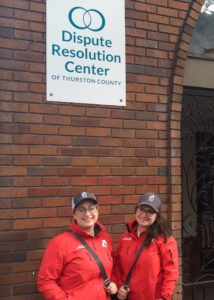 Russell's current path began as the beneficiary of other downtown ambassadors when she worked at a store downtown. She saw the good that the ambassadors were doing to help people and she was inspired. She kept an eye out for an opening, and when one appeared a couple years later, she went for it.
Russell and Trahan's passion for what they do manifests in their interactions with people downtown. They greet everyone they meet with a smile. Trahan laughs saying, "Sometimes I feel like Mr. Rogers." She says that everyone in the city center knows them now. Even when she and Russell go out while off duty without their red jacket ambassador uniforms, people recognize them, greet them and sometimes stop to chat.
It's those connections that enable Russell and Trahan to help others. People trust them – from the business owners that can count on them to assist in interacting with city agencies to people experiencing homelessness that need help navigating social services.
The beneficiaries of Trahan and Russell's work are plentiful. Businesses, downtown visitors and individuals experiencing homelessness all benefit from these two ambassadors who put a focus on commitment to improving communication, providing support and de-escalating conflict. Their close relationship with the downtown walking patrols of Olympia Police Department allows them to handle situations in which businesses or the public may have called the police in the past, not having someone else to call. There are some situations where Russell and Trahan need to contact the police department, but that is usually a last resort, which allows the police to focus where it is needed.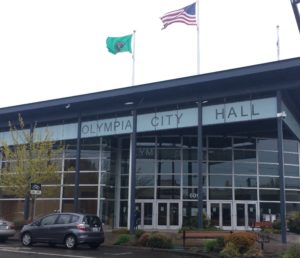 When speaking of Russell and Trahan, Joe Sanders, Community Engagement Manager for the Dispute Resolution Center, says, "They exemplify the Dispute Resolution Center's principals being put into practice every day." He continues, "Particularly worthy of recognition is the diplomatic and respectful way in which they interact with the various communities who live, work, visit and do business downtown, including the homeless population – diffusing potentially contentious situations, preventing and resolving conflict, and connecting people with resources."
Trahan's humility is endearing. "All we do is build bridges, and make relationships, and be nice to people, and somehow that just does a world of difference," she says.
In the six years the program has been in existence, Russell and Trahan have served longer than any other ambassadors – Trahan for three and a half years and Russell for three years. And they have no plans for stopping now. In that time, they have seen the program change, shifting from the pilot program created by the Capital Recovery Center to the current program with the City of Olympia.
Sanders is not the only one who recognizes the value that the two downtown ambassadors bring to the community. Roger Horn nominated Trahan and Russell for the award. "Are they peacemakers? They certainly are, in a number of ways. The key has been their connection with people of all types, and serving as a bridge between all individuals and groups in downtown Olympia."
Trahan and Russell stress that they couldn't be successful doing what they do alone. They attribute their continued enthusiasm for the program to the support they receive from their program manager, Downtown Liaison Mark Rentfrow, who has mentored them, offering guidance, support and advice.
Trahan and Russell also work alongside the Clean Team, which helps keep downtown Olympia looking its best. They regularly communicate with Clean Team members as they make their rounds through downtown.
Trahan and Russell see the growth happening downtown as an opportunity and a challenge. Welcoming people is part of their job description, but increased population means an increase in interactions and a potential for conflict. They hope that someday the Downtown Welcome Center will return, perhaps resurrected by a non-profit, to help them with their mission.
If you are downtown and find yourself in need of assistance from the downtown ambassadors, they can be reached, Tuesday through Saturday, 9:00 a.m. – 5:00 p.m. at 360-338-2853.