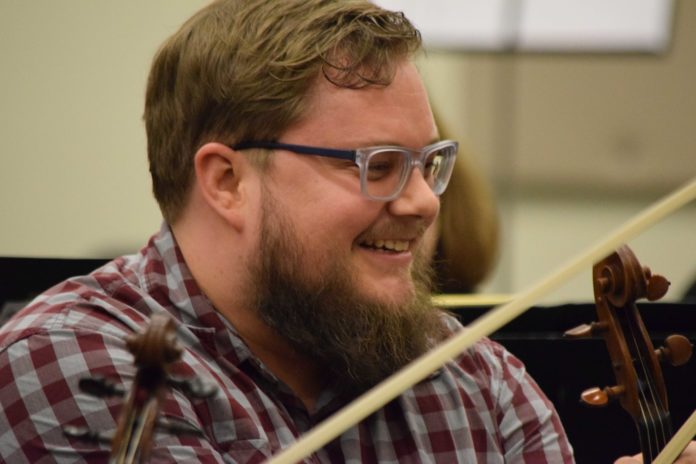 The 65th anniversary season at the Olympia Symphony Orchestra is coming to a close. With their final concert of the season entitled "Coming Full Circle," the Orchestra will present works by Mozart and Beethoven along with an original composition by local musician and composer Austin Schlichting for its season themed "Thinking Big."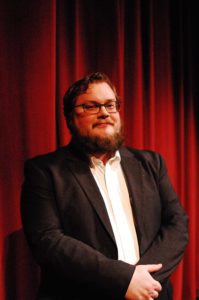 Austin Schlichting was raised in Bellingham but has significant ties to Olympia, and specifically the Olympia Symphony Orchestra, through his grandfather, Fred Schlichting. The elder Schlichting taught music at Olympia High School for nearly 30 years and was part of the Olympia Symphony Orchestra in its beginnings, serving as conductor from the early 1950s until 1968.
At the age most children begin playing music, Austin Schlichting was already thinking he might like to write music after hearing Dvořák's Symphony no. 9 at nine years old. He began learning piano at age ten. Piano is the best instrument to start with, he says, because students don't have to worry about intonation, but they learn other useful things, like the ability to read treble and bass clef simultaneously.
By 5th grade he was enrolled in the public school's strings program playing violin and began dabbling in writing his own tunes, encouraged greatly by his parents, specifically his father who taught the Orchestra at Bellingham High School for 40 years. Later his father would be his orchestra teacher.
For the upcoming concert, Schlichting will play alongside his aunt, Anne Edwards, who belongs to the orchestra as well. She has watched him grow throughout his musical career. "His college years at WSU and Ithaca really turned him into a composer," she says. "He is a very dedicated and knowledgeable musician." Edwards points out that Austin practiced hard on his violin but could switch to the viola when the need arose.
The switch to viola proved a good one as it opened the door to many more scholarships when it came time for college, Schlichting says. He says playing viola in an orchestra places you in the middle of the ensemble, near where the conductor stands. He is able to hear everything, things that sound right and things that need to be adjusted, such as "the middle voice, the middle of the harmonies."
An opportunity to teach Orchestra and choir at River Ridge High School brought Schlichting to the Olympia area where echoes of his grandfather still resound in stories he hears from adults older than he, who were once his grandfather's students.
Schlichting was commissioned to create the Festschrift specifically to commemorate the 65th Season of the Olympia Symphony Orchestra. A "Festschrift" is a tradition of honoring a respected scholar with a collection of works by the scholar's colleagues. Schlichting has decided to treat the Olympia Symphony Orchestra as the respected scholar as he says it is a "living and breathing organization" that has grown and changed, and most importantly accomplished great things over the past 65 years.
The performance will be led by music director Huw Edwards. Edwards encouraged Schlichting to write the piece and gave him pointers on which pieces would be used for the finale of this season to consider while he wrote. With that in mind, Schlichting's Festschrift was composed specifically to fit with the other two pieces being presented at the April 22 concert. He wrote Festschrift as a collage piece, which noticeably references other pieces of music, appreciating the classical masters that came before him, just as he has followed in the footsteps of his father and grandfather before him.
With this composition, Schlichting is stepping out of the shoes of his father and his grandfather, creating a composition that pulls from all that he has been taught, making something new. He honors the past, while still looking forward.
In addition to Schlichting's Festschrift, the orchestra will present two other pieces – the first piece ever performed by the Olympia Symphony in 1947,  Mozart's Overture to the opera Don Giovanni, and Beethoven's Symphony No. 9 in D minor, "Choral," which will feature the Olympia Choral Society and Timberline High School Symphonic Choir.
The soloists featured in Symphony No. 9 will be soprano Marlette Buchanan, alto Miya Higashiyama, tenor Brendan Tuohy and bass Charles Robert Stephens.
Schlichting encourages readers to look online for the works that will be presented at the concert, to get an idea of the music the Orchestra will be playing. But he stresses that nothing can match hearing the symphony in person. Experiencing the Orchestra in a venue such as the Washington Center cannot be matched, even by the best that modern technology has to offer. For that reason, he invites all to attend the April 22 concert for an experience they won't soon forget.
The concert takes place at the Washington Center for the Performing Arts in Olympia at 7:00 p.m. on April 22. Tickets are currently on sale starting at $10.00. Military and student discounts are also available for allseating locations, as well as $10 Student Rush tickets the day of the concert.
Sponsored