On May 26, 1975, an 11 year-old Welch boy was in London attending Verdi's opera, A Masked Ball. Enthralled by watching the conductor in the orchestra pit, the young Huw Edwards knew he wanted to be a maestro. With his life and education revolving around music, Edwards incorporates his many talents into his 15th season as the Musical Director and Conductor of our Olympia Symphony Orchestra.
Edwards's first musical memories precede the Verdi experience. As a youth, he listened to his grandfather singing folk songs. Early exposure to music theory began in a church chorus group. At the same time, he studied the violin. Later in school he switched instruments to play the trumpet. Edwards continued to pick up scores and read music. He found he was challenged to dig deeper into the music and himself. A family move from Wales to London allowed his parents to take him to many concerts. London remains a musical epicenter for all who would partake. "I was so lucky," Edwards recalled, "to be interested in music and to live near so many chances to see and experience them."
While earning his undergraduate degree, a bachelor's in music, at University of Surrey in England, Edwards took conducting classes and practiced those skills with an orchestra. Whenever Edwards lived in London, he took every opportunity to go to concerts, often times simply to watch various rehearsals. Sometimes he asked to come in and sometimes he sneaked in. Listening and watching was a great part of his education. The music resonated in a powerful way. Edwards studied with Barry Wordsworth, an accomplished and acclaimed British conductor, who provided a significant influence on his career.
Leading the Symphony
Over the seasons, Edwards has become more connected and comfortable with the community. He has found Olympia to be very welcoming of music and desirous of creating an independent character separate from the being the state capitol. He likes to mix the familiar music with the less familiar. The upcoming concert brings two great masters to a matinee where the music is friendly and accessible. There's no school the next day, making it advantageous to anyone still in school.
The Olympia Symphony Orchestra is celebrating its 65th anniversary. Most of the musicians live in or near Olympia, many being music teachers. Edwards presides over rehearsals and performances. There are usually about five events every year. Though his main position is conducting the Olympia Symphony, Edwards is filling in for a sabbatical position at PLU. Edwards told me he's a keen golfer and regularly practices yoga, which has cultivated a positive shift in his attitude. He appreciates a glass of red wine and continues to be curious about travel. He still likes to get back to southeast England to visit family.
Teaching Others
When not holding the baton for the Olympia symphony, Edwards makes time to teach for Senior Services for South Sound. Currently, an enthusiastic group is learning about Beethoven in a class called Scroll Over Beethoven. This series gives Edwards a chance to focus on one musician and go in depth with information and compositions. It also covers a shorter time span, unlike many music appreciation classes that cover many musicians over decades. There is time to engage in pieces not typically played by orchestras. Plus, for Edwards, Beethoven is endlessly fascinating.
His enthusiasm is contagious. One student who had never taken one of Edwards's classes commented, "I love him. I will take his classes from now on." The sentiment is mutual. He also loves his students who show up with desire to be present and who bring lives rich with experiences.
Students enrolled in this quarter's course receive a voucher to the upcoming concert, Closing Remarks, on Sunday, February 18 at the Washington Center for the Performing Arts. It fits the 2017-2018 theme of Thinking Big! The audience will be treated to Mozart's Piano Concerto No. 27 in B-flat major, K 595 with Oksana Ezhokina on the piano. She is the piano professor at PLU who especially likes playing Mozart. The other work is Schubert's Symphony No. 9 in C Major, D 944, "Great." Like bookends, Mozart precedes Beethoven and Schubert comes afterwards. The concertino by Mozart was his last. The Schubert symphony was his last and sadly he died before he heard it performed. Both musicians died at young ages, Mozart at 35 and Schubert at 31.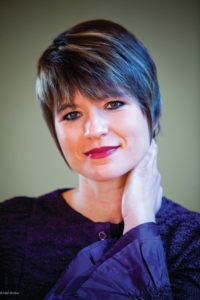 Live music offers moments to think, to respond and to reflect. It's fun to get out and enjoy an event with the community. Besides, going to such a concert upholds a long standing tradition of playing great music. You'll be able to watch the bows moving up and down and see the tympani tapping. As Edwards notes, a concert is "live, unedited, in real time and right before your eyes."
As you listen to these classical composers, you'll be getting their music in their native (original) language. Of course, music may be called a universal language. Interestingly, people who may not speak the same language can read the same music.
Bring your children and young friends. Maybe this will be the concert that shapes their lives. Edwards still has the program from that long ago concert in London. Life changing or not, you'll have a wonderful time.
Sponsored