Along a fjord in Washington State, where there are more trees and fish than people, the small town of Hoodsport sits, waiting for your adventure. Known for fantastic fishing, seemingly endless outdoor recreation, fun vacation destinations and world-class SCUBA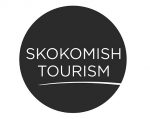 locations, Hoodsport, Washington, just begs to be your next weekend getaway. Whether you want to hike and climb, fish or dive, or just wander the shops and eat and drink, an afternoon or weekend at Hoodsport is the ideal way to recharge after a long work week.
Like most small towns, there are no major chain restaurants or well-known amenities. Instead, Hoodsport has locally owned businesses staffed by friendly, smiling community members. This is a gem of a small town and one that needs to be experienced.
Best Spots for an Outdoor Adventure
If you enjoy the great outdoors and taking in hikes and adventures on our public lands, you may already be familiar with Hoodsport and beyond. Close to Olympic National Park and Forest, your hiking options are only limited to your physical abilities. Those looking for something fun, easy and family-friendly should head to Olympic National Park's Staircase region, where numerous hiking options await. Hikers with kids will enjoy the easy Shady Lane or Staircase Loop Trail, while those more adventurous can head up to Flapjack Lakes or stand atop Cub Peak. If you are hoping for some of the most stunning summer views in Washington State, head up to the steep summit of Mount Ellinor, or find solitude in wilderness along the often-overlooked South Fork of the Skokomish River. More local hiking adventures can be found here.
Where to Get a Drink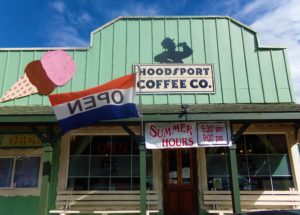 No trip to Hoodsport is complete without grabbing a cup of coffee or some ice cream from Hoodsport Coffee. Located just a few feet from Hood Canal, this quaint coffee shop is owned and operated by locals, eagerly waiting to help you wake up and explore the region.
For a more serious drink, head across the street to the Model T Pub and Eatery, where numerous beers on tap can be enjoyed with standard pub fare. This friendly pub is a great stop for a post hike beer. If you'd rather get your own bottles of wine or spirits, three Hoodsport locations will warm you up. Offering their own gin, whiskey and vodka, all made in the shop, Hardware Distillery is a must-stop for enthusiasts of locally made spirits. For wine drinkers, Hoodsport has not one, but two wineries. Each is awesome in their own right and should be explored. Stottle Winery, which offers wine tasting, is small, but has an amazing selection. The staff is friendly, fun and knowledgeable. Bonus, they also run a shop in Lacey. Most famous for wine is the Hoodsport Winery, which has been operating since 1978, and has a great selection of wines and other local products.
Grab a Bite to Eat
It should come as little surprise that the Hoodsport region has some of the best seafood in Washington State. The Hood Canal is flush with salmon, oysters and spot shrimp. The best place to get seafood is at Hama Hama Oyster Company, just a short 15-minute drive north of Hoodsport. Lovers of standard fare should grab a burger at the Burger Stand in Hoodsport, or enjoy the always delicious Mexican food at El Puerto de Angeles. Not sure what you are craving? Don't worry! Head over to the NorthFork Grill at the Lucky Dog Casino for a variety of tasty options.
Where to Stay
If you are hoping to make your trip to the Hood Canal a little longer than an afternoon, the region has plenty of great options for places to stay. Your three best bets for lodging will be found at the Glen Ayr Resort, Skokomish Park and the Waterfront at Potlatch. The Glen Ayr Resort is located a mile north of town and has access to the waters of Hood Canal, as well as stunning views. For those looking for something a bit more rustic, consider camping at Skokomish Park, right along Lake Cushman. With RV sites and campsites, you'll be able to enjoy numerous amenities as well as access to the natural beauty of the region and lake adventures. Finally, if you'd rather have a cabin for the night, or hook up your RV right near the waters of Hood Canal, the Waterfront at Potlatch is a gorgeous spot to stay the night.
Where to Catch the Best Sunset
Your best sunset option, hands down, will be found at the Lake Cushman overlook between Hoodsport and Staircase. Offering views of the Olympic Mountains and the lake, this overlook, complete with picnic tables, is a year-round destination full of absolute beauty. Sunsets here are memorable and beautiful, especially in the summer and fall months. Even if you decide to stay in Hoodsport, the sunsets are still gorgeous. While you won't see the sun plunging down behind the mountains, the skies above the Hood Canal often erupt in color, reflecting off the deep waters. Potlatch State Park is a great spot to see this.
Sponsored