Submitted by GRuB
GRuB is honored to announce we have received a grant from the Disabled Veterans National Foundation for $20,000 to fund a veteran staff position to coordinate the Victory Garden Project and help shape the future of the Lacey Victory Farm.  Last year, the Thurston County Food Bank had the unique opportunity to purchase a piece of property on Martin Way in Lacey so that they can open a new Food Bank location serving the Lacey community.  They applied for the Lacey Community Development Block Grant and, upon notification of the award, quickly mobilized to purchase the land and reached out to GRuB to invite our partnership in launching a 20,000 square foot veterans' garden on the site.  With Disabled Veterans National Foundation funding, we are proud to announce we will be hiring a veteran Victory Garden Project Coordinator who will lead veteran recruitment, peer support, & garden builds as we begin laying the foundation for the new Victory Farm.  The position description will soon be found on our website. The priority deadline to apply is February 28, though applications will be accepted until the position is filled. 
Project Background
In 2014, GRuB realized that the powerful leadership, communication & communication building tools that have transformed the lives of young people in our community for the past twenty years can also help address the challenges of adults.  Our community has a large number of veterans struggling with transition from military to civilian life. More than 600,000 veterans live in Washington State. Thurston County has the second-largest veteran and active-duty military population in our state because of its proximity to one of the five largest military bases in the world–Joint Base Lewis-McChord–in neighboring Pierce County. An estimated 25 percent of JBLM's military families live in the City of Lacey (Lacey Chamber of Commerce 2017), which is also home to more than 6,000 veterans (U.S. Census 2017).  Veterans often struggle with community reintegration and experience high rates of poverty, divorce and suicide. More than 40 percent of post-9/11 veterans report difficulty transitioning to civilian life, including high unemployment rates and strained relationships with family (Pew Research Center 2011).
Since 2014, veteran programming at GRuB has served veterans in our community struggling with transition by providing access to peer support along with opportunities to translate skills gained in the military to meaningful community service.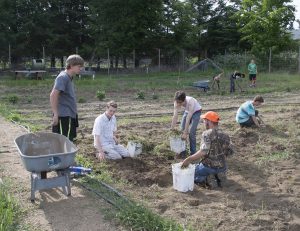 In 2015 we developed a program called The Victory Farmers which focused on engaging veterans and active-duty military service members in relationships- and garden-based programming. We successfully piloted a volunteer-run "Victory Farm" where veterans, active duty service personnel, and civilian community members came together to grow more than 2,000 pounds of fresh and nutritious produce. Food grown by participants was donated to the local food bank and a group providing warm weekly meals to community members experiencing homelessness. Veteran volunteers (the "Victory Farmers") now lead Victory Garden Project garden builds alongside youth, seniors, and low-income families. The goal of Victory Farmers programming is to help veterans successfully transition back into their civilian life by translating skills and talents gained in the military to relationships-based community service. Participants are connected with regular peer support, program leadership opportunities, communication skills training, and the opportunity to apply their strong military service ethic in civilian life through community-based work to grow, share, and help others access good food. This program, particularly its peer support aspects, have had powerful impacts. Since the Victory Farmers' inception, five veterans have disclosed that participation in programming prevented their suicide.
Building on our past success implementing a veteran-led farm, we began site development of the new Victory Farm site on Martin Way in partnership with the Thurston County Food Bank. The new farm is part of a "Compassionate Community Project" in partnership with the City of Lacey, Lacey Chamber of Commerce, Lacey Veterans Services Hub and the Thurston County Food Bank. It will be co-located on a site currently being developed by the Thurston County Food Bank to address food insecurity in the City of Lacey. Katie Rains, GRuB's Executive Director says, "We could not have asked for a better set of partnerships than we have for this project. We feel so fortunate and grateful to the Disabled Veterans National Foundation for coming through with critical capacity building funding at a time when we needed it most."
"Veterans face countless hurdles after they exit the military, but perhaps one of the biggest challenges they face is finding a sense of purpose in the midst of what feels like an identity crisis," said DVNF Chief Executive Officer, Joseph VanFonda (USMC SgtMaj Ret.). "GRuB's work addresses this in more than one way, and DVNF is honored to support this worthwhile initiative."
The goal of the Victory Farm is to create a safe, non-confrontational place where veterans, active duty service members and their families work shoulder to shoulder with community, immersed in the healing nature of the outdoors, agriculture and dirt work. In addition to time spent transforming and cultivating a 20,000-square-foot urban lot into a sustainable farm, our team of Victory Farmers will continue serving as lead garden builders and will build at least 20 gardens (of 50 total) for low-income families throughout Thurston County in 2018. Garden applications are available now, and the deadline to apply is January 31. Typically, at least ⅓ of those served by VGP gardens are children; many households also include seniors.
What happens when we get outside, pick up a shovel and get dirty? People begin to open up, walls come down and roots of real human relationships form. Veterans begin sharing and find they aren't alone in their struggle after all. They begin cultivating connections with each other – often sources of life-saving peer support– and with families living in poverty who relate to their experience with suffering, struggle, and resilience.  At the end of the day, our veterans find their place in community and our community learns how to better understand and support those who have fought for our freedoms. And we all enjoy and have greater access to good food.