Coffee is a way of life in Washington. Our addiction to the variety, crafting, and consumption of this magical elixir is known far and wide. Everyone has their favorite tried-and-true spot for a morning pick-me-up or afternoon treat…just ask! To keep up with demand, Don and Carrie Wall and their rowdy team of Dutch Bros coffee pros are expanding from drive-through shops in Hawks Prairie and Tanglewilde to a new indoor location in Tumwater.
Thanks to dedicated baristas who work early mornings and spend endless hours foaming, frothing and brewing, the National Coffee Association—tracking just how much Americans love their coffee—reports that "46% of coffee was consumed outside of the home in 2017."
At Dutch Bros, on-the-go doesn't mean sacrificing quality or service. Runners hustle to your car (rain or shine), take your order (in all its half-caf-low-foam-triple-whip glory), and create caffeinated perfection (while elegantly flipping bottles of flavored syrup like Tom Cruise in Cocktail).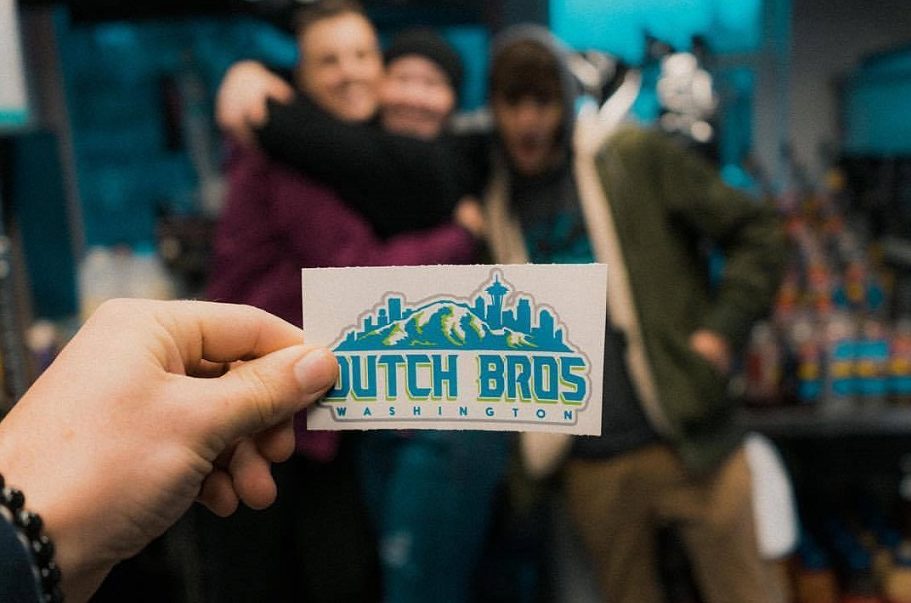 For the Wall family, giving back is job one. "I graduated from North Thurston High School and love to be a part of this community," Carries says. "Thurston County is the best county in the state of Washington! We all work so hard to make it the best. I really just love talking with our customers and hearing how enthusiastic they are about this community and how they are always trying to make it better! It's so inspiring."
Her husband Don recently retired after 20 years in law enforcement and Carrie was on the board of the North Thurston Education Foundation for several years. "We try and do as many giveback days (both companywide and locally) as we can," Carries adds. "We have 3 kids, aged 10, six and four. We really try and teach them to do good and feel like showing them the love we spread in our community is a perfect example of just that." The last "Give Back" day was on Valentine's Day, 2018, and Dutch Bros gave $2300 to the Thurston County Food Bank. 
They show the love through more than just foamy hearts atop your daily mocha. "My favorite part is feeling like we are part of the community," she continues. "We get to know them just like they get to know us, we are all just one big family. I think the main thing I'd like people to know about Dutch Bros is it's more than just coffee or music. It's about creating lasting relationships with people. Creating a place for people to come and be themselves and know that they will always be accepted and loved."
And boy, is it a big family! The Wall's currently employ 85 baristas to staff their three locations. But unlike the Lacey stands, Tumwater mixes things up. "We waited and waited for right spot in Tumwater," Carrie explains. "This is the first walk-in location in Washington. We feel this location is perfect for what we want to try and accomplish in this community. It's a perfect location for people to come and hang out, sit by the fire and connect."
The new location opens at 5210 Capitol Boulevard SE on February 28 with free 16 ounce drinks all day from 4:00 a.m. until 11:00 p.m. (Tumwater location only). But come early, when Lacey opened, the lines for free drinks were, shall we say, extensive.
But with music, coffee, eager staff and happy customers, it's guaranteed to be a party. Put on your dancing shoes (watch this at least twice, volume at max!) and come meet the crew. "We would like to say thank you to the City of Tumwater for welcoming us with open arms," says Carrie. "Throughout the following month we'll be having high school spirit days for the local high schools, deals specific to Tumwater. Stay tuned on all our social media pages for details."
Even if you can't attend the grand opening, hit up their Facebook pages for laugh-out-loud videos of employees and customers to cheer your daily grind. These can be found via their primary Dutch Bros Lacey page or individually at Hawks Prairie, Tanglewilde, and Tumwater.
You'll also find upcoming drink specials, pastry coupons, events, merchandise and charitable giving days, like a recent fundraiser for the Lacey Veterans Services Hub. Other local charities they support include, but aren't limited to, Susan G. Komen of Puget Sound, Thurston County Food Bank, Boys & Girls Clubs of Thurston County, Hands-On Children's Museum and the Muscular Dystrophy Association.
Jerry Seinfeld once admitted that "We want to do a lot of stuff; we're not in great shape. We didn't get a good night's sleep. We're a little depressed. Coffee solves all these problems in one delightful little cup."
When you purchase that delightful cup at a Thurston County Dutch Bros location, add "'hiring locally, helping your community, and epic dance marathon" to Seinfeld's elegantly do-able solution.
Sponsored