Submitted by Jeannette Sieler, Recreation Supervisor for the City of Lacey
Where can you experience the sights, sounds, tastes, colors, cultures, and customs from around the world without purchasing a plane ticket or even spending much on gas?  At the Ethnic Celebration right here in Lacey on Saturday, March 10. This year will see the largest participation ever, offering a wide variety of groups who are excited to share their culture and heritage with each other and with the next generation. In addition to 2 stages of ongoing dancers, drummers, and bands there are 64 different vendors and resource booths as well as hands-on activities for children.  This year, we are bringing back the passport activity for children, they can pick up their passport and collect stamps from the various 'countries' at the event to win a prize!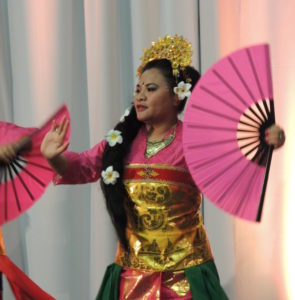 "We are very excited about some of the new groups we have participating this year!" Shares Jordy Beasley, Lacey Parks & Recreation Event Coordinator. "Among the 18 performers one new group, Bong Lang Ruam Jai, will share Thailand sound and dancing with some unique instruments, and we have some fun new vendors including Roxana Hart who is traveling from Mexico to share her handmade textiles and wood/clay/leather/tin products.  We will also have Fancy Accent Tea Company representing the home of tea time, Great Britain. Bring your appetite because we have 9 food vendors offering food from Creole, Greek, South Korea, Holland, Mexico, Spain, Vietnam, Germany and more!" our favorite new food is the South Korean Ice Cream Cane!" says Beasley, "It's a cane/cone made with corn puffed at a very high temperature so the cone is light and crunchy but will rarely get soggy!
One of the best things about the event is that it is free!  Free admission, free parking, entertainment, and activities are all free.  There is a cost for food and to purchase items from any of the vendors.  The variety of cultures represented in our own community is amazing and the Ethnic Celebration allows various groups a chance to dress in their traditional costumes and share dances, songs, and music as they teach them to their children who perform alongside them on the stage or share with others at their group's booth.  To see children proudly wearing elaborate clothing of their ancestors and repeating the dances and songs they have learned from their parents is so exciting and for those that just come to soak in the culture it is a feast of colors, sounds and flavor from all over the world.
The Ethnic Celebration has been held in Lacey since 2011, prior to that it was held in downtown Olympia for over 20 years.
For some of the groups that perform at the event it is an educational piece that brings them together, not their own ethnicity, like the River Ridge High School Taiko Ensemble led by instructor John Theine.  The group is made up of students that rehearse once a week and have also spent a lot of time actually building the drums they use.  They boast a full complement of 15 drums including a Hira Daiko measuring over 5 feet in diameter and have added bamboo instruments as well as Japanese Shakuhachi flutes.
Many other groups are made up of families that embrace their own ethnicity and culture and strive to pass that down to their own children through social activities and gatherings that give them the opportunity to learn dances and songs that they can practice and perform as well as dressing in traditional costumes and showing their pride in their own heritage.  Some of these performers include the India South Sound Association and the Vietnamese Buddhist Youth Association from Lien Hoa Buddhist Temple.  This last group always thrills the crowd with the amazing Lion Dance, will be performing at 12:10 p.m.
The Ethnic Celebration strengthens our community, economy, and individual health.  No man is an island.  We belong to families, work groups, neighborhoods, a community…This event provides opportunities for us to know one another and have positive contacts with each other.  The dancing, crafting, and skills shared at the event are all a part of recreation and enhanced community as well as individual wellbeing.
A variety of groups and businesses help to make the Ethnic Celebration possible including Saint Martin's University, North Thurston Public Schools, the Nisqually Tribe, Lacey Collision Center, Olympia Federal Savings, Molina Healthcare, Showcase Magazine, Oly Arts Magazine, NPR Radio, and 94.5 ROXY.
Lacey's Ethnic Celebration
Saturday, March 10, 2018
10:00 a.m. – 6:00 p.m.
FREE
Saint Martin's University (5300 Pacific Ave SE, Lacey)