It was just a few days before Christmas last year when the winner of AJB Landscaping & Fences's holiday drawing was announced. The prize was either a pellet grill or $1,000 in cash. The winner, it turned out, was a single mother of three who could really use the money toward a vehicle. "She was hugging me," says owner Aaron Borden. "I really understood how much that affected her and it made me feel good."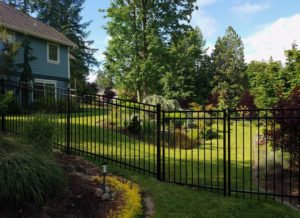 AJB has been supporting the community in multiple ways for years. During Lakefair, they donate a flatbed truck and equipment trailer for Tumwater Cheer and the Tumwater High School Football team. And, they sponsored a table for the South Sound YMCA's Annual Auction and Gala. They are also strong supporters of the Tumwater Police Department.
But one of the most charming ways that they help local individuals and organizations may be their annual Ugly Fence Contest. Those interested in competing can submit a photo of their current (ugly!) fence, fill out the contact information form on the company's website, and like AJB on Facebook before May 19. The winner earns a free, brand new fence worth up to $7,500 and can choose between wood, chain link or metal/iron.
A gallery of ugly fence photos submitted by contestants shows everything from rotting wood to collapsing metal; in one case, the submitter ran out of materials and money to finish the fence, leaving a substantial gap.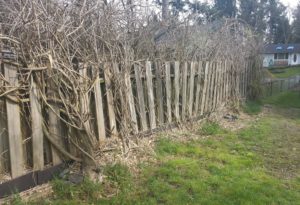 The contest is just one of the ways AJB plans to give back to the community in the coming year, says Borden. "We're going to be concentrating much more on charity work and giving away a lot of $20 gift cards for places like Subway and Safeway. We're very involved in our local community and that's only going to increase."
To learn more, visit the AJB Landscaping & Fence website or call 360-789-3707.
Sponsored