There is a proverb about walking a mile in someone else's shoes for better understanding. I recently revisited the vast landfill in Ixtapa, Mexico, where over forty families live. Some children there do not even have shoes. It is a humbling experience to stand in the midst of this community where people cobble together shacks with others' refuse.

There is no running water, plumbing or electricity. With temperatures over 90 degrees and intense humidity to match, I cannot imagine living there for a day. Surveying acres of garbage that some call home pierced my heart. Ten percent of the population around Zihuatanejo lives in abject poverty, and half in poverty. But, this story is not meant to make you sad. It is meant to offer hope and an idea.
Long-time Olympia residents, Wendell and Shirley Carlson, are spending a piece of their holiday budget to fund a bathroom for the children that live at the dump. Currently there are no bathrooms at all. The Carlsons will be hosting a New Year's Eve party affectionately named Bunco for Baños. Friends will gather to play games and contribute to the project.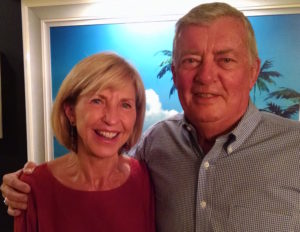 On a recent vacation to Ixtapa, Wendell and Shirley were driven to the 'basurero' (the dump) to meet some of the children. Their Olympia neighbors, pediatric dentist Dr. Greg Psaltis and I, were providing a week of dental care in the office of a Mexican dentist, Dr. Cecilia Villavincencio. A few of these children received treatment during last year's visit, and the plan was to see more this year.
Greg and I had collected funds from friends prior to the trip and purchased rice, beans, cooking oil and fresh fruit for the children. We made the delivery together. Everything was gratefully received.
The Carlsons, having no idea what to expect, were stunned by the living conditions. They were shown a huge hole in the ground that was the beginning of the first bathroom in the whole area. When they learned it would cost less than $1000 to construct the bathroom, they thought, "We can pull that together. Let's have a party!" Knowing Wendell and Shirley, I thought, "Yes! That will be a great time." In a brainstorming session, the idea for Bunco for Baños was born.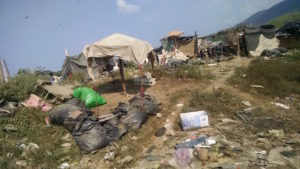 Years ago, the Carlsons hosted a bunco party to raise money for their daughter, who was arranging a trip to Uganda. This led them to learn about the Arlington Academy of Hope, an organization that creates educational opportunities for children in Africa. They adopted Felistas as their eleventh grandchild, and for the past decade they have supported her financially. She is a star pupil, having read over 600 books one year. The Carlsons have a folder filled with sweet letters written over the years from Felistas and her teachers.
Wendell and Shirley may have retired from working life years ago, but they are on the go. With ten other grandchildren between them, they get to attend plenty of sporting and school events. Wendell, a civil war buff, has completed a book about Lincoln. He is in the midst of another about Grant. Shirley can be found at yoga classes, volunteering at St. Vincent DePaul or ushering at the Washington Center. They have traveled the world but had never seen anything like the conditions at the Ixtapa dump.
I know these children because I am part of the annual dental team that goes to Ixtapa. It is especially poignant to do our dental work there right before the holidays. I return to Olympia, to my home with running water, a refrigerator and three toilets. Truly, it is Christmas every day for me.
Greg and I will be co-hosting the party with our wonderful neighbors. As we all take turns rolling, we will be laughing, celebrating and eating. The results of our 'fun-raiser' will be the construction of a bathroom for a group of people who do not have a single one. As Wendell said, "It will change their lives."
A final note: When we are working at the dental clinic, we usually do not stop for lunch. Often Dr. Ceci brings a few simple sandwiches from her home for anyone who needs a little break. We were finishing up one day, and there was a sandwich left over. Dr. Ceci asked Victor, one of the children from the basurero, if he was hungry. He said yes. When she handed him the sandwich, he started to tear it in half. "You can have it all," said Dr. Ceci. Victor replied, "Thank you. My friend is hungry, too. I'm sharing it with him." That is a lot of character for a 9-year-old boy.
During the holiday season, I love the lights that shine through the darkness, the festive music and making time to be with those I love. I find more value in the kind of spending that makes a difference to my soul. My Christmas list includes a bathroom for my kids in Ixtapa.
Spread your holiday cheer to your dear ones in all the ways that bring you joy. And consider sharing a piece of your pie with the people or organization that speaks to your heart. It is not about the amount of time or energy or treasures you give – it is simply that you give.
You can read more about the clinic here. If you are interested in supporting the children there, you can send us a message through our website.