Lola is a beautiful child. Her eyes are so dark brown that it's hard tell where her pupils end and irises begin. When she opens her mouth for her first dental exam, it's not hard to tell where her white teeth turn to black decay.
Lola attends the Octavio Paz school in Zihuatanejo, Mexico, but on this day she is receiving free care from Olympia's Dr. Greg Psaltis and Dr. Scott Rowley of Small to Tall Pediatric Dentistry. The pediatric dentists are on a volunteer trip to provide a week's worth of dental restorations to these students whose mouths go mostly untreated. Drs. Psaltis and Rowley turn their hard work to heart work by attending to the well being of these young people.
The project began ten years ago when Dr. Psaltis met local dentist Dr. Cecilia Villavicencio. Dr. Ceci, as she is affectionately called, was also concerned about the dental needs of these children and willingly donated her dental office in Zihuatanejo, a tightly spaced, single-chair office. She agreed to screen the children before the dental team arrived. The purpose of the Olympia team led by Dr. Psaltis focused on repairing and restoring teeth rather than extracting them.
Are you wondering: Isn't the clinic a mad house? How do you treat children who speak no English and who have never or rarely seen a dentist? How do you do it without typical sedation such as nitrous oxide? The dentists do use a topical anesthetic before the injection of lidocaine (that makes the area numb for a couple of hours), but that's it.
Instead, it's their calm manner, improving Spanish and the confidence that every child can have a pleasant appointment, which creates success. I won't say that all these young patients are thrilled to sit still with a rubber dam in place – but who is? There's a bit of wiggling and even apprehension, but when the treatment is complete, the team is rewarded with smiles and hugs. There is also knowledge that their overall heath is now significantly improved.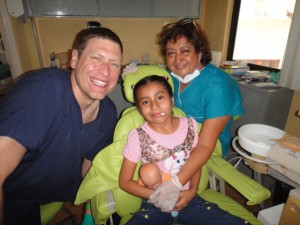 Three years ago, the volunteers shifted to Dr. Ceci's father's dental office in Ixtapa. The space is slightly larger and includes two chairs, making it possible for two dentists to work at the same time.
The November 2015 trip was Dr. Rowley's first experience in the Mexican clinic. "I was touched by the profound gratitude of the parents. It was emotional for me to get a glimpse of their life's challenges," said Dr. Rowley.
He was taken aback when he understood that one parent borrowed money for the 15-minute bus ride from Zihuatanejo to the Ixtapa clinic. "I realized that I have a skill that is needed around the whole world," he added.
Dr. Psaltis also finds deep satisfaction in using his years of pediatric dental experience with Mexican patients. He explains what the time means to him, "People often tell me how wonderful it is that we do this work. If they ever joined me, they would know it is as much of a gift to me as it is to the children." He also treats Mexican children in Cabo San Lucas on an annual basis.
There are many ways to volunteer. You don't have to look across the globe to find an opportunity to give back (think Food Bank or Habitat for Humanity). Identify your special gifts or desires and find ways to get involved in your neighborhood or overseas.
I joined the Zihuatanejo group a few years ago when there was a last minute cancellation by a dental assistant. Since then I've been honing my dental assisting skills as an ongoing member of the team. I still have a ways to go to reach excellence, but that will come with practice. As I participate with the dental volunteers, I, too, have discovered that hard work is miraculously turned to heart work in the blink of an eye. The world is a better place when we help each other.
Learn more about the providers at Small to Tall Pediatric Dentistry on their website or call 360-459-5885 to schedule an appointment.
If you are interested in more information about Dr. Psaltis' ongoing Mexican volunteer dental projects, contact him through his website.