To some, it may have seemed whimsical, maybe a hasty decision.
Just three months after they first met at a dance in Olympia at the old Eagles Hall, Pat and Bud Vogt made an important decision. They wanted to get married.
"I didn't want to let him get away," Pat said as she looked at the love of her life sitting across from her.
They've clung closely to each other ever since. On Christmas Eve, these two love birds will celebrate their 75the wedding anniversary. They've been blessed with long lives and a long marriage.
The Vogts were married December 24, 1942 at the Lutheran Church on 21st and Franklin in downtown Olympia. Christmas Eve was chosen because Bud was on a three-day leave from the Army.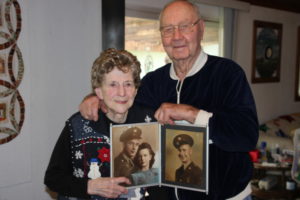 "We didn't have another day," Pat said with a smile. "We had to get married then."
In a day and age where divorce rates hover around 50 percent, the secret for these two life-time lovebirds is simple. "We've always done things together," Bud said. "We don't go off and do things by ourselves. We do it together." That means no "girls night out." No "guys night out."
"That's just how we've always done it," Pat said.
It's worked. And as for their long lives – Bud is 96 and Pat is 93 – their secret is to just keep doing. They've followed the old saying "use it or lose it" and every Tuesday they head to Red Wind Casino, not far from their home. And, until two years ago, Bud was in a bowling league, having fun as he got some exercise.
"Now, my arm is to sore," Bud said as he rubbed his right shoulder.
While Bud can be considered a "local" – he's lived in the area since 1950 – he was born in Wolback, Nebraska. Not long after graduating from high school in 1938, Bud joined the Army during World War II and was stationed in Seattle with the 63rd anti-aircraft when he made a trip to that special, life-changing dance where he met his wife-to-be.
When they decided to get married, Bud had one more person he wanted to talk to – Pat's father.
"Dad probably said, 'Yeah. Get rid of her,'" Pat said with a grin.
Pat was only 18 when she was married – newly graduated from Olympia High School. She was a stay-at-home mom, volunteering at 4H clubs with her kids and occasionally working at a photo business.
After getting out of the military, Bud worked for a local orchard business for a couple of years. Then he was hired by the Olympia Brewery in Tumwater and worked there for 33 years, from 1950 to 1983.
"I've got 37 years of retirement," Bud said, shaking his head wonder.
Pat and Bud have three children – two girls (Sandy and Ronda) and a boy (Eugene) with the youngest now in his 60s. Sandy and Ronda were born on the same day just a year apart and are now 74 and 73. After living in a number of places – Tumwater, Tenino, Yelm – Pat and Bud landed in a special place – the 80 acres Pat's parents owned since the early 1930s near Steamboat Island. The log cabin Pat grew up in is gone, but the memories aren't. They have a cabinet of her mom's and there are books of family pictures. And, what makes it so special for them is their two daughters live right next door, as they gave each daughter and their families 40 acres.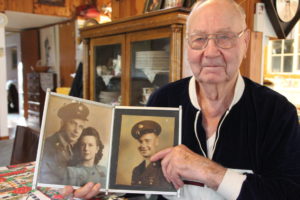 "We bought the land from my dad," Pat said. "He wasn't a farmer, he was a logger."
Pat's advice for a long and enjoyable marriage is simple – don't be afraid to speak your mind. "We fight a lot," Pat said with a smile.
"We argue," Bud agreed.
"We've had our ups and downs," Pat said. "But never bad enough to even think of leaving." Their secret is to just let their voice and opinion be heard.
"We're both so damn stubborn," Pat said as she shook her head. Stubborn but caring. They might argue, but they don't stomp away angry.
"Mom and Dad are total friends," said Sandy Corbin, Pat and Bud's oldest daughter. "They talk all the time to each other. And, they have done that forever."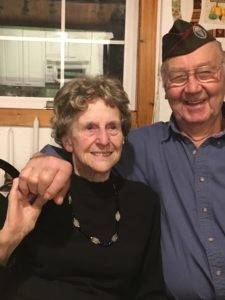 Their anniversary celebration is always a family get together, sharing in food and good cheer with 30 or more in attendance. This year, Sandy's search for appropriate decorations was challenging, seeking the traditional color for the 75th wedding anniversary.
"They said no one is ever married that long," Sandy said with a chuckle. "They said they didn't have a color theme for that."
On their wedding anniversary this year there will be family and friends there to celebrate. Among them will be Bonnie Stelling, whose father worked with Bud at the brewery for years. Pat and Bud have a special place in Bonnie's heart. They've known her since she was born. "I just think they're an amazing couple," Stelling said. "They're kind of like my mom and dad."
Bud is still driving, going to the grocery store and on Tuesday's to Red Wind Casino and sometimes on Fridays to Little Creek Casino. Pat, who has macular degeneration, still likes to get up and go with her husband.
"They always do things together," Stelling said. "They won't give up. They just keep going."
Together.