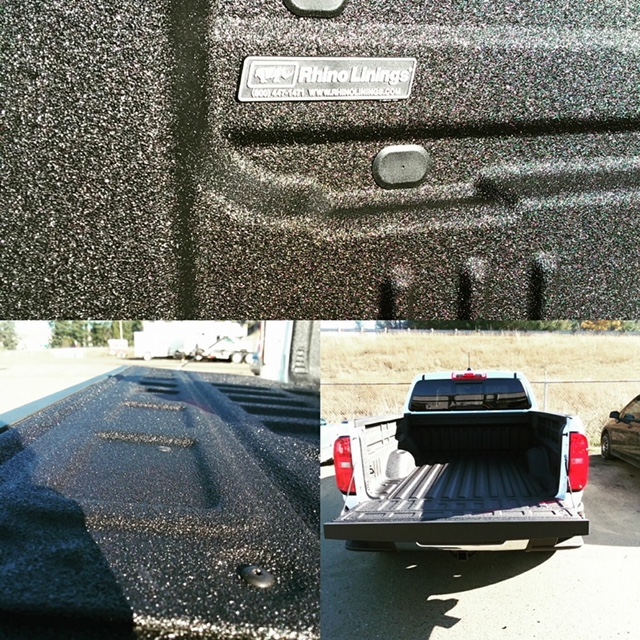 For almost twenty years, JT Painting Company has steadily grown their footprint in the Olympia area. With their proven success, owners Trever and Sarah Jacob decided to take things one step further by adding a second business, Rhino Linings of Olympia. Undertaking a completely new endeavor is not easy, and it did not happen overnight.
During the past few years, their team has worked endlessly to grow the business. Now, with the recent addition of Operations Manager, Shawn Flanagan, Rhino Linings of Olympia is ready to go farther. "The business is at a point where we are growing and want to be intentional about it. Growth and expansion is now the focus for Rhino Linings. We're going to push this until the wheels fall off," Shawn says with a smile.
The company was built on the traditional uses for their product, such as spray-in bed liners for trucks, but Shawn says they are looking to branch out and get more creative. "We definitely service the customer that walks through the door, but we want to go out and find other Washington small businesses that we can help by adding value to their products." Recently, Shawn partnered with a company that makes teardrop campers to do Rhino Lining on their trailer frames. "If a customer really wants to protect their investment, this is it. Because Rhino Lining is going to last a whole lot longer than powder coating or painting."
What is it about Rhino Lining that makes it so special? Shawn took me on a tour of their shop to give me all the details. It is a heavy-duty, protective coating that goes on with a glossy finish. Then, technicians carefully apply a light dusting which settles into the more texturized look most people want. "Rhino Lining can go on pretty much anything," Shawn says. And, looking around, that is obvious by the way it clings to anything in its path. He adds, "It definitely takes a little bit of innovation, but really there are so many possibilities out there." Since it is chemical- abrasion- and impact-resistant, Rhino Lining is a great solution for many different applications.
The best part is, you are not limited by what you can bring into the shop. They have a mobile unit and will come to you. So, whether it is to spray that garage floor, backyard deck or pretty much anything else, they have you covered. "We really try not to say no, within reason. We truly pride ourselves on working with others and solving their problems." Going above and beyond for their customers is what sets Rhino Linings of Olympia apart from everyone else. That service creates the happy, repeat customers they have built both businesses on.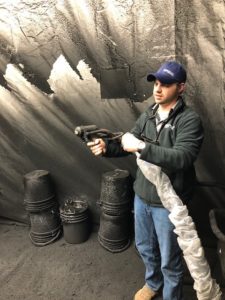 However, it is not just about the customer, it is also about the employees at Rhino Linings of Olympia. Even from my short visit, it is clear they really are a big family in this shop. That is just one of the reasons Shawn decided to make a career change and join the team. After working in the corporate world, he was ready for something more personal. "I really like helping and affecting people; that's really important to me throughout all my careers. And you have a greater impact here on the lives of people than in a really big company. You get to see things firsthand. This has really given me a look at a family run business."
Shawn says another aspect he loves about being part of a local business is the community involvement. Whether it is helping with Big Brothers Big Sisters of Southwest Washington or working with the Thurston Economic Development Council, Rhino Linings of Olympia is deeply rooted in our area. And they, along with Shawn, are here to stay. "I love coming to work. I get here at six in the morning, and I don't leave until five or six at night just because I'm doing things and being effective. I honestly enjoy it."
You can find Rhino Linings of Olympia at 911 Kaiser Rd. NW, on their website or on Facebook. They are open Monday through Friday from 7:00 a.m. to 5:00 p.m.