Like any journey, Mica Marquez's incredible 2,659-mile hike began with a first step.
And, of course, before that there was the dream of hiking the Pacific Crest Trail, which stretches from Mexico to Canada. That dream, that initial seed of inspiration, was planted when she was attending Reed College in Portland.

"A friend was saying, 'Doesn't that hike sound cool?'" Mica said. "And I thought, that does sound kind of cool."
Nearly 15 years later, Mica began her incredible journey – by herself. And, despite not conditioning before her lengthy journey – "My conditioning was doing the hike," she said – Mica flew to San Diego in mid-May 2016. And about five months later (155 days to be exact), Mica finished.
Despite falling and breaking her nose on the hike, despite getting lost (briefly) and despite the mammoth three-state challenge, 36-year-old Mica finished. That's something she didn't do two years ago. Her first attempt to hike the Pacific Crest Trail came to an unexpected halt in northern California when she came down with what doctor's diagnosed as Lyme Disease.
"I was pretty sick," said Mica, a 1999 graduate from Olympia High School.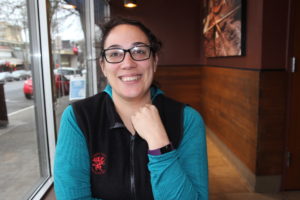 Rather than picking up where she left off on her second go around, Mica started at the beginning, right on the U.S.-Mexico border.
"I wanted to do the whole thing in one trip," Mica said.
Carrying a 17-pound backpack with dehydrated food, water and a tent, Mica's longest day was 35 ½ miles, a long jaunt for sure, accomplished in northern California. Her shortest day was zero miles, days she'd just stay at her camp, resting and enjoying the beauty.
"I did lot of what you call zero days," said Mica, who works for the Washington State Department of Social and Health Services. "That's when you just stay in one place. You don't go anywhere."
Her shortest day when she actually got up to hike was nine miles. It was a recovery day with progress. There was a one-week "vacation" as she took that time off to go to her cousin's wedding and family get together. But with the hellos and congratulations over, she headed right back to the trail, picking up where she left off.
Typically, Mica heated up her meals on her single burner stove. She ate lots of pastrami, rice and mac and cheese, not to mention Snicker bars. Surprisingly, she said stocking up with more food along the way wasn't that difficult. Little stores were never that far away.
"You're never that far from civilization," Mica said. "There was actually a place where you could get cell reception and order pizza and get it delivered to a trailhead."
Mica didn't do that. But Snickers were always a good substitute treat.
Water was never a real challenge because Mica wasn't that particular about her water source. Mostly, she'd take water from lakes and rivers, packing with her as much as she could carry. Then there were times she drank melting snow or from cattle troughs. And when water was scarce, she'd dig holes in mud.
"And you're hoping to fill enough so you can scoop water out," Mica said.
In Southern California, water is definitely a concern, however.
"There are some people who leave water catches," Mica said. "So, they'll leave jugs of water and you can fill up with that. There are some who think that's cheating."
While Mica didn't do a lot of conditioning to prepare for the long hike, she wasn't exactly a rookie hiker. She had completed the Wonderland Trail – a 92-mile trek around Mount Rainier – several times. And, she had taken a hiking course through National Outdoors Leadership School, learning the outdoor skills of camping and hiking. In that month-long course, Mica estimated she hiked a couple hundred miles.
"I didn't even get any blisters," she said.
But there were a few mishaps. There was the broken nose when she fell on the trail. "That hurt," Mica said. Then there was the time her leg got stuck up to her hip in snow. After about 10 minutes of struggling, she finally got her leg out. But not her boot, or her sock.
"So I'm standing in the snow with a bare foot," Mica said, shaking her head in disbelief. "And I just had a meltdown at that point. I sat down and cried. It was on a scary pass. Going up and going down it was really steep."
Eventually, Mica dug out her boot and sock and made it through the steep section of snow.
Throughout her adventure, Mica met other hikers and would hike with them for long stretches. "It can be very social or very solitary," she explained. "Depending on your trip or your day. There are enough people where you run across someone if you want to."
There were times when Mica wouldn't see a single person. Others, she'd join up with groups along the way. She'd hike with another individual or a group for several hundred miles or a just for a day. Or, she might see a hikers here and there along the trail at different times.
"Then someone decides to stay in a town or they want to go bigger mileage or less mileage that day," Mica said. "You'd separate and there's no hard feelings. You don't feel abandoned. It's the way it is."
Every once in a while, as Mica gazed at the picturesque scenes along the trail, the towering cliff covered with trees, she'd be overwhelmed by the spectacular beauty and by the wonder of the earth. "Every once in a while, you'd stop and look around and realize this earth is an amazing place," she reflected.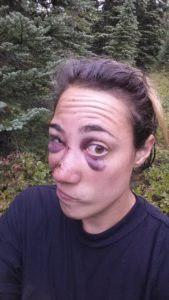 Throughout her hike, Mica made blog entries, capturing her feelings and the beauty of the moment. She had many "wow" moments.
"You look at these granite walls that have been here for an amount of time I can't even comprehend," Mica said. "And the waterfalls coming down have been here a ridiculous amount of time. They'll be here a long time after I'm gone. It's very humbling. Makes you feel small, but not in a bad way."
Her sense of achievement is part of the reward. "It's kind of a 'I'm more of a bad ass than you are' feeling," Mica said with a smile. "I'm not above that. It's something I'm really proud of."
That sense of achievement is like getting your college degree. It's something earned, not given to you. "Yes, you had to earn it," Mica said. "Every bit of it. You had to earn every view that you got. That made it much more special because you had to hike 1,600 miles to see that view."
Memories of those views are the reward. And the ability to say, "I did it." And, she may do it again. "Absolutely," Mica said when asked if she might do it again. "It's beautiful."
And her journey continues.