The popularity of TV shows that focus on remodeling, designing and home staging have transformed the way buyers react to homes that are for sale. It makes home staging critical to selling a home these days.
"The majority of buyers want to see move-in ready homes without a long 'to do' list," observed Dr. Lisa Poundstone, owner of Design Smart Home Staging and Redesign. "They also form a stronger emotional bond with a home that is staged than with one that is either highly cluttered or completely vacant."
Though Lisa is generous with design tips in her newspaper columns, on her blog and on her website, her best advice to a homeowner ready to sell is to hire a professional home stager.
"Home staging is not just about tidying-up your home," said Lisa who has been voted the Best of South Sound in Interior Design for the last four years. "Someone trained and experienced in the principles of design like space, flow and color will know how to highlight the best features of a home to appeal to the greatest number of buyers."
Design Smart Knows How Home Staging Works
For the team at Design Smart, the effective art of home staging not only comes from their training and experience, but also from the principles of science that they apply.
"After nearly nine years of design and staging experience, we have refined our abilities to create an environment that is emotionally pleasing to a buyer with subtle psychology and physiology," explained Lisa who not only is an Accredited Staging Professional®, but also has a PhD in science.
"Many of our clients—some whose homes had been sitting on the market for months—sell their homes within weeks, even days, after they are staged. In even the most pristine home, our trained eye has tweaked things just enough to make a difference."
Realtor Erin Cawley with Van Dorm Realty recently listed a home that received multiple offers and was sold within a few days after it was staged by Design Smart.
"I appreciate Lisa's expertise and professionalism and she is my go-to for staging and design advice," said Erin.
Don't Go It Alone

Lisa has seen sellers try to sell their homes without staging or to attempt to stage the home themselves, both with poor results. She knows that a vacant, un-staged home takes longer to sell than a furnished home. And, if people try do-it-yourself staging, they often don't understand how staging actually works.
"Home sellers usually have a strong emotional attachment to the home that is too subjective," Lisa observed. "What appeals to you may not appeal to the majority of home buyers. When you are living in your home, you may not know where to move your things to provide the flow and look so your home sells quickly and for more money."
For the unoccupied home on the market, Design Smart has a warehouse full of furniture, art and accessories in a wide range of updated styles and color schemes. Their trained designers and furniture movers make the staging process seamless and ensure the overall look is cohesive and flows throughout the home.
Investment in Staging
Professional home staging is worth the small investment because it yields far greater returns.  The longer a home sits on the market, the more likely it will undergo price reductions that are often much more than $5000.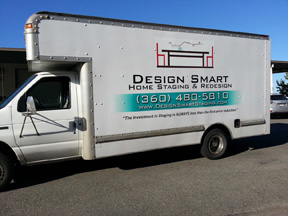 "My company tagline is, 'The investment in staging is always less than the first price reduction,'" Lisa said. "It is as true today as it was nine years ago when I started. Whether a home is occupied or vacant, staging costs can range from a few hundred dollars to a couple thousand dollars, significantly less than any price reduction."
Dr. Lisa Poundstone, ASP, PhD is the owner of Design Smart Home Staging & Redesign in Olympia WA. Her company has been voted the Best of South Sound in Interior Design for the last four consecutive years. Lisa is also a columnist for the area's daily newspaper and writes a blog called The Design Doctor. You can reach Lisa at 360-480-5810 or by emailing lisa@designsmartstaging.com.