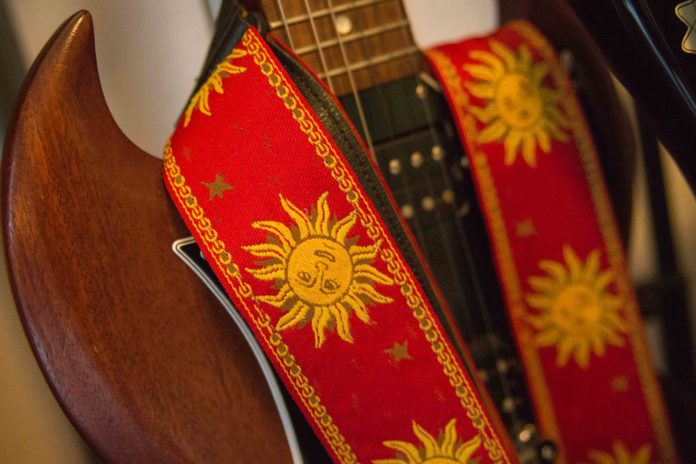 A year ago, Sam Scarpelli founded his recording studio, Steamboat Island Records. Sam, an Olympia native, graduated from The Evergreen State College in 2013 with an emphasis in audio engineering. After graduating, Sam worked as an assistant engineer at K Records until temporarily relocating to Portland. Upon returning to Olympia, he founded Steamboat Island Records.
The recording studio was initially created for Sam's band, Shipwreck Motel. Sam explains that he wanted to have the freedom to record, mix and master his music the way he wanted instead of putting his music in someone else's hands.
When the studio first opened, it was located in Sam's garage. With time, community donations and hard work, the studio began to flourish and was able to move to another location and become established in the Olympia music community. "I wouldn't be where I am if it wasn't for the support of other people," Sam tells me.
The studio's success allowed Sam to expand to recording musicians other than his own band. Sam's self-described "indie project studio" now produces music for artists from a variety of genres, from punk to surf.
The recording process starts with an artist sending Sam a demo. Then, if he decides to work with the artist, he meets with them to discuss the project and sets up a date to record. "I like to record music I enjoy and feel invested in," he says.
If he is recording a full band, Sam likes to start with recording the drums to set a solid foundation for the song and then move on to other parts. Once the music is recorded, he edits and adjusts the sound tracks. When the engineering is completed, Sam sends the finished tracks to the artist for them to distribute. All copyrights go to the artists and the studio does not collect royalties from music they produce.
Steamboat Island Records recently purchased a new Scarlett 18i20 audio interface, made possible by the success of a Kickstarter campaign. The new interface will allow them to record many more microphones at once, greatly expanding the capacity of their services. With the new interface, the studio can also record bands playing live instead of recording isolated instrumental tracks and then combining them. The latter is standard in the industry and allows a more perfected final product, but some bands like the old-school method of being able to record live.
Sam has an affinity for retro and vintage musical equipment. While studying at Evergreen, he enjoyed working on the school's API 2488 console, which is the same model that produced the  Beatles' music. His studio features several vintage pieces of equipment, such as a tape-recording machine. Artists will occasionally record into the tape machine for warmth, and then transfer the recording electronically.
In the past year, Steamboat Island Records has produced six full-length albums, featuring the work of The Gravity Quartet, Heat Shimmer, Scott Erickson, Josie Tuckfield, Levi Jess and Sam's band, Shipwreck Motel. They have also produced singles for the bands Wonder and Distant Station. "Olympia is such an artistic town; there's a lot of good musicians here," says Sam.
Steamboat Island Records is currently working on producing for a band called Whiskey Pillow and Sam collaborated with them by playing guitar on one of their tracks. He explains that being a musician helps him stay in touch with the experience and needs of the musicians he produces for. The studio prioritizes curating a comfortable and inspiring space for the artists they work with. Sam recognizes that creating music can be a vulnerable thing and aims to support that vulnerability in his studio.
A good music producer supports its artists and enables them to produce music and show their talent to the world. One of the first albums Sam produced was for an artist who had written his songs over a period of ten years and had simply never produced them. Steamboat Island Records made it possible for this artist to have a well-mastered, tangible representation of his music to distribute.
Sam selected the name Steamboat Island Records to pay homage to the area. Thurston County has a vibrant music community, and a local namesake for his recording studio seemed like an appropriate tribute to where we live.
Steamboat Island Records brings high-quality music recording and engineering to Olympia and makes it possible for us to listen to some very talented musicians. Check out their website for photos, links to the music of the bands they work with, a contact form and more information.