When people find out that Dr. Lisa Poundstone earned her PhD in science, they often wonder what the connection is to her current company Design Smart Home Staging and Redesign.
It is an easy answer for Lisa who says her science background has only enhanced her application of home staging principles to more than 2,000 homes. The Design Smart team has been voted, by the public, as the Best of South Sound in design for two consecutive years.
An Accredited Staging Professional (ASP), this "Doctor of Design," as many call her, uses scientific principles to stage homes. It is why it works. Sellers, real estate brokers, builders and investors can provide the evidence—staged homes sell faster and for more money.
When she enters a home, her eye can analyze the space, the best movement through rooms and how it should be arranged to show off its features and spatial proportion. She can identify the colors that will appeal to the buyer as they move through the home.
It all involves psychology, physiology and spatial science principles that produce the right results.
Psychology
"Home buying is an emotional process for most sellers and buyers react strongly, good and bad, to homes without always knowing why," Lisa explains.
"Home staging helps sellers release the emotional ties they have to the home. When the staging process is complete, the house usually feels very different to the sellers, and they can more easily move on to their next adventure."
Lisa notes that staging creates positive emotions in home buyers, making a house seem cozy and livable and helping buyers form a bond with the home despite any flaws it may have.
Physiology
Home staging uses color to help people remember a home, as well as create specific physiological reactions.
"Color is something you can analyze because it has been proven to affect human physiology," adds Lisa. "You have one effect by putting colors that are harmonious together and a different one if you use colors that are direct opposites. It is a scientific thing and you can register the feeling you create with the combinations."
"We try to keep a consistent color theme throughout most of the house for a cohesive feel so that the overall physiological reaction remains as the buyers move through the home. Pops of color used throughout a home imprint the rooms on the mind so buyers remember the home." 
Psychology, physiology and spatial principles work together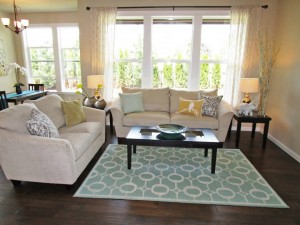 In occupied homes, clutter contributes to how buyers react in a home physiologically, psychologically and spatially.
"Buyers can have a negative reaction when there is too much furniture or it is in awkward positions within a room," says Lisa. "They need to be able to walk freely through the space so it feels like there is plenty of room to move around."
"The amount of art and how it is hung also affects buyers. Too much art leaves no place for the eye to rest and can over-stimulate them. Art hung too high or too low can create uneasiness without the viewer consciously understanding why."
Lisa Poundstone, PhD, is the owner of Design Smart Home Staging & Redesign, LLC.  She is an Accredited Staging Professional (ASP®) and was the 2013 and 2014 Winner of the Best of South Sound for Interior Design. Contact her at 360-480-5810 or visit her website.