Clearly, Caytlin Johnston and Morgan Lasko have that inner gusto to excel in gymnastics. Besides the natural talent to do the unnatural – flips on a beam and twists in the air – they both have the drive and determination to excel. That willingness to work hard was key in helping them make the state gymnastics meet last year and they hope again this year.

Five days a week from 7:30 to 9:30 p.m., Johnston and Lasko practice their flips, spins and twirls, practicing at the Black Hills Gymnastics in Lacey.
During the season, Lasko and Johnston compete on the combined North Thurston Public School's high school gymnastics team, comprised of athletes from Timberline, North Thurston and River Ridge high schools and is coached by Shannon Brigham. During the district and state tournaments they compete on their own high school team.
"Caytlin's been on our team all four years and she's really taken a leadership role," said Brigham, who is in her twelfth year coaching the district team. "She goes above and beyond in the leadership role and works really hard."
But her hard work isn't limited to gymnastics. Johnston and Lasko also excel in the classroom.
Lasko, a senior at Timberline High School, and Johnston, a senior at North Thurston High School, are both in running start, taking classes at South Puget Sound Community College and pursuing degrees in a medical field.
"Because I'm in dental classes all day long, there's no time for me to go to regular school," Johnston said. "Running start just works out best for me."
Classes and gymnastics don't leave much time for surfing the channels on TV for Johnston. From 8:00 a.m. to 3:00 p.m. she takes classes at SPSCC, pursing her degree in dental assisting. Then, several hours a week she works at Black Hills Gymnastics. After that, she heads to her own team gymnastics practice. She's busy and diligent.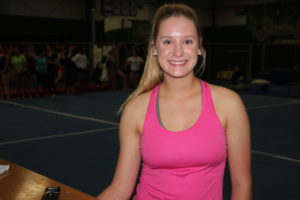 Come June, Johnston will receive her high school diploma, her associates degree from SPSCC and her dental assisting certification. Now that's busy.
"I like it," Johnston said with a smile.
Lasko is studying to become a nurse. She's finished with her last class at SPSCC by 2:00 p.m. each day then studies, catching up with her homework, before heading off to gymnastics practice in the evening.
"I like that practice is later so I have time to get my homework done," Lasko said. "I don't want to do it after practice. By then it's getting too late."
When Lasko finishes at SPSCC, she'll enroll at a four-year college and pursue a four-year degree in nursing. And, she'll nearly be a junior in college by the time she graduates from SPSCC this spring giving her a significant head start.
"I'll go straight into a four-year program and already have some classes done," Lasko said. "I'll go in as a junior, almost. That's why I like to do it."
As successful as these two are in their studies, they equally shine on the mat.
Johnston, with a knack and grit for doing flips, started gymnastics when she was just nine years old. The lure was simple. "I was always flipping around when I was younger," Johnston said. "I feel like I was a natural for this sport. I think I did my first flip when I was 9."
Lasko has been participating in gymnastics on a team for 12 years. She's been involved in club gymnastics until this year and is instead competing on her high school team for the first time. Her introduction to flips was from a neighbor, who just happened to be Brigham's daughter. They used to play on the trampoline in the backyard.
Lasko is drawn by the challenge of the sport and how it makes a difference in her day-to-day life. "I like that it impacts your life in ways other sports don't," Lasko said when she was asked what she likes about gymnastics. "It increases confidence, pushing through life struggles."
Facing the question, "Can I do that?" as she runs across the mat to do a flip taught her how to face life's challenges.
"Just learning how to deal with fear," Lasko said. "You can apply that to outside life. It's something I found really unique to this sport."
On her combined team, Brigham has 30 gymnasts who have turned out. Timberline is the only school with enough to field a full team. Besides coaching, Brigham is also a seventh grade history teacher at Salish Middle School in Lacey. With her long involvement in gymnastics, having competed in gymnastics through high school, Brigham is drawn to coaching.
"I love the sport," she said. "It's ingrained in me. I was a gymnasts when I was younger and all the way through high school. When I was putting myself through college, I coached at club. too. When I became a teacher I really missed gymnastics and missed coaching the girls."
Makenna Hansen, a senior at Timberline, caught on quickly with gymnastics. She didn't turn out for gymnastics until her sophomore year and she qualified for state last year as a junior.
"My friends were doing it," Hansen said, explaining why she decided to turn out for gymnastics. "So I thought I'd do it, too. It's really fun."
Madison Tanneberg, a sophomore at Timberline, is no stranger to gymnastics. She started her gymnastics career when she was in second grade. "Everybody was doing sports," Tanneberg said. "So, I decided I was going to try gymnastics."
Now, she's drawn by the difficulty of the sport.
"I like being able to do things other people can't," Tanneberg said. "And being able to prove to myself that I can do things that I didn't think I could before." Her favorite events are the bar and beam, two difficult and risky events, but Tanneberg gets plenty of practice. She practices both with her club team and her high school team.
No matter when they started gymnastics, in second grade or just last year, the girls on the combined North Thurston Public School's gymnastic's team are ready to soar this season.