Emily Watts, a graduate of Capital High School and The Evergreen State College, has been obsessed with waste for most of her life. We're talking horse waste, llama waste, and after graduating from college—people waste. As the Water Resource Specialist for the City of Lacey, Watts is thrilled to be rolling up her sleeves and getting her hands dirty in her new job. She loves to talk about her responsibilities in communicating the importance of reclaimed water, water conservation management, and water use efficiency for the City of Lacey and greater Thurston County.

"I grew up on a farm in Grays Harbor County where we got our water from a well. Animals and livestock drink a lot of water and I would help my dad with the water pump and hoses all the time. I had a natural interest in how water and the distribution of waste worked," Watts paused.
"I'll just say it. I scooped a lot of poop in my life and it gave me time to see what goes into animals and what comes out. I wanted to find out where it all went," she emphasized.
(She said it. The P-word trips off Watts' tongue. It's a little harder for me.)
Watts was drawn to The Evergreen State College for the opportunity to create her own course of study. She combined two unlikely partners: economics and hydrology. She soon discovered highly-efficient water systems that combine water conservation and waste management are expensive. It takes commitment on the part of a county or a town to bear the costs, which translates to citizens shouldering those expenses. It takes a resource specialist like Watts to explain to community members why it is important to care about our water management systems.
"My job is to help others understand what happens in our drinking and waste water systems," she said. "I answer emails, talk to community members, and attend local events to support people's understanding. If someone can tell me where their drinking water comes from or what happens when they flush, I'm happy."
Watts has no problem talking about waste. In fact, she lives for the opportunity to go for a ride-along with the operations crews. She observes the crew cleaning out septic tank effluent pumps (STEP) in neighborhoods. A STEP system is the newest technology in waste water management. Instead of waste leaving a household and immediately entering the city sewer line, there is a step in-between. The STEP system allows waste to break down before entering the city sewer thus allowing for greater efficiency and capacity as communities grow.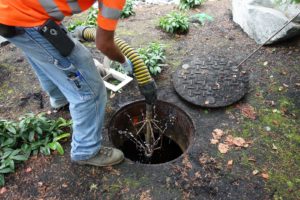 "Getting into the field allowed me to better understand the City of Lacey Public Works Department water treatment system. In the office I gather data and analyze it, but when I saw that data in action, it was very cool to see exactly how the implementation does not always match the planning," Watts commented.
"My other big message," Watts said, "is please don't flush stuff down the toilet. If you are a sewer customer you should never flush anything besides toilet paper and what comes out of your body. I can't tell you how much time and maintenance is spent cleaning plastics, latex products, and many other things out of pipes and lift stations throughout the city. I went out with the crews one day to a neighborhood to find out the pipes were clogged with baby wipes and diapers. It took time to get the pumper truck to suck out the system so it could function properly."
(As Watts describes the work of the operations crew I began to feel myself turn green and my stomach started churning. She didn't notice. She was undeterred.)
"Almost all of our drinking water in Thurston County comes from groundwater. You're standing on your drinking water. In Lacey, we use 20 wells to pump water from three different underground aquifers. It takes a whole lot of filtering, treating, and traveling through pipes to get to you. This is why I think we need to use this water wisely. Don't forget that what we put on the surface of the earth can eventually make its way down into our groundwater," Watts explained.
Watts is available to speak at schools and community events about waste water and drinking water management as a representative of City of Lacey Water Resources Department.   Her office sees her as an ambassador to the community able to teach others about the importance of managing our resources well. For Watts, it is her responsibility and privilege to make a difference, not only in people's understanding, but also in helping to inform the decisions they make.
(She'll use the P-word, I am sure. She says it makes the context familiar.)
"Ultimately, I am here to serve the citizens of Lacey. I work every day to foster a community where individuals responsibly use and protect our groundwater while also choosing to be conscientious of the effect their drains and toilets have on transporting and treating our community's wastewater," Watts said.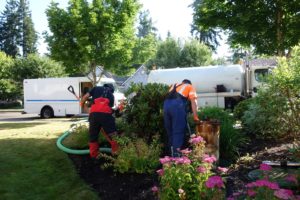 "I want to be a part in caring for our water system. Water is invaluable—just try to go a day without it. People often think about the more common, everyday uses for water but water has so much more value than we realize," she said seriously.
Watts is optimistic local teachers will take advantage of her expertise and knowledge about water resource management and invite her to their classrooms. Perhaps other Thurston County young adults will be encouraged to explore future job options when completing their chores—their parents can only hope.
To contact Emily Watts, Water Resource Specialist, with the City of Lacey Public Works Department, call 360-491-5600 or email waterresources@ci.lacey.wa.us.
This article is one of an occasional series about the contributions of public employees to our community. The series is sponsored by WSECU.