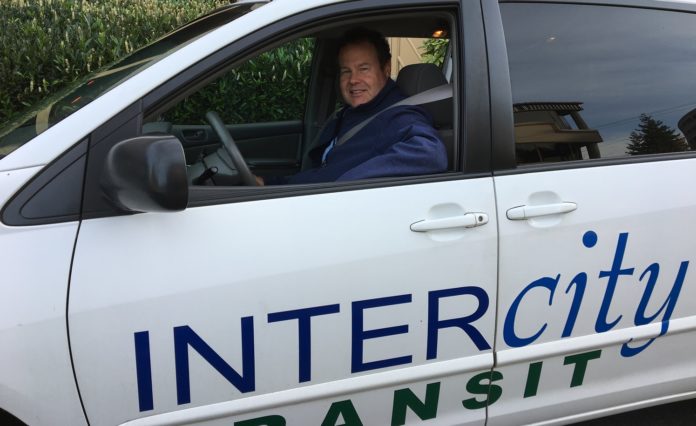 Commuting to work can be the hardest part of the work week. It's a drain on your bank account and takes a toll on you and your vehicle. Intercity Transit's vanpool program alleviates these woes. Plus, those that use the vanpools say they have less stress and make new friends.
A vanpool is a group of three to 15 people that live and work in the same areas and commute together each day in an Intercity Transit-owned van. Intercity Transit not only provides the vehicle, but pays for the gas and vehicle maintenance. They'll also help find other riders and provide an emergency ride home up to six times a year as needed.
Join an existing vanpool during November and Intercity Transit will cover your costs for November and December. If there are no vanpools headed your way at a time that works with your schedule, they can help you start one. This month, there is no reason not to give it a try. It just might make your commute the best part of your week.
Vanpool Saves You Money in Many Ways
You may wonder, "Does this really save me money?" The answer is yes – in many ways. Intercity Transit vanpools save you money on gas, oil, insurance, parking, and wear and tear on your vehicle. For a 50-mile commute, the annual savings adds up to roughly $400 a month, six times the average monthly vanpool fare. What's more, many businesses offer transportation subsidies and may pay for some or all of your vanpool fare.
This savings is one of the many reasons Brian Dirks, Strategic Media Advisor for Washington Technology Solutions (WaTech), has been using vanpools since 1992. "Most of the state agencies I've worked for have offered a subsidy of some kind through the Commute Trip Reduction program," he shares. "This has been a great incentive. A full subsidy is great, but even a partial helps."
Jennifer Cervantes, Industrial Relations Agent 3 for the Department of Labor and Industries Headquarters, says she comes out financially ahead using vanpool. "I'm not only saving wear and tear on my vehicle, but I am the main driver for my van and my employer offers money on top of paying for my entire fare," Jennifer says. "So, I get paid to drive." She has been using a vanpool since 2009.
But money isn't the only perk. These riders have stuck with their pools for more than just monetary gain.
Vanpool Lowers Stress, Gives You Time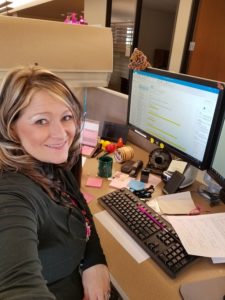 "I like that the driving and other duties are shared – you can spend time relaxing, reading, chatting with your co-riders or even napping (when not at the wheel of course)," says Brian. "So, it reduces the stress level overall."
Becca White, an administrative assistant at Enterprise Technology Solutions for the Department of Enterprise Services adds that it takes the hassle out of finding a parking space, a serious stress-reducer, and there is always someone to keep you awake if you are the driver. Many riders feel the same way these two do. In fact, 75 percent of Intercity Transit vanpool riders say it reduces their stress levels.
Vanpool Creates New Friendships
Riders report their vanpools create strong friendships as well. "The friendships are amazing," shares Becca, who has been a vanpool user since 2014. "We used to do family vanpool trips to Costco on lunch and if someone couldn't make it, we would get what they needed. We have even stayed friends with those that have retired or left the van for another van/job opportunity." She adds that you become very close to the other riders, learning a lot about them and sharing what's going on in your life.
"Once you are on a van and get to know your co-passengers, you sort of feel like you are a part of an extended family – you are strangers drawn together by virtue of all going to the same place, but you develop a connection with each other," adds Brian.
Intercity Transit Vanpool Rewards
$100 gift card for starting new vanpool
$50 for joining a vanpool
$5 gourmet coffee card for trying vanpool
$5 gourmet coffee card for referring someone
Refer someone or join and be entered for a drawing to win $500 cash
Brian has some interesting stories from nearly a quarter of a century using vanpool – including monthly bylaw meetings, a "food fight," and even someone accusing another passenger of being the source of the smell coming from the Thurston County landfill.
These are just some of his stories, which makes vanpool a much more interesting commute than riding alone. "We've had a lot of fun on the van – spontaneous afternoon karaoke sessions, 'slug bug' contests, storytelling, deep sharing of the trials and tribulations of life in general and just joking around," he adds. "The van can also become a bit of a gossip center – we have a rule that what is shared on the vanpool, stays on the vanpool."
Jennifer's vanpool has a very similar mantra. "I have made some friends along the way and we have shared some crazy stories," she says with a smile. "Sorry can't share – what happens in our van, stays in our van."
Money savings, reduced stress and new friendships await you with an Intercity Transit Vanpool. To start your own or join one today, learn more on the Intercity Transit website, call 360-786-8800 or email IT at vans@intercitytransit.com.
Sponsored