Any resident of Thurston County can attest to its culture, history and scenery.  Alleyways in downtown Olympia are adorned with murals by local artists. The water beneath the city springs from an artesian well. And, the Capitol Building's majesty is the cherry on top of the scenic sundae. Thousands of people visit Tumwater Falls each year and the history of Olympia Brewing is a hallmark of our region known far and wide.
If only there was a succinct list of these iconic places and a way to document and share them with our community and the visitors we welcome year after year?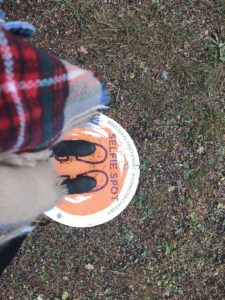 Thanks to Experience Olympia & Beyond, the region's visitor and convention bureau, there is!
Experience Olympia & Beyond has launched a new social media campaign that shares iconic and historic locations around the county. I spoke with Director of Marketing and Communications, Moira Davin, to get all the details on the new "Selfie Spots." The concept was created through research conducted about visitor foot traffic and locations that were consistently tagged on social media. Places like the Olympia Farmers Market and Tumwater Falls were among the top five visitor attractions.
"These spots had so many great selfies on social media," says Davin. Thus, the idea was born.
Selfie Spots are exactly what they sound like. Twenty-one locations throughout Thurston County have been identified on what Moira refers to as a "social media scavenger hunt." Each location was chosen based on its historical significance or iconic standing in the community.
These "spots" are marked with a large sticker on the ground to indicate where your selfie should be taken. Each site is equipped with its own unique hashtag to include in your post, as well as one for the entire campaign, #decidedlydifferent, which is the region's and Experience Olympia & Beyond tagline.
To familiarize myself with the campaign, I sought out some selfie spots on my own. Some of the spots on the list were very familiar to me, but I chose a few that were off my usual beaten path to experience some of the area's history that I may not have otherwise encountered.
First, I stopped just down the street from my house at the iconic Tumwater Falls, because any reason to take in the sound of rushing water and the view of the falls is a good one.
Having gotten my fix of the falls, I set out to Rochester to see the Gate City Schoolhouse. I was greeted by a friendly dog who was also visiting the property. The historic one-room schoolhouse was built in 1910 and preserved by the Gate Community Club since 1944. The old school bell still rings.
After snapping a selfie and bidding my canine friend adieu, I set out for Tenino to visit the Old Tenino Bank. Originally completed in 1908, this sandstone beauty was recently restored. For my final destination, I visited the old Yelm water tower. The old-fashioned structure, also known as the "Tin Man," received landmark status earlier this year.
In addition to the launch of Selfie Spots, the locals and visitors can enter a giveaway to kick things off. Appropriately named, the "Treat Yo Selfie" giveaway will award one lucky winner an overnight stay at Swantown Inn & Spa, dinner at La Petite Maison, a gift card to Blackbird Mercantile and tokens to spend at the Olympia Farmers Market.
Enter to win this amazing opportunity to treat yourself by simply visit the Selfie Spots around town and use the designated hashtags for each location, then enter to win on the Experience Olympia & Beyond website. Instagram and Facebook posts must be public to enter, although profiles can remain private. Snapping a photo at a Selfie Spot earns you an extra entry, too. More information about the giveaway can be found on the Experience Olympia & Beyond website.
Participating in the Selfie Spots campaign is a way to experience Thurston County in a new way. There are no rules when it comes to taking part in the adventure. Take a photo with the Kissing Statue on an evening stroll or make a game of it and see how many spots you can visit in one day.
Selfie Spots are a fun way to engage with the history of our great community and encourage visitors to do the same. With several more months of beautiful autumn weather ahead, it's the perfect time to get out and snap a selfie.
The map below is an interactive way for you to access the full list of Selfie Spots and plan your route.
Sponsored