The question first brought about blank stares from both girls.
It was immediately followed by shrugs, which were proceeded by smiles.

Northwest Christian seniors Ellie Summers and Megan McSheffrey had just been asked where they placed at last year's Class 2B state cross country meet.
Fourth and fifth was the answer. Both had to be reminded of this fact.
"Oh yeah, that's right," McSheffrey stated.
But who finished in what place?
"Where did we finish?" Summers replied with a question of her own to her teammate. "I honestly can't remember."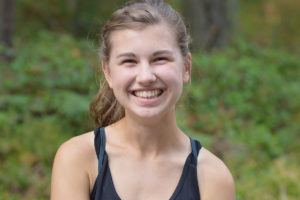 McSheffrey is no help. She gives off another confused shrug before laughter takes over both of them.
"It doesn't matter," Summers said. "We're basically the same person anyways."
"It's true," McSheffrey added. "There's a joke around here that we're the same person. So if we finished fourth and fifth, we both finished fourth and fifth."
The duo truly did run as one last year as juniors. They opened the season at the Capital Invite with Summers winning their division with a time of 14 minutes, 35.5 seconds. Right behind her was McSheffrey, crossing the wire in 14:35.8.
The roles were reversed at the Pacific League Championships with McSheffrey getting the nod and Summers claiming second. "I'd rather lose to her than anyone else," Summers said. "If I lose to her I don't care. If I lost to someone else, we're all mad."
Both have played large roles in helping the Navigators continue their incredible tradition in the sport. Their strong finishes last year helped the program take home the second-place trophy at the state meet.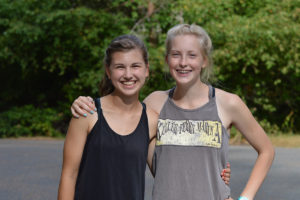 Summers finished fourth in state in 2016, a year after capturing third as a sophomore (although her junior time was 2 seconds faster). McSheffrey has been equally impressive during her high school career, picking up a personal-best fifth at state a year ago after finishing 18th as a sophomore and 10th as a freshman.
"They have similar abilities, but they are a little bit different," said Navigators cross country coach Mike Michael. "Megan has the speed and Ellie has the strength. So they feed off the other. They train together really well."
Summers estimates the two initially met through church in the fifth grade, but it wasn't until they joined the Navigators cross country team that their friendship really began.
"In eighth grade I actually connected with (Megan's) older sister, Abby. She was in this group of older girls that I always looked up to," Summers said. "I got involved in cross country through them. I was training with the team because I didn't have anyone to run with and ended up falling in love with it. Next year was my freshman year and that's when Megan and I really started to become close friends."
While they may view themselves as one in cross country it is a different story once track season rolls around.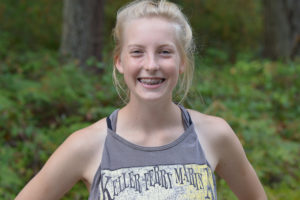 McSheffrey is the sprinter of the two. Summers is the distance runner. Both are state champions. McSheffrey won the 2B state title in the 400 last year. Summers captured the state crown in the 3,200.
"I think it helps that we both do different events during track season," Summers said. "We can flourish separately during track. When it's cross country season we're all team focused. Whatever we can to help the team."
Tops on that list is providing inspiration for the other while they are in the middle of long runs. "Megan has this real drive and loves to compete," Summers said. "She's just really good at hitting it hard and going. Sometime I'm way too lazy and just want to kick back (during a race), and Megan is so excited and aggressive and that makes me excited to run."
Added McSheffrey, "It juggles back and forth, the ball of responsibility during races. I know if Ellie moves I can move too. If we're running in the pack, one of us is going to motivate the other to drag ourselves up to the front."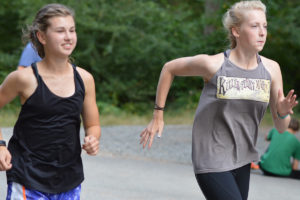 The two look to add another chapter to Northwest Christian's unrivaled cross country story. The Navigators won nine consecutive state titles between 2006 and 2014. They finished third in 2015 and were runner-ups last season.
"I have so many great memories (about this cross country team). Overall, I wouldn't want to be anywhere else," Summers said. "These are the kind of girls who make me a better person. If things are going rough they're the ones who are there to help me out. They're just always there for me. That's the kind of people I want to be friends with."